To Coventry on the trail of a replacement Punto door that, if you had read the previous article, I carelessly damaged. All that way just to get A DOOR, I hear you exclaim – with a day's stay and diesel! Let me intersperse; in Manchester, Punto doors are on sale generally for fifty pounds but what punctuated my search there were text messages such as, " 50 U PICK UP." Now, not wanting to correct the fellow on his lack of syntax and/or punctuation, was more the state of the door that had rust spots as well as past probing around the vulnerable door lock. A search for a better quality door was found at a cheap £20 so I thought I'd make a weekend of it so the thirty pounds saved would go towards fuel and a room, well fuel at least.
My room with a view was found at the underwhelming Britannia hotel, often the haunt of the newly-arrived asylum seeker. Brutalist architecture aside, replete with stained off-white washed walls, my phone app revealed that it was very close to Browns Lane, what once was Jaguar's main production plant and more surprisingly, my phone's map outlined the whole site as still under Jaguar ownership. Escaping my room, and exiting the hotel, my trek began and continued up the gentle incline that is Browns Lane, through mini-roundabouts with an absence of take-aways or off-licenses to fuel my walk. So, technically, the plant isn't/wasn't on Browns Lane then? An eventual right-turn to a dual carriageway led me to low white slabs of distribution units, desolate despite a series of traffic lights glowing green against an unusually shaped Cumulonimbus cloud.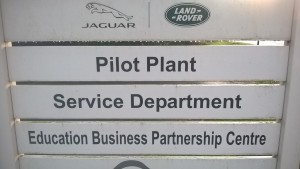 The clues to its former use were that Jaguar still has a presence here although at a small fraction of what was – the Jaguar heritage fleet is here, Pilot Plant for err pilots I don't think, and two other departments. Historical references such as 'Lyons Park' is the name of the industrial park with a Wimpey estate called 'Swallow's Nest'. Back in the day, when receiving press cars was easier, and I moreover was delivered Jaguars to test, the drivers would often update me with the decommissioning of Browns Lane when firstly car assembly ceased with the plant relegated to wood veneer finishing. Incredibly, up to 2004, Jaguar still frustratingly resisted diesel production and the retrospective S-type was one of the largest luxury saloons on the outside but a total contrast within.
Back to that door. After nearly grounding the Seat Ibiza on deep farm ruts leading, yes you've guessed it to a farm did I realise not to take navigation phone apps literally – I do afterall possess a Geography degree. I did pass three Fiat Puntos of varying ages outside a nearby cottage so understood that to be the place with my part. Neatly propped against the side of the cottage was the replacement door – in Grigio Steel colour code 647, I'll have you know. It had been resprayed like the rest of the driver's side for my Punto, was in an almost unmarked state but had been stripped of mirror and door card. Interestingly, the gent who sold me the door informed me from experience that a door off a three door Punto would not fit into the back of the same car.
The wide entrance to the old Jaguar plant is on Coundon Wedge Drive and despite the emptiness and absence of any activity, you could imagine the flow of cars, workers and bicycles streaming through the gates during shift changes much as I recall around the Trafford Park area in Manchester – in its heyday.
That door went on to replace the damaged one as soon as I got back to Manchester – it simply hooked through the hinges secured by two 10mm bolts. Despite manipulation, it wouldn't shut smoothly until my mate hit the catch with some select hammer blows. The Fiat Punto sold for a profit despite the problems I caused – a trail that became a trial. Job done – phew!
Words and photos are copyright of Sotiris Vassiliou
December 2016