You can easily bypass Millbrook proving ground – in Millbrook village, between Milton Keynes and Bedford. During Society of Motor Manufacturers and Trader's testdays, bold signage points otherwise you would have to look above verges and beyond treelines to spy armco barriers. To the blinkered, the village appears like most others; a pub and shops cluster around the main T junction. In the Millenium park, a jog around Stewartby Lake can provide some mental clarity to clarify review techniques for the intense day ahead. That lake fills a huge void left from the extraction of clay. Brick moulding machinery can be seen in front of the visitor's centre, a reminder of what aided the local economy. I'm thinking of my game plan. Instead of making a beeline for the Bentley stand as one Cockney hack openly intended, what about different genres of cars, with comparisons made with similar vehicles on the same test routes?
A left-hand drive Chevy Camaro…it's girth spilled over one lane of the hill circuit so that it had to crawl patiently behind an army truck, my fear of painting the barriers red made me resist any overtaking temptation. This experience that could have occurred years ago; a lazy V8 burbled as I tentatively checked side mirrors. 
[youtube]http://www.youtube.com/watch?v=UFaY3MJvBYQ&list=UUkcq57hYVBLy7NSJYDynQNA[/youtube]
Cooled by Skoda's smoothies during the heat of the day provided some respite and reflection; names are matched to faces that offer so much more than clinical e-mails. For example, workers from Vauxhall's Ellesmere Port plant voted unanimously for a pay freeze and different working hours within a new labour agreement to secure production of the forthcoming new Astra in 2015 to include more UK component manufacturers. Consequently, Opel's Bochum plant in Germany was suspected to close.  
A jolly in a convertible Jaguar XKR-S is in order; lobster coloured interior contrasting tastefully with a white exterior. Having navigated the hardtop version the previous September, I had an idea of what would lay ahead although the echo of V8 snarl down the bendies of the hill circuit still burns in my memory cells even if body control is not the tightest. Selecting the correct driving line and achieving tyre scream on the cambered hairpin tests the geometry of suspension set-ups where I vividly recall locking- up the rear wheels of an Alfa Mito, ABS interfering too early to create sweaty palms. Time for something sensible…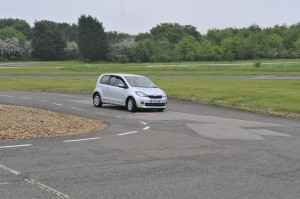 Up! and Citigo are related by manufacturers, Volkswagen and Skoda and as their names suggest, the former is funkier. The rear shock absorbers are placed away from coil springs for ride quality of a larger car although the three cylinder engine has limitations; watching one driver downchange to second gear with a kangaroo hop towards the blind crest on the hill circuit looked comical. My money's on the Citigo for being a practical five door in and around city ringroads and Tescos.
[youtube]http://www.youtube.com/watch?v=ZsGhKHSyZz0&list=UUkcq57hYVBLy7NSJYDynQNA&index=2[/youtube]
The new Beetle has been reincarnated for a more sympathetic redesign to the original. The 1.2 TSI that I first discovered in the Skoda Yeti in 2010 is rev happy on the hill circuit, perfectly mated to the Dynamic Shift gearbox. Turn in is sharp, reminding me of a 1979 Golf that I owned, with a balanced chassis providing no detectable body roll accelerating out of the bends. That was my drive of the day, more satisfying than a manual 1.4 TSI Beetle on the same stretch of tarmac. Another objective of my visit was NOT to be stopped by any marshal or head honcho of the ground who now drives a liveried Vauxhall Insignia. Time in a 1.6 CRDi Hyundai i20 to chase that Camaro which was within my sights; the Koreans build energetic diesels although they aren't the quietest – bring back the 1.5 CRDi from the old Rio; I could get second gear wheelspin – foot fully down on a wet road!
 [youtube]http://www.youtube.com/watch?v=dsU80iICbLw&list=UUkcq57hYVBLy7NSJYDynQNA[/youtube]
[youtube]http://www.youtube.com/watch?v=D8w6uIWHqLs&list=UUkcq57hYVBLy7NSJYDynQNA[/youtube]
Trying out my technique of choosing similar cars to test on the same route, I selected the Mazda CX-5 and Subaru XV; crossover SUVs similar in size and price. On the hill circuit, the CX-5 felt surprisingly lithe despite it having a slightly heavier mass than the XV. Third gear had ample rev range to handle the hill circuit with little need to change to second or fourth such is the fusion with two-scroll turbocharger. On the hillies at least, the Mazda won definitively with better poise and body control than the Subaru although I suspect the results may be rather different off-road. Four by four IS a dirty label these days!
After test days such as these, you think back to what you have driven and over time remember what you enjoyed and forget what you didn't. The Volkswagen Beetle DSG 1.2 TSI was my most energised drive on the hill circuit whilst the Ford Focus 1.0 turbo was a revelation on the bowl as was heat, the engine dissipated after. Roll on next year where I will be jogging around Stewartby Lake thinking about my game plan-again!
[youtube]http://www.youtube.com/watch?v=RLOaDBVP98Q[/youtube]
Words and film are copyright of Sotiris Vassiliou
November 2012