Mazda's rhetoric is rife; in this case a "sports crossover" mutation that
strives for "Zoom-Zoom" or "…the exhilaration and liberation that comes
from experiencing sheer motion…"
The CX-7 is a bulked-up RX-8 that has Volvoesque shoulders and arched brows that are deeply indented, especially on the front wings which make them impossible to see from the driver's seat. Fortunately, parking sensors are standard but I was still conscious of that girth by constantly checking the side mirrors to see whether I was correctly positioned on A-roads around Lake Bala in North Wales. This is the first Sports, sorry Mazda, Utility Vehicle, that I've driven although there's nothing profoundly noticeable in its handling to indicate so. A few times, I entered a bend, only to discover that it continued obtusely and had to brake, which didn't cause any dramatic weight transfer or roll. The CX-7's "five-door all-steel unitary body-chassis construction", based on the previous Mazda 6 platform, seems to be weighted low down so there's no wobble or looseness. The 2.3 litre turbocharged engine, found in the Mazda 3 and 6 MPS is suited here as it's instantly responsive. It felt athletic carrying two adults even though I started to 'block gearchange' from first to third and from third to fifth to maximise fuel efficiency, something the wallet-weary, including me are aware of as I monitored the 'real-time' mpg readings on the dashboard. The CX-7's powerhouse is refined and deceptively quiet on idle that progresses to a throaty hum that'll propel it from 0 to 62mph in eight seconds, aided by the torque-split four wheel drive system.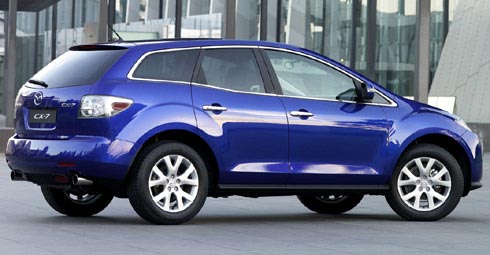 What I find odd is why this car has been launched, at great expense, without any diesel engine or automatic gearbox. Now, Mazda may argue that this is contrary to its sporting ethos, similar to Jaguar's stubborn refusal to submit to oil-burning until 2003. What results is a good car that will not appeal to a UK audience who are all too aware of fuel costs and proposed tax hikes that may increase from £400 per year, for this band G emitter. It also begs this question; why bother to launch it in the UK anyway? The CX-7's market must mainly lie in North America where it's been built since 2006.
Anyway, the cabin has good front seats that support that all-important lumbar area of the spine. I'd prefer the dark leather to be contrasted with other colours of plastic as we have an overtly dark cabin with that predictable trait of silver slivers and plastic that you'll notice on other models. The split rear seats fold down simply by pulling two catches that are sited on the sides of the boot lining so there's no leaning or stretching. The retractable parcel shelf is light and is easily sited out of the way should you need full loading space. Everything is easily understood here but the mirror remote adjuster, automatic door lock button, glovebox and boot are without illumination and the steering wheel can't be adjusted for reach; odd omissions. Also, another whinge is the clutch pedal which is offset relative to the seat.
The CX-7 is sporting, looks bold and well-proportioned and may find a micro-niche in the UK if it offers a range of more economical engines. I achieved a combined mpg figure of 25 with a 'feathered' throttle which won't attract a vast number of punters, even if they experience that "liberation and exhilaration of sheer motion."
August 2008
All words are copyright of Sotiris Vassiliou
Image is copyright of Mazda Motor Corporation