Just returned the Picanto, not the Press car loan as you would assume but a courtesy car from my local Kia dealership – the third one! I could write an accurate comparison between old Picanto and new, contrasting the bug-eyed built on a budget quality with unsettled suspension that reminded me of one arduous voyage along Jutland with the new, that has a defined rib along flanks that adds character and, more importantly strength. Ride quality is much more refined than before and daytime running lights add attitude with LEDs for higher spec versions.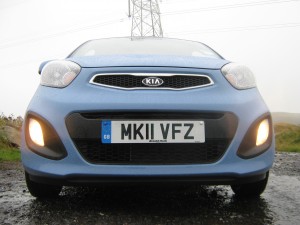 With the new Picanto and Rio, Kia now has a model range less than two years old with an image that is contemporary yet classless, commendable given the short space of time. Cleverly, Peter Schreyer's design department has focussed on areas that users have physical contact with, such as door handles that have an assertive pull mechanism unlike those poor quality flaps that could snap off during the winter, Fiat Punto-style. Drivers will like the silver inserts that break up the monotony of the dark dashboard plastics, something Mazda should seriously take notice of. Pedals have large spaces between so there's plenty of room for a size eleven footrest unlike the Alfa Romeo Guilietta. Ergonomically, everything appears well placed although the volume button (steering wheel controls are on higher spec versions) is a stretch away and there's no reach adjustment for that wheel. That steering… feels vague encountering buffeting winds on the M6 as I could never subtly counterbalance them and if you over-compensate, it can be dangerous! Around town, the lightness of feel is a bonus during tight manoeuvres yet feels even more ambiguous although relatively speaking, most cars have electric steering motors that are lighter than the more fluid but heavier hydraulic systems. That laxness in feel wasn't limited to the test car either as I drove two other examples to compare, including the new 3 door model.
[youtube]http://www.youtube.com/watch?v=k6cIyRVmyJU&feature=related[/youtube]
I selected to test the 5 door 999cc Picanto 1 costing £7995, two hundred pounds more than the 3 door with that same difference in cost for the first two grades of Picanto, the '1' and 'Air'. motoview.co.uk drove the 1.25 Ecodynamics at Millbrook that had 'instant stop and go' as standard although costs over ten thousand pounds and electronic gizmos will inflate pricing for the highest spec model to over eleven thousand pounds – for a Picanto! Money appears to have been spent up front as the rear bench seat offers little depth and support and when there is 'give', all you feel is sponge.  In the rear, there are no door or seat pockets to store phones or bottles although there is rear headroom to spare for a six-footer with just enough knee and footroom for my legs. Kia has rid the new Picanto and Rio of spare wheels, compensating with an air compressor and container of snot to seal punctures, yet allows bigger models like the Sportage to keep a fifth wheel. The standard 14″ steel wheels on our test car, fitted with Kumhos seemed suited when driving through pools of water as they provided an assuring feel, probably better than more expensive alloys.
 [youtube]http://www.youtube.com/watch?v=pxSwQwn_9mQ[/youtube]
The one litre unit provides an acceptable – only- just 68bhp that can be worked if you ignore the shift indicators, yet is asthmatic on motorway dual carriageway inclines as you watch the speedometer needle recede like a clay cliff, although there is no VED tax to pay for the first two years, the same for the '1.25 Ecodynamics'. Boot space is larger with characteristic depth so after consulting a Tesco catalogue, it was no surprise to find that certain fold-away childs' buggies will not fit as the boot area only measures 99x55cms. Of course, after removing the light parcel shelf, seat squabs can be lifted and tilted on their frames into the footrests whilst the 60:40 backrests get pushed flat, provided you have retracted headrests. That area isn't completely flat though as there's a slight step between boot and beyond. Kia press information states a combined mpg figure of 67.1 but we only achieved 52.12 that included a 72 mile cruise from Manchester to Wolverhampton to see the Average White Band, remember them? I suspect the forthcoming 1.1 diesel from the new Rio into the Picanto will provide better steering feel with a heavier engine as well as more torque to attack inclines so here's hoping, Kia…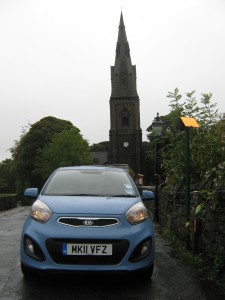 The cheapest Picanto offers better quality than the more expensive trio of Citroen C1, Toyota Aygo and Peugeot 107 and has that exclusive seven year warranty. Personally speaking, that warranty is only as good as work done on it as I have experienced with my 2009 Kia Rio diesel that, since March has suffered from an intermittent starting problem. Arnold Clark of Altrincham firstly identified a loose air pipe to the fuel filter and then secondly, replaced the fuel filter housing after having had "instructions from Kia UK". This time, I did my own research and had a mechanic identify the relevant fault codes which he duly did. "P1693 – immobiliser transponder, P1696 – immobiliser key mismatched" displayed the Solus machine, so we have an electrical issue with the key but not a fuel problem. After leaving the Rio at the dealership for the third time, I spoke to the service manager after observing his momentary 'returning customer expression' to see whether they use a diagnosis machine which must have been the case this time, as he has just rang me to agree with those problems. We are on the same wavelength, so I shall retrieve the spare key for them to discover whether it will erase those codes…
[youtube]http://www.youtube.com/watch?v=OkPaH8SF-gg[/youtube]
The new Picanto has a coupled rear torsion beam axle that is stiffer which may not mean much to the average person but has substantially improved ride quality over the old car. When travelling on wallowy A-roads though, there is some nervousness over the front axle that has typical MacPherson struts which does provide a slight reminder of the old car and the Picanto can cock up its hind wheel on an uneven surface to show that there is not a great extent of wheel travel. Six airbags as standard protect as well as a confusing array of safety acronyms such as EBD, ESC, BAC and HAC which is the Hill-start Assist Control that holds the brakes for two seconds after the driver releases the brake pedal when setting off on a slope – something I have never seen featured in any standard A-segment car. Furthermore, all around brake discs on our test car are effective although initially, they can feel too sudden so that soft shoes should be a requirement. EuroNCAP recently published their crash test results showing an improvement of one star over the old car to four out of five. The loss of one star may be accountable to either: the rear door opening during the side barrier test or that Electronic Stability Control wasn't fitted as standard on the German example chosen to crash; it is standard in the UK.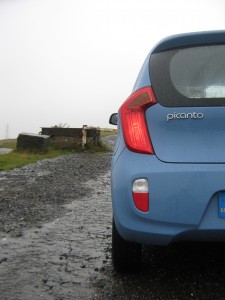 It appears that Jo Public have noticed the new Picanto, by way of daytime running lights that are mounted low in the front bumper but they made me feel a bit self-conscious as it looked like I'd put the foglights on deliberately to highlight my way, like a bad man from the ghetto. DJ Westwood may still get away with it in his middle years but I'd like to think that I'm beyond that. In any case, the 1.25 sports LEDs that outshines standard bulbs as much as its enviable cruising speed so I inevitably gave way to the approaching brute, looking menacing in black.
So, is the Picanto a good car? Yes, it undoubtedly is relative to the previous car but personally, I would wait until adjustments are made to the steering and hope a diesel will be inserted to justify a possible 11K price tag. As for the courtesy car, it's going back now to swap with my Rio that has a torquey and economical diesel but I have to experiment with different keys to find out which is at fault, ad infinitum!
Words, photos and film are copyright of Sotiris Vassiliou
September 2011