Motorway commutes call for a vehicle that's not necessarily large but sturdy enough to cope against buffeting winds like the Chevrolet Spark… I wish, but my Mii coped comfortably with the fast lane of the M60 despite intimidation from the ranks of Audi, BMW and Mercedes.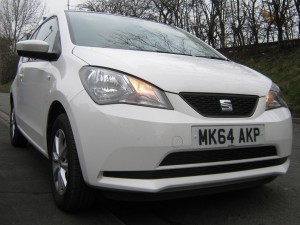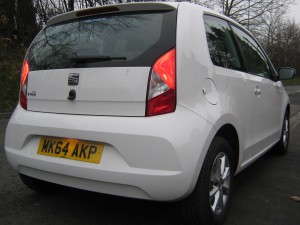 Gearchanges are clear but the box doesn't like sudden throws; the 'clunky' cliché suffices but speed isn't the Mii's reason for being as it's a deceptive all-rounder. For the 1.0 litre petrol engine generating 60bhp (there is only one other unit generating 75 bhp) , acceleration can best be described as linear with block gearchanging my order of the day to heighten all-important mpg figures. Seat state a combined 62.8 mpg but we got 47 miles from £6 worth of petrol equating to 40mpg achieved at motorway speeds highlighting that high revolutions per minute with a small engine dramatically erodes fuel economy.  The base E version spares you front electric windows and rev counter,  just as well as it's demeaned to the same diameter as the fuel gauge. Around town, the 14" alloy wheels with 175/65 Continental tyres absorbed most bumps; I suspect their profiles are the real reason as they are larger than on my Seat Ibiza Sports Tourer.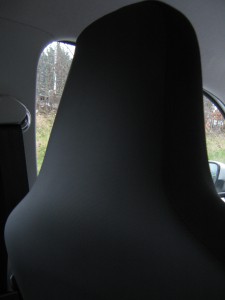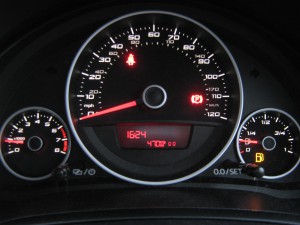 Inside, turquioise piping around the seats seams reminded me of a 1992 VW Polo that I owned and all-around visibility is comparable so you feel over-exposed compared to many other cars that are reducing window sizes to dupe you into thinking you're driving something sportier. Czech build quality is unequivocally that; a recent test of the new Citroen C1 showed that they have work to improve on as the height lever came off in my palm. Mii's rear passengers feel hemmed in by front seats that have integrated head restraints so that they create great hiding places behind the driver and passenger. This also triggers my rant about the ever-simplifying manufacturing process where fewer parts are used to speed it up. You won't find any parcel shelf strings or complex cup holders that retract like a transformer. Everything is simple as is the three cylinder engine that has a slight nervousness on idle. I enjoyed my time in the Mii as well as being surprised by it. Furthermore, the base model undercuts siblings, the Skoda Citigo by £15 and Volkswagen Up by £515. It's a refreshingly uncomplicated car for complex times.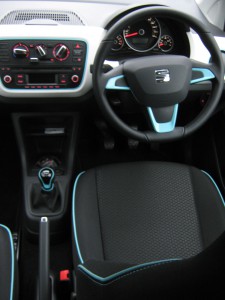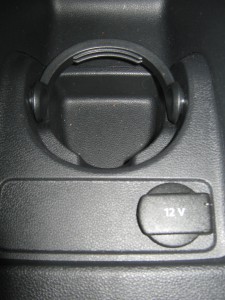 Words and photos are copyright of Sotiris Vassiliou
March 2015