[youtube]http://www.youtube.com/watch?v=6jF-sJd76Qk&feature=related[/youtube] [youtube]http://www.youtube.com/watch?v=xnTDuBlU6BU&feature=related[/youtube]
The absence of information about the origin of that acronym: RCZ, doesn't provide for an informative introduction so my option is to put on a French accent and say, "Horse's head" or "Arse's head" depending on which Gallic land you're from, or not. Renault's derriere was shaken which, let's face it didn't say much for their design language. Peugeot's rear for the arse's head does slice through moulds as it's as bold and brash as that acronym which, for the first time ever doesn't have any zero. The bulbous behind does whiff, to me of Porsche Boxster with those tailights to further clarify cloning, and flared wings do incite aggression. A wave on the roof that flows through down to the rear windscreen looks and is expensive to manufacturer but IS beautiful. Peugeot have put a lot of effort into ze RCZ's form although this dissipates towards the front with that gaping and gurning grille. It's a shame as the car is touted as" … beginning of a new era in vehicles devoted to driving pleasure" so why not depart from corporate rubber stamped ID? Offsetting my rearview mirror slightly to avoid distraction of mesmerised motorists was a wise ploy as there were more stares at the back than the front which seems logical. Turning off a roundabout, I caught sight of one young lad's face pressed against condensation soaked glass as both off us went our separate ways. Furthermore, I admit it was ego inflating to be in a Peugeot that WAS different – and to be noticed as well.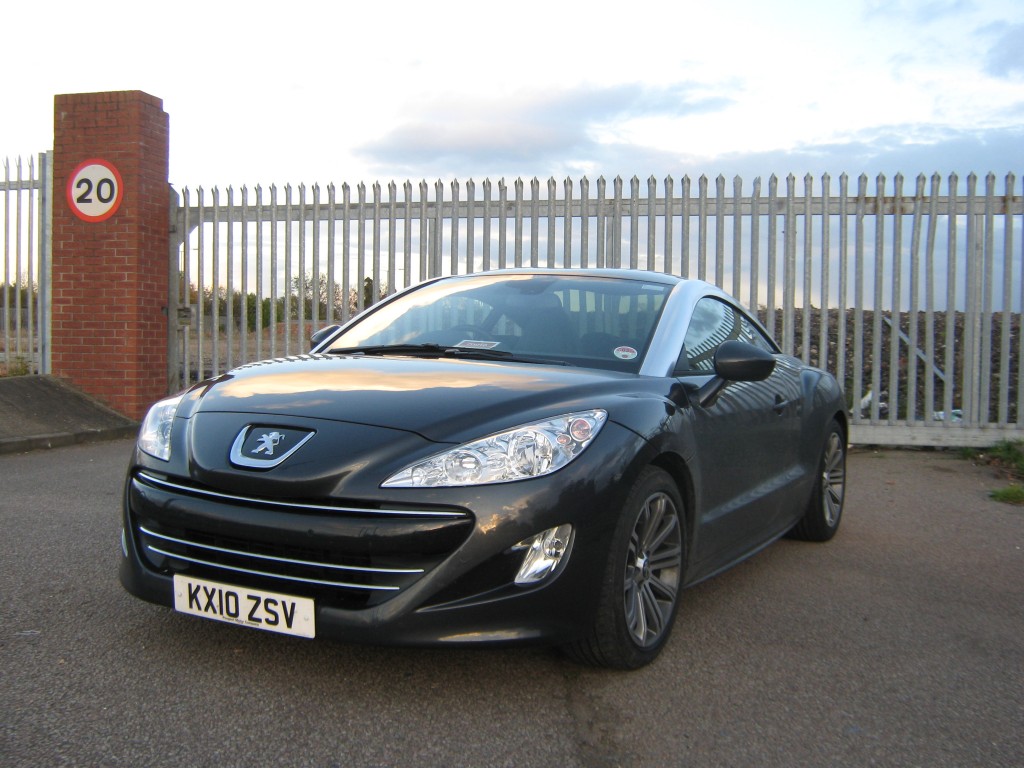 Inside is a comfortable place to be, with nappa leather covering seats that have airbags to cushion driver's and passenger's necks. A feeling of quality comes with stitching over the dashboard and even around faux chrome outlined dials centred with a tasteful clock, although that orange display from other Pugs tarnishes with a digital reading above the mantelpiece if you don't read hands! Practicality and coupe aren't always happy bedfellows although a red latch that you have to hunch over to pull, behind the folding "occasional rear seats" doubles space for a flat, wide area.  Our test car didn't have an optional sat. nav. so my Tom Tom was plugged in but unclipped the casing around the 12V power supply when removed.  When it rained, which it inevitably did in November, the lack of guttering or distinct ridges in the roofline couldn't funnel off rainwater so it dribbled depressingly onto the door insert when all I wanted was fresh air.
As stated at the beginning, Peugeot heralds the RCZ as a departure from the norm and a hopeful hark back to its glory days, such as with the legendary 205 in the 80s. I once had a 1.4 GR bought with a dodgy 'big end'. A man from Blackpool was paid to replace the engine with an injected 1.4 cannibalised from a XS that catapulted it into second gear- with wheelspin!; that car felt right because it had an engine that suited its light, nimble body. Not the case with this heavy two litre diesel spread transversely over front axles with understeer apparent accelerating out of roundabouts; right body but wrong engine if you're a performance driver. That diesel proved predictably frugal with at least 50 mpg without trying but the lighter 1.6 petrol turbo from BMW would provide an improvement in ride quality and reduce understeer. The other anomaly with this coupe is suspension that doesn't cope with the UK's roads as it simply hasn't enough 'give' to absorb the bumps in time for the next one. It isn't soft, quite the opposite with rear torsion beam and trailing arms being tauter than the front; my cousin's partner who's an engineer said that every Peugeot  he's jacked up has had torsion beams-a cheap option. Hooke's Law states that the force applied to a spring is proportional to its extension which may explain the problem as front and back suspension don't act in harmony so the ride is rarely settled. Alarmingly, this is captured on film during a mid bend pothole which altered the composure of the ride- massively. A lighter diesel engine and advanced suspension are crucial if this is to become a serious contender to the Audi TT, even if  the Peugeot's aluminium arches attempt to ape the original. In my view, that fancy curved rear screen could have been cost cutted for a more advanced rear multi-link set-up, like in a Ford Focus!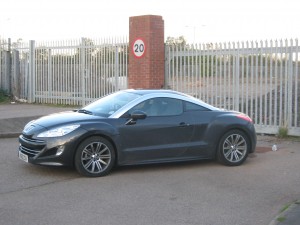 Like wearing a smart suit bought from Asda, you know that behind the well cut lining is cheaper underpinning and until Peugeot addresses this issue with the diesel version at least, it will never achieve the raison d'etre its manufacturer seeks. Superficially, it may have been one driver's preoccupation with the bulbous bottom of the RCZ  that involved it in a rear end shunt on its way back to Coventry. Enough said.
Words, photos and film are copyright of Sotiris Vassiliou
January 2011