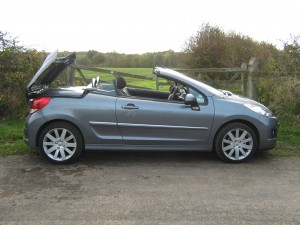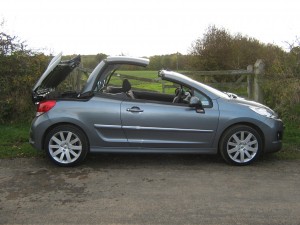 A little-known fact is that Peugeot launched the world's first electric retractable hardtop in 1934, and since then, each or nearly every model of the Lion brand has been embellished by a coupe and a convertible, both available in the refreshed 207CC. Happily, dates of motoview's press car loan coincided with a bout of mild autumninal weather in the north-west which enabled me to pull a switch to fold down the roof which was executed countlessly; to marvel at the graceful synchronised movements of three hinged panels, completing their motion in twenty-five seconds. Anything longer, would probably require an expensive trip to the Peugeot dealer should it remain static.
[vimeo]http://www.vimeo.com/7596967[/vimeo]
I did have a tendency to gender-check drivers of the 207CC, moreso as the 206CC predecessor was perceived to be an effeminate car judging by its small size and curvy styling. In fact, I saw no men behind wheels of the latter although noticed a mixture of both sexes navigating the mature, sturdier and better-built 207. Snapper Gloria likened the new CC to a car in a Bond film as "all men love gadgets don't they?", increasing evidence of its androgynous characteristics.
[vimeo]http://www.vimeo.com/7754195[/vimeo]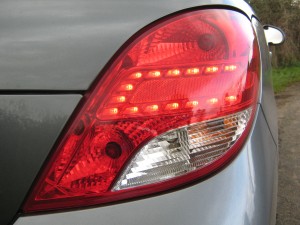 Peugeot has softened the nose with chrome detail that facelifts itself away from the moronic "feline appearance" brief that does obsess Peugeot's design team and language. Our top spec 207CC 150 HTP GT flashes a silver grille to distinguish itself as it has twin-turbos working at high turbo pressure (hence that acronym) within the 1598cc unit that powers itself up to a quoted 129mph. The engine has a broad power range as at times I thought we were accelerating in third gear, when in fact it was in fifth.
[vimeo]http://www.vimeo.com/8514736[/vimeo]
My test route involved escaping Manchester to head west to focus on my secret selection of B-roads that did highlight the Pug's agility with its supple suspension setup that read the road until confused by potholes and ruffled surfaces. Film shows that I had a smirk on my face as it was a pleasure, moreso topless to smell the aroma of withering leaves to reawaken the senses, only to be disturbed by a gearbox that can crunch under speed from first to third. The throws, that is the distances between changes are too wide and interrupt acceleration as the gains attributable to that eager engine are then lost, blamed on a gearbox from, it seems, the Peugeot parts bin that is anomalous with the rest of the car. Powering uphill, coupe-style makes weight distribution alter so that the steering feels numb that doesn't inspire confidence and there was wind buffeting around the wings of the car, enough to perturb on a high-speed motorway jaunt during a storm. Convertible mode makes very little difference to overall ride quality with no detectable "scuttle-shake" that can make lesser convertibles wobble. The only evidence of any vibration was on the windscreen although you had to stare at its top edge to see this. Being a modest hack, I had to let family and friends experience cabriolet mode and it was only then when you realise Saab and Mercedes' lauded warm-air duction to the back of the neck is much-needed. Motoview's snapper found the seatbelt buckle positioned too far back so had to crane her neck to find it and my five year-old godson, who protested at being squashed by the legless room in the back actually buckled up using the passenger seatbelt! My enjoyment of the CC was exercised by being our second-ever test car to have covered near-on 1000 miles in one week. The Pug averaged 30mpg over the 50 litre tank during spirited driving over mainly A and B roads which could easily have surpassed 35 on a constant motorway run with cruise control set.
Having tested cars over four years now, I can't think of one that brought so much pleasure back to driving as the 207CC. I think it has a winning formula of athletic prowess and charisma to appeal to both sexes and would consider buying one if that gearbox is improved which could disturb well-worn Mazda MX-5 territory. Of course, I can't forget that folding hardtop or the truck driver who stopped beside me to exclaim, "It's not that warm, mate!"
Words and film are copyright of Sotiris Vassiliou
Photos are copyright of Sotiris and Gloria Vassiliou
November 2009