I had fidget fingers one Saturday morning for a successful bid on a 2008 Citroen C4 Picasso.
Subsequently, a train trip was taken to Motorhog's Huddersfield site to collect my purchase. Interestingly, Motorhog, Car Transplants, DH Systems and FAB have now merged using the name 'Synetiq' with their pages overwhelmingly dominating the auction website pages. Back to the C4 and yes, we've deduced that it drives but repeated presses of the electromechanical handbrake were met with no response – okay so no handbrake…
…and no speedometer either with only one feeble digital dash – on the dash. An array of warning lights also illuminated from ABS to ESP to Anti-pollution device warning. Time to have a mild panic attack, then? Fortunately, it drove fine apart from some creaks when turning full lock at low speed so possible top suspension mount wear AND it kangaroo – hopped from a standing start to give it a bit of character as well.
Back home, research was needed and paper to record the numerous fault codes: P0501 defined as "fault in vehicle speed information received from ABS/ESP – invalid value". U0121  meant "absence of communication with ABS/ESP ECU: Not characterised". The previous owner had had the C4 plugged to a diagnosis scanner as the port cap within the glovebox had been removed but the randomness of the faults required investigation.
You Tube has helped me out numerous times and courtesy of LM Auto Repairs who had a similar problem, gave me an insight into the intricacies of wiring looms. I had been scathing at this point of Citroen build-quality, ranting about the complexity of the French manufacturer's electrical system including a moan about French air traffic controllers who seem to strike on a regular basis.
Months passed until Spring time and after having had time to digest the nature of the problem, it was time to remove the battery and box. Wiring from the fusebox was analysed methodically so I moved back to the right hand corner of the engine bay and removed the insulation tape and wiring shrouds. Some twisted wires were revealed but one distinguishing mark gave a clue as some of the wiring insulation shows signs of wear as the colours had been abraded by a cable tie that fastened them to the inner wing. A blue ABS wire on the outside had a kink in it and when touched it broke showing green oxidation and not copper for conduction that it should be. An inch of bad wiring was removed and then healthy wiring was soldered together and would you believe it ? – all warning lights went off – the speedometer showed zero then handbrake whirred on engagement without even having to plug the diagnosis scanner in.
Result !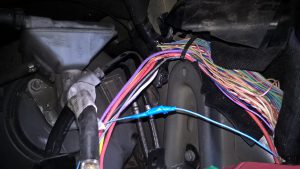 Words and photo are copyright of Sotiris Vassiliou
May 2019