Niche. I like the sound of that word but meaning and marketing are especially important in today's fickle economy. Get it wrong and you are stained with a blotch that fades but always remains. Take the Volkswagen Phaeton, well-engineered and executed although with the arrogance to step on the toes of  the Audi A8 despite being within the same group. PSA Peugeot Citroen have collaborated as manufacturers increasingly do, with Mitsubishi to produce its first Sports Utility Vehicle called the 4007, or the cheaper Citroen C-crosser sibling.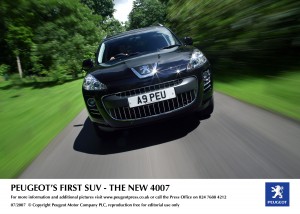 I am assuming the 4007 is more of an SUV than the stated "off-road capability", however our £25,945 top-spec GT came with 20 inch gangster alloys and fake chrome sports exhaust that projects the wrong image. Despite this, a shroud of snow over Manchester allowed me to test that 'capability'. Turning a dial from 2WD to 4WD enabled me to accelerate away from traffic lights with no wheel slip or spin as turning force (torque) is shared between both axles. Another click engages 'lock' which transfers 1.5 times more torque to the rear for acute inclines and there is a cross member across the engine bay to stiffen the body to reduce flex, thus supporting its off-roading pretensions.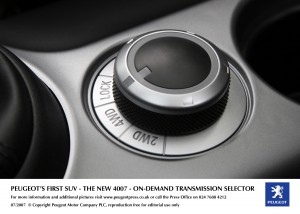 On tarmac, the big Pug does not lumber in corners although steering and road holding do feel distant. It may be the fault of those inappropriate low profile tyres which were scuffed, I admit, on a concealed kerb to swipe one rear alloy. Those wide tyres do generate roadnoise, together with a new 2.2 HDI engine that is designed to operate on a 30% concentration of biodiesel fuel and evolved from the successful and continuing partnership, between Peugeot Citroen and Ford. This engine is the only option offered by Peugeot (Citroen offers an identically-priced diesel although with petrol variants) and offers a worthy compromise between 156bhp of power for accelerating and 285 lb/ft of torque for towing. Fuel consumption of above 30 is respectable but would reduce to the twenties when seven bottoms are seated.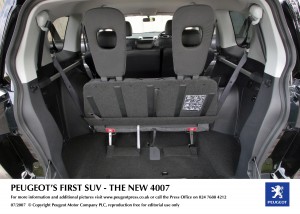 Toggles are pulled to retract the child seats at the back and a lower tailgate that can support 200kgs, drops flat for easier loading, or an area to sit on when you change into your boots. A massive volume that managed to swallow a VW front door from my brother's abused 3-door Polo, is created with all seats folded, but the rear wheel arches protrude significantly to narrow the width. The middle row of seats can also be slid back to increase legroom provided those child seats are unoccupied. Despite being a relatively tall vehicle of 171 centimetres, the tailgate opens at an acute angle thereby risking a clash with your head as you load. £1620 will install a multi-tasking screen that will show what is behind as reverse is engaged, with border lines to demarcate the size of the 4007, making it is easier to judge whether you can fit into that parking space. Of course, this novelty can also direct you, as it changes into Sat. Nav. mode which refused my input of postcodes. An information button to monitor mpg readings is hidden, misplaced behind the wiper stalk and door mirror adjustment and window buttons are not lit up, something I also noted on the Mazda CX-7. Also, I could not initially understand why the 4007 continued playing the maudlin music of the late Jeff Buckley even though I had ejected the CD earlier. Spooky.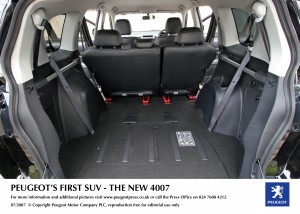 This is a credible first attempt by Peugeot even if Citroen's Crosser has a cleaner nose job although the hardy Pug should be chosen without that fake sports exhaust and those pointless sports wheels of the GT. It would then be more of an off-roader and not a bling mobile which is so passe', don't you think?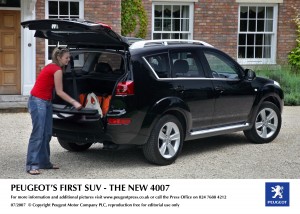 All images are copyright of Peugeot Press Office
Words (with the exception of quotations) are copyright of Sotiris Vassiliou
November 2008