Both were bought with all manuals including fully stamped service histories and two keys. See how we get on…
First in the queue is the Vauxhall Meriva so I phoned up known scrapyards to source the nearside headlight and passenger wing, ideally in Metro Blue or colour code Z168 from the vehicle identification plate but none was forthcoming. This morning, using a well known purchasing website, I found the matching wing for £19.99 including delivery which undercut scrapyard prices in different shades – can't argue with that. There were numerous headlights advertised so utilising the filter for 'cheapest price' enabled me to click on a £13.50 unit so all that remains now is to find out whether the parts are delivered as advertised. We shall see…
…to surprisingly find that the headlight arrived one day later so I will strip the Meriva of damaged parts – simples !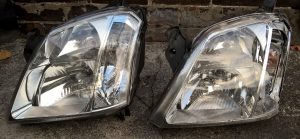 Simples ? Stripping the Meriva wing is easy although there is one bolt concealed behind a quarterlight which ideally requires it to be removed first to expose said bolt but that window is bonded so I cut the metal across the metal bracket instead. The Meriva's a Category S for a reason as the inner wing is folded, a damn shame as one inch to the right would have cleared the impact so some thinking is required… My old bike chain was brought out into service, soon after pulling out a Ford Fusion bumper bar although the Meriva's crease is not so easy. Therefore, the Saab 9-3 is on the pull with the Meriva after bolting the chain to two reference points at the area of impact. Some rocking of the Saab and a few snapped chain links later, we're off to B and Q to buy some new chain; a hydraulic ram would be the ideal tool to gently flatten out the crease but we haven't got one.
6mm chain it is then although it pulled one bolt from its socket with no apparent ironing of that crease so this punctuates the limit of my endeavours.
Category S  Vauxhall Meriva  1  Motoview  0
Will the Citroen C1 be an easier repair ? Well, a resounding NO ! as our cute city car was I suspect, dragged by a towing cable onto the back of a recovery truck. Annoyingly, the DVLA hadn't been informed of its whereabouts so I had to fill in a form to verify it as being stolen; even more infuriating was that the week before, I had sourced a black bonnet. Office workers said that it had been parked when they left on the Friday although on my arrival on Sunday, there was no sign – no car ! As a sole consolation, that bonnet sold for £15 more than I had bought it for !
Back to the Meriva, I've just recovered what I have spent on the car and repair with a small profit margin that would be enough to pay for a meal for three. In answer to the question this article seeks to address, category S cars are slower to sell with the added stigma of having their definition printed in the special notes section of the V5. They are only worth repairing if you can get them very cheaply and only if they have slight damage to a sill or wheelarch that defies the structural definition of the marker. Light bumper bar contact is relatively simple to repair although you may only discover the extent of the damage when the impacted parts have been removed. There is plenty on sale out there so bide your time, do your online homework and ideally view it physically. I've bought a 2012 Kia Picanto for less than £600 and have spent £54 on a matching wing, £72 on a headlight and £20 on a washer bottle and wiring so only have a front bumper to find. That has a category S marker as the inner wing has been slightly disturbed with a dent across the passenger sill but it is free to tax and has manuals, service book and two keys. Eventually, a matching silver bumper was sourced from Southampton for £105 including delivery !
Unusually, a 09 Honda Jazz I bought as a category N car now is recorded as a category S one ! The insurer admitted that they made a mistake of classing it as a category N car but it is a category S as the front bumper bar was moved back in the impact. After a succession of emails to the salvage yard who liased between myself and the insurer, £350 was refunded to me in account of the error. This week, two viewers were put-off by the category S market despite it being defined in the advert so there is still confusion with the general public. The Honda Jazz cost me £1456 including auction costs with £90 for the bonnet and £96 for the front bumper. The bar has been pulled out with bonnet and bumper alignment correct and colour matching good. After this, all that remains is to sell it to someone who understands what the categories mean – that rare specie is out there !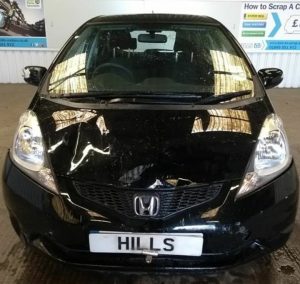 Words and photos are copyright of Sotiris Vassiliou
October 2018