Paul Swift Precision Driving Limited offers the ultimate experience day, including J turns and parallel parking with a difference!
Paul Swift Precision Driving Limited features in episodes of Top Gear as well as MPH Live shows around the world, or synchronizing and scoring in footballing feats for Hyundai and Kia. They have even directed kamikaze hotrods at an Audi R8!
More realistically, J turns, 360 degree doughnuts and the euphemistically titled 'parallel parking'are experienced in a three hour course, ideal for precision petrolheads. Editor, Sotiris Vassiliou from motoview.co.uk described his day; "you're able to explore and exploit traction limits in manoeuvres that are firstly demonstrated and explained by experienced and qualified instructors in the safety of a controlled environment. The course also teaches you driving dexterity such as throttle control with pedal to metal exercised only when appropriate; it was enlightening and invigorating for mind and body!"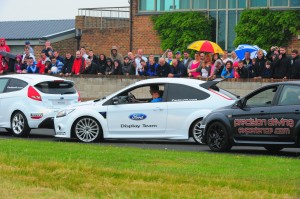 Try parallel parking…at 30mph, gradually steering to place the Focus STi bumper perpendicular to the back of a Volkswagen, handbrake yanking at the crucial time to screech back tyres through an arc to 'park' between two'cars'.
High speed reverse J turns provide sudden emergency exits if needed…fully locking the steering wheel to spin the car through 180 degrees, dabbing brakes as well as straightening front wheels before the final push towards the finishing line!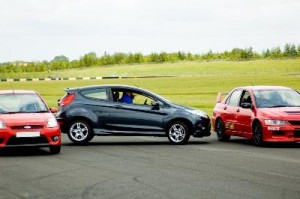 An original Mini Cooper, balancing on two wheels provides one circus act, mesmerising to witness its angle in the air from inside and out! The Mitsubishi Evolution competes with furious four wheeled doughnuts, spitting out speckles of rubber to eventually coast through dense smoke plumes to give its passengers some respite.
The piece de resistance is a competition final, including techniques taught to put friend against foe or husband versus wife in a knockout contest to decide who is best Stigness. And all for only £204.
Ends
Bookings and further information:
E-mail: fiona@paulswift.com
Tel /Fax: +44 (0)1325 247554
Mobile: +44 (0)7554 181862
PSPD Limited – Registered in England 5809927
Registered Office: PO BOX 116 Darlington, DL1 9BT – VAT Number 847 6071 07
To watch film or read about PSPD's latest events:
Web: http://www.paulswift.com
http://www.youtube.com/paulswiftstunts
Note to Editors:
Paul Swift Precision Driving Limited specialises in coordinating the development and creative choreography of innovative new driving sequences; combined with professionalism and experience of the world's best precision drivers, produces the most spectacular driving performances worldwide.
Managing Director Paul Swift, from Darlington, England, is himself a multiple British autotest champion and has been performing driving stunts since the tender age of seven, following in the tyre tracks of his legendary precision driving father, Russ Swift.
Over the past twenty years, the team has performed thousands of motor shows, conferences, and sponsored events across Europe, America, Asia and Africa for both TV and live audiences in almost every car imaginable.
Press release written and issued by Sotiris Vassiliou, Editor of www.motoview.co.uk on behalf of PSPD Limited.
Sotiris Vassiliou began his motoring journalism career by writing for The Chauffeur Magazine and launched www.motoview.co.uk in 2009.
www.motoview.co.uk – motoring journalism with a view.
Contact details:
E-mail: motovieweditor@yahoo.co.uk
Tel: +44 (0161) 747 7990
Mobile: +44 (0) 7927 204346
To watch film or read motoview's latest articles:
www.motoview.co.uk
www.youtube.com/user/motovieweditor