Having retrieved my tube map, I meandered my way to the Excel centre in East London which hosted the British International Motor Show for the second time. Notable absentees were BMW/Rolls-Royce who attended in 2006, although they happily allowed their representatives to shake their pants at the Mini stand, and VW/Audi/Porsche, excepting a sole Seat stand  to show off the new Ibiza. As you would expect, most manufacturers demonstrated their varying green credibilities by displaying hybrid vehicles and alternative technologies to target that all-important 120g/km rating. This was in keeping with the minimal amount of marketing brochures and leaflets available, on press day at least. CD-ROMS and the polite directive, " information is available on our website" was a sobering change from the rest of the indulgence; champagne and sushi aside.
Vauxhall's Vectra replacement, the Insignia didn't leave much of an impression on me, but then again, parent company, General Motors want a fleet beater and who can blame them from making any radical, stylistic changes because of their dire finances. Ford's funky new Fiesta introduced itself to its audience via that singer, Alesha who I've never heard of.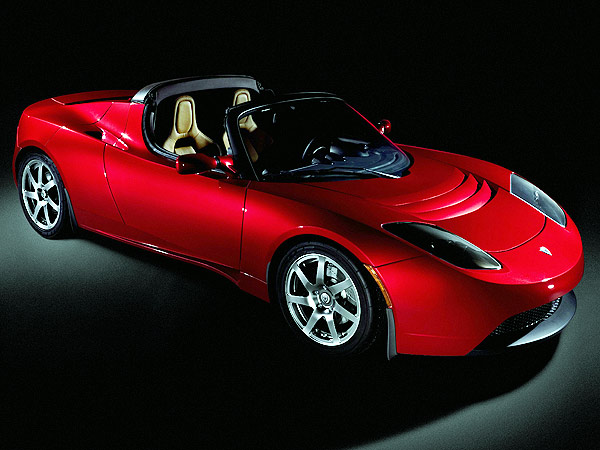 Talking technology; lighter and thinner lithium-ion batteries, like those used in laptops are filtering into a new generation of 'high-performance' electric cars.  Tesla, based in California has produced a unique Roadster that's clutchless and has two forward gears and will do 0-60mph in under four seconds with a range of 220 miles,  re-chargeable in under four hours. The company's party-piece is to accelerate the car as the passenger tries to reach forward to turn on the radio which is impossible apparently, showing the immediate torque  available from 0mph to redline up to 13,000 rpm, that's higher than the fuel-hungry RX-8! I hope this incorporated technology becomes cheaper over time that may reduce the hefty price tag of just over £79,000, and that its transmission can cope with the strains put on it.
My Collins dictionary states that 'concept' means "an idea, especially an abstract idea." This would be Toyota's definition as its model of the new Prius bears no relation to the forthcoming face-lifted version as the PR person nonchalantly explained. You can now appreciate my scepticism. After three visits to the show, one concept left an idelible impression on me despite the distractions of the newly-launched Lotus Evora and the attention-seeking Nissan GT-R. The same company however, has from 2005 been honing one model that will, in some form be on sale globally from 2012, touted as a "mass-market electric car." The Pivo's uniqueness lies in its combination of rotating cabin and shopping trolley wheels that will turn through 180 and 90 degrees respectively. These features render reverse parking redundant because the cockpit will always face the direction of travel. It is charged again using lithium-ion batteries, with hub motors on each wheel controlled by 'drive by wire' technology, similar to that in the Airbus A320. A central computer, like the electronic control unit on a car will direct signals to the motors and wheels will increase their track and wheelbase, wider at the back under acceleration for stability. Mechanical and hydraulic linkages, together with complex wiring looms will not be needed leaving fewer parts. Other innovations are cameras that will remove pillar blind spots and a companion called a 'robotic agent'. It looks like a miniature R2D2 perched on the dash and is supposed to make driving less stressful by monitoring your facial expressions and will tell you a joke on a rainy Monday morning. I commend Nissan for nurturing the Pivo and anticipate that 'drive-by-wire' and pivoting wheels and cabin will make it to the final draft in four years time. Let us hope that the Star War's mutation doesn't.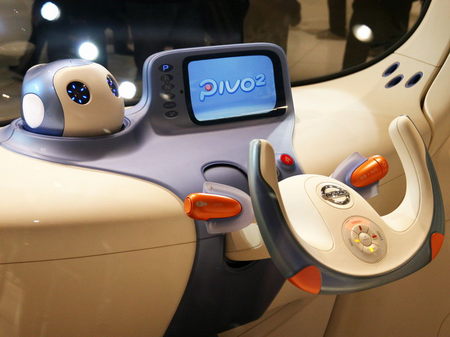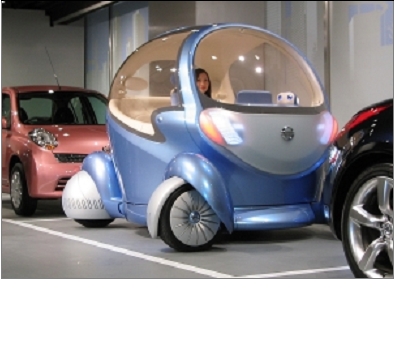 The name 'Lightning' conjures up some module out of a Dan Dare book, let alone the name of another electric sports car that has some similarities to the Tesla. Now, Lightning is a British company and orders are being taken for 2009 delivery, meanwhile development of the prototype electric car is in motion. The final product should have a top speed of 130mph and the 'sport' version ought to do 0-60mph in less than 4 seconds, as quick as. It will do this by having motors, four in all, inserted within each wheel so there is an efficient energy conversion from chemical to electrical and finally kinetic energy. Immediate torque will occur from 0rpm and there's less unsprung mass because of those wheel motors, that is less mass on the car body. Technology that you will find on Formula 1 cars is shared here as every time you brake, that wasted heat energy generated through friction is stored in the electric motor which "reverses itself" to become a generator. A difference between the Tesla is that the Lightning uses Nano Titanate materials in its batteries which is more thermally stable and so will work to its normal efficiency no matter what outside temperature and doesn't include any heavy metals or toxins. These Nanosafe batteries are manufactured by an American company and are similar in size to the ones the majority of us have in our cars today, but are distributed throughout the car to achieve a front/rear balance, and should have a lifetime of at least 12 years to provide a range of 200miles per ten minute charge. The Lightning has a dramatic name and doesn't look as if the body, that's made from Kevlar and carbon-fibre has been designed as an afterthought. It makes the Elise-based Tesla look quite ordinary by comparison. You've always got to be a little suspicious of new technology because it may take recalls and adjustments to refine it and make it better. The interesting fact about the technology found in the Lightning is that the wheel motors (Hi-Pa drive) are produced by a British company and are also found in the Volvo recharge concept that was seen at the Frankfurt Motor Show at the end of last year. The battery is used in the Sports Utility Truck made by Phoenix motorcars and was also found in the world record-beating EV dragster that achieved a top speed of 160mph in under eight seconds in 2007.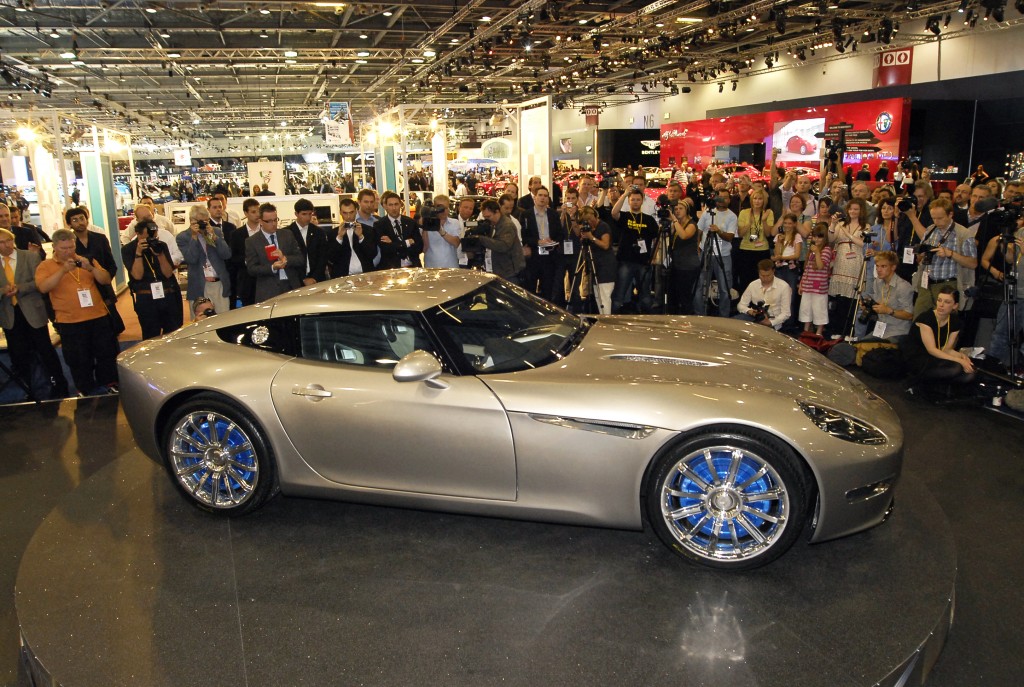 The launch of Lotus' Evora caught the limelight on the sixtieth anniversary of the company, however I was rather smitten with the Eco Elise that was stabled in the green pavilion, away from all the hype. What I find interesting is their lateral thinking approach to greenability; everybody else is harping on about their emissions levels whereas Lotus has focussed on the materials used in this concept Elise that weighs 32kg less than the standard Elise S. Interestingly, hemp which used to be included in rope manufacturing, and which is grown close to Lotus headquarters in Norfolk, is used in seats, spoiler and body panels. It's tough, resistant and sustainable, however is combined with a polyester resin to form a hybrid composite. Eco wool is also found in seats, the colour of which is chosen according to the breed of sheep. I wonder whether they'll show this on the options list if it does make it in production vehicles? "I like this sheep…" Sisal is another crop, renown for its tough, abrasive qualities and is used for the carpets. Totally water-based paint has been developed in collaboration with Du Pont which includes primer and lacquer and is hoped that it will be used on the production line in the near future. The final piece in the jigsaw is obviously the engine and Lotus, in collaboration with Jaguar and Queen's University, Belfast is going to develop a single-cylinder "flexi-fuel" engine using petrol or biofuel that will, if fitted in the Eco Elise complete a unique, sustainable car.
It was clear to me that car-makers are making great strides in technology to limit the environmental impact of cars. Let us hope that we will see this in years to come on cars that everybody drives.
All words are copyright of Sotiris Vassiliou
Images are copyright of Tesla/Nissan/Lightning and Lotus Press Offices
July 2008