Ever dreamt as a child that you were in a sweet shop, let loose to dip your hands into all those colourful glass jars. I liken the Society of Motor Manufacturers and Traders test day to this as it's a rare opportunity to sample what is new from the majority of car makers and a minority of component manufacturers.
[vimeo]http://www.vimeo.com/5876272[/vimeo]
The UK produces cars for over 100 markets and has around 800,000 jobs dependent on the car industry. Despite the erosion of the UK's manufacturing base, there is potential, as SMMT Chief, Paul Everitt explained, for component suppliers to produce new technology as we adapt to our environmental obligations. Some car manufacturers, like BMW already have stop/start technology that cuts-off the engine when stationary although this creates greater wear and stress on the starter motor and alternator. Controlled Power Technology, based in Essex have patented an integrated starter generator that transmits torque to the crankshaft by a belt to reduce CO2 output for petrol and diesel engines of up to three litres.
A Volvo S40 two litre diesel test vehicle fitted with the "SpeedStart System" has been proven to be nearly twice as fast on ignition than an equivalent engine with a traditional starting motor. More importantly, "the CPT Speedstart B-ISG system can deliver up to a 5 per cent reduction in CO2 emissions over the New European Drive Cycle when integrated into a modern powertrain, with the potential for even greater savings in real world urban driving situations." Accompanied with Engineering Director, Guy Morris, I drove the Volvo on Millbrook's City course, simulated to replicate urban environments. Initial crank-up occurs via the normal whirring starting motor but braking to a stop will cut-off the engine after a momentary delay to allow, for example the selection of reverse. A touch on the throttle was all that was needed for an instantaneous re-start to fire the engine minus that whirring and repeating the process only served to inspire my confidence in the system. I project that this technology will be incorporated by manufacturers, assuming there is no competition to enable the start-stop process to be more efficient, moreover, more fuel-efficient. It is also worth lauding this technology and company as they are British.
In the idyllic surroundings of the Bedfordshire countryside, Millbrook proving ground, set in 700 acres offers thirty miles of track to drive on. I made a beeline to grab the keys of the newly-launched Mk6 VW Golf. Stylistically similar to its predecessor, using the same platform and a tweaked engine, Wolfsburg engineers endeavour to recreate the driving experience of the most iconic GTI, the Mk2 which could read the road, clearly. The Mk6, although bigger-boned translates a good compromise between solidity and agility, and in my opinion has clearer communication between road and driver than the Audi TT or A5 cabriolet. Those were forgetful during driving and after as there was no feel of tarmac. How can you find a car's performance threshold when you have no clue about the surface beneath?
[vimeo]http://www.vimeo.com/5872443[/vimeo]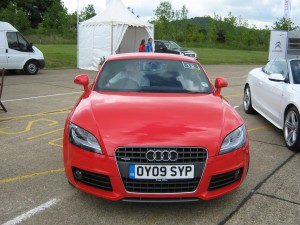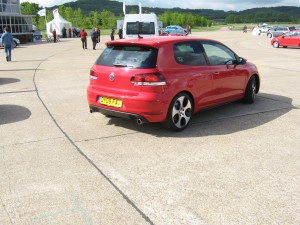 On the contrary, Alfa Romeo's petrol Mito felt sure and tight on the hill circuit and may seek to remind those of the prowess of the 70's Alfasud. I would wait a year before I bought one to find out whether there are reliability issues although the Fiat Grande Punto platform, on which it is based may become a surprising coup for Chrysler, a recent acquisition. A car that is Quite Interesting is the iQ, from Toyota. Volvo Press Officers described it as "cute" which, ahem it is, being unable to offer any synonym. What surprised me is that it felt just as stable at 80mph on the high speed 'Bowl' circuit than my Audi even though the tiny, green "shift" button patiently reminded me to change up one gear, even though I was in fifth! Its wide track ensures that there is little buffeting in crosswinds and the iQ is tax exempt and scored 5 stars with Euro NCAP. I would buy one of these if it was cheaper, as at £7500 inclusive of the £2000 scrappage scheme, the cost is still prohibitive for a one litre city car.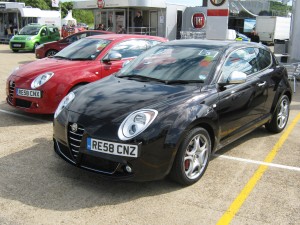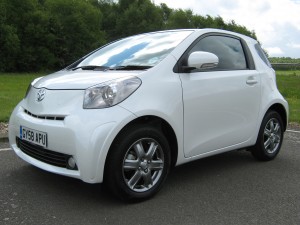 Nissan used the testday as a launch for the record-setting GTR. With its aggressive-styling, the Press Officer I spoke to must have been influenced in her interrogation of Motoview who requested to sample the car. I was refused a drive.
[vimeo]http://www.vimeo.com/5873297[/vimeo]
Never driven in a Bentley, let alone a £135k Convertible, until my immersion into a lobster-coloured cabin exposed to the sunlight. The Continental GTC Speed is 20% stiffer than its predecessor and highlighted this on the hill circuit. It followed through meanders with no lumbering on corners minus the dramatics. Footballers take note.
[vimeo]http://www.vimeo.com/5876834[/vimeo] [vimeo]http://www.vimeo.com/5876463[/vimeo]
The piece de resistance of my day was the R8, having missed out last year. I managed, though to hijack the passenger seat with one Hack, only to spend half-an-hour 'recovering' outside the Audi stand, such was the disruption to my stomach acids. An enlarged 5.2 ten cylinder unit is inserted behind the driver to pull it through to a serious 196mph. An S4 attempted to tail me on the hill circuit and was successful on the straights only for the R8 to pull away on exits, such is its low centre of gravity and high power to weight ratio. 525PS with a combined aluminium/magnesium structure dictates that only dedicated drivers need apply. Forgot to mention wealthy: £100k's worth.
[vimeo]http://www.vimeo.com/5873740[/vimeo]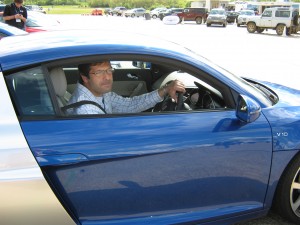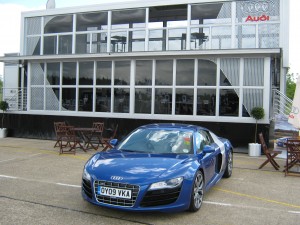 So, I look forward to next year's offering, whilst digesting what I have gorged on.
May 2009
All  words (with the exception of quotations), images and film are copyright of Sotiris Vassiliou