How often have you heard these questionable terms: Are you offsetting your carbon footprint? Are you carbon neutral? Apart from being closed questions that negate any possibility of negotiation, the mantra of carbon reduction has become an acceptable one for the media and public to use. I'm not carbon neutral however I do attempt to use energy efficiently but I have always done that, well before the hole in the ozone layer was discovered. On the contrary, I remember visiting my brother's flat in London to observe him ironing, resplendent in woolly hat with heating on and window open; I commented yet received no reply. Ignorance is bliss.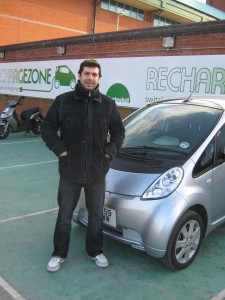 So, most outlets of  the car review fraternity have been busy booking electric cars, two of which have become on sale in the UK. Innovative? ,not in concept but coerced and 'suaded by governments around the world desperate to become 'low carbon capitals'. With a £5000 discount off Mitsubishi's i-MiEV; surely you can work out the meanings of that acronym, can be bought just shy of £24000, the same as a 318i Beemer saloon! Ironically, this is identical to the pricing of the Nissan Leaf so no prizes for guessing  collusion between those manufacturers especially when the Mitsi had initial pricing of over £30k about a year ago. What gripes me about the i-MiEV is that the body is based on the i citycar, still made in Japan but has a 660cc turbocharged engine over the rear axles, replaced by an electric one here. Ironically, I viewed a 2007 i citycar that had been traded in for a Suzuki, the female owner citing its disappointing mpg figures for its disposal. Essentially the design is old so there is no innovation here although the lengthy wheelbase does increase cabin space and reassuringly, it scores a credible 4 stars via EuroNCAP.
[youtube]http://www.youtube.com/watch?v=A1B85Ze47kQ[/youtube]
The i-MiEV's design has been adapted for insertion of electric components as the stacks of lithium ion batteries are stored in a container beneath the floorpan thus impeding ground clearance or an expensive scrape with a high kerb or sleeping policeman. The mass of those batteries however, provides a distinct advantage by lowering the centre of gravity profoundly so that the skinny tyres don't appear to be so skinny, with masses of grip with no apparent body roll for a slab sided narrow vehicle. I suffer from motion sickess which became sea on a voyage over North by the west coast of Denmark; the captain reassured me that I would adapt over time. I didn't so there is a hint of wobble as you travel over speed bumps as there isn't as much 'give' in the springs than the average car, less so over the rear axles as that seems to be where most of the mass lies ( the electric motor is there) so it feels like it wears leafsprings, like a pick-up.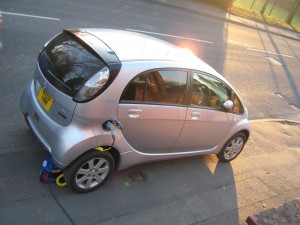 When you mention the subject of electric car, you invite initial questions on mileage range and charging points from the unlikeliest of candidates including Mothers who have rarely shown interest in a variety of cars shown. Price, range and charging times are determining factors and the Mitsubishi website states, " the i-MiEV has a driving range of up to 93 miles with a charging time of seven hours" yet both assume that this is from full charge to empty, unlikely in a realworld test which is what motoview seeks. The Electric Vehicle network map shows charging points that are concentrated around the M6/M1 motorways yet sporadic elsewhere including our base in Manchester so we hope to travel to one of seven sockets, out of 12000 spaces at the Meadowhall shopping centre in Sheffield. There is investment that has been secured for further plug-in points with Manchester going to have 300, none that we could find with no designated place to charge at our local dealership on Bury New Road, Manchester despite press releases stating that every electric vehicle dealership would have a charging point by 31st January 2011. This highlights the information gap between manufacturer and dealership with our designated electric vehicle branch having no advice on whether I could use an extension lead so that myself, a salesman and mechanic were cowered over an i-MiEV handbook scanning pages to find appopriate information. There is a coiled lead in the boot, with three rounded pins to fit the holes in the car with a standard plug at the other end although too short to reach a terraced house so a 13A extension lead was borrowed and unrolled to dissipate heat when charging; an important aspect of the process not emphasised in the handbook or manufacturer's website.
[youtube]http://www.youtube.com/watch?v=YU7fIT3GHPw&feature=related[/youtube]
Our test car was a 2009 model with a deceptive circle imprinted on the back wing for the forthcoming quick charging port, with new i-MiEVs receiving both points for standard and quick charging. The latter, over time is not the best method of charging as it may reduce the overall life expectancy although electric vehicle components including the battery are warrantied for five years or sixty thousand miles but who is likely to buy the car after this risk free period?  This is a crucial disadvantage of the i-MiEV, moreover it is Mitsubishi's failure to address this shortcoming unlike the range of Renault EVs that will lease batteries to the customer which eliminates any anxiety over battery problems. Discharge with lower temperatures occurs overnight with one bar lost out of sixteen that were tallied for full charge the night before. Luckily, our week with the i-MiEV coincided with temperatures of just above freezing point but we did comfortably manage fifty miles with charge to spare or three bars worth. Driving  fourteen predominantly motorway miles erased four bars from the gauge so a further three hours charging was needed to top the batteries up for a further challenge, over hills. Setting off from the cameraman's house in Stockport, bound for Sheffield  forty one miles away.  The Snake Pass beckoned as darkness descended…  Managing a constant speed of 30mph was easy as the roads quietened after the rush hour but I was constantly monitoring the charging gauge, announcing each bar loss with an increasingly desperate tone. Culminating in a spot height of 512m above sea level seemed to pale into insignificance knowing that we had to reach the Meadowhall centre on existing charge which made me turn off main beam and heater whilst using the increased regenerative braking that was available in the 'B' or braking mode. It is an intense gear that does slow the car too much so that we only used it for short distances. After two hours, we reached the lights of Meadowhall with three bars left, an hour longer than the average journey in an average car. The car was duly parked with me needing respite from such a stressful event. I did praise the Lord God of Ampere, honestly.
[youtube]http://www.youtube.com/watch?v=81MD7Jl0Qtk&feature=related[/youtube]
Electric components are expensive which is why, what was a city car costing around nine thousand pounds increases threefold that doesn't justify the poor materials in the cabin. Door inserts are plastic and the overall feel is budget with material quality a rung below that of my 2009 Kia Rio. I have since inspected the Nissan Leaf which is superior; the only comparison being that of price. From 2013,  Nissan are going to build the Leaf in Sunderland with a battery manufacturing plant based next door so this would be my choice of mass produced electric car. Superficially, the i-MiEV is innovative although I do get the feeling of being shortchanged as I doubt it will be as durable or econonomically viable to run  in years to come, or last as long as my 1992 Audi 80 which defeats the whole object of this carbon capture thingee; don't you agree?
 [youtube]http://www.youtube.com/watch?v=4fNLFjTFW34[/youtube]
Words and photos are copyright of Sotiris Vassiliou
Film is copyright of Peter Kemball and motoview.co.uk
March 2011