Motorsport drivers and motoring journalists can 'suffer' from increasing levels of testosterone and egomania (sexism, honestly) so it is liberating  meeting someone down-to-earth. Before balancing a Mini Cooper on two wheels, Top Gear MPH Live lead driver Paul Swift, noticed a hissing from the front wheel and discovered a nail in the sidewall; most drivers would have summoned one of their minions but Paul duly rolled out a trolley jack. I would have preferred being a passenger balancing on two wheels to being in the back of the Ford Focus ST during THAT reverse J-turn – I could feel my stomach acids rushing up!
Precision driver, Paul Swift is ubiquitous. From appearing in 'Fifth Gear' and the more popular 'Gear' to demonstrating his driving prowess in commercials, whilst appearing in Top Gear MPH Live shows around the world, with Russia a forthcoming venue. Motoview.co.uk questioned the man himself: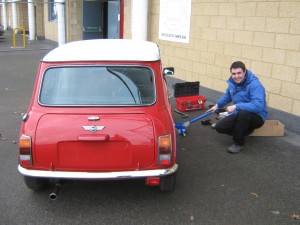 1.) Which cars have you particularly enjoyed driving during the past year?
"Nissan GTR nicknamed 'Godzilla' and Mk.2 Ford Escort rally car."
2.) What advice would you give to prospective precision drivers?
"All the drivers in the Paul Swift precision driving team herald from a background in motorsport and have mechanical sympathy for the cars."
3.) Your Mk.2 Ford Escort must remind you of your Autotest days. Do you prefer old or new cars for performance driving?
"I love driving the old stuff; no electronics kicking in like traction, stability or ABS control, just pure drive by the seat of your pants stuff!"
 4.)  How does your precision driving style differ to that of your Dad's?
"I think it's very similar although we come from very different eras in Motorsport. When Dad won the British Autotest Championship in the 1980s, they used almost standard Mini Coopers with stiffer shock absorbers and a fly off handbrake. 20 years later when I started, the cars had developed almost beyond recognition removing all the weight with carbon parts."
 5.)  What are some of the more adventurous performances you've done?  
I've been working on the Top Gear MPH live shows for a few years now and every year we have to go one better with the stunts. This year we are going to do a world tour with a sequence called 'Inferno' where we set two Porsche 911 GT3s on fire and drift around a girl with flame throwers on the end of her arms!" 
6.)  Do you have any routine before you enter a car to do precision driving?
"I always put my left glove on before my right and never change my driving shoes mid season; I always religiously walk through every routine before we get in the car."
 7.)   Who is your driving hero?
"Roger Clark – my rally car is painted in his colour scheme from the Ford works Escort 1978, the year before I was born."

8.)    You coordinated and drove the sequence involving an Audi R8 Spyder in a recent commercial. How difficult was this advert to organise and have you any forthcoming projects in television?
"Rehearsals were on an airfield then a day on site at the Excel centre in London before filming started.  The professionalism of the drivers helped as everyone knew their own part 100%. I was delighted with how smoothly it went and the Director was so pleased with the sequence, his comments were that he wasn't happy with the colour of the paint on the floor!"
Quotes courtesy of Paul Swift; in interview with Sotiris Vassiliou
Copyright of motoview.co.uk
April 2012