2009 (09 reg)
Estate
32,000 miles
Manual
1.2L
Petrol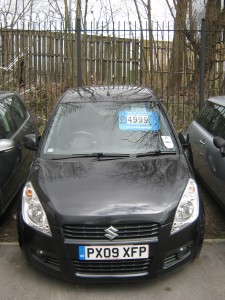 5 Doors, Manual, Estate, Petrol, 32,000 miles, rle, MOT-08-2013, 1 Owner. Colour coding – Body, Colour coding – Interior, Computer, Driver airbag, Electric mirrors, Electric windows, Full Service History, ABS, Air conditioning, Alloy wheels, Folding rear seats, Immobiliser, Passenger airbag, Side airbags, Radio/CD, 3×3 point rear seat belts, Trip computer, Electric door mirrors, Drivers airbag, Isofix child seat anchor points, Remote central locking, Front fog lights, Height adjustable drivers seat, Rear wiper, PAS, Steering wheel rake adjustment, Heated door mirrors, Audio remote control, Front electric windows. Insurance Group:3, REALLY NICE CAR WITH A FULL SERVICE HISTORY AND ONLY 1 FORMER KEEPER, VEHICLES COME WITH V5, MOT, HPI REPORT AND RANGE OF WARRANTY, 5 DAYS FREE INSURANCE CONDITIONS APPLY. £5,000″.
I am the sentimental type – with cars also. Remembering registration plates of what was once owned can be verified by the free DVLA vehicle enquiry check to research whether they are still alive… LDK 466P was Dad's last car; a 1977 Austin Maxi in harvest gold bought unfortunately at probably the worst period of British Leyland's stewardship – or lack of it. Testiment to a continually whirring starting motor from the garage with my innocent, "What's Dad doing in the garage?". The car was only days old.
The vehicle details for LDK 466Pare:
| | |
| --- | --- |
| Date of Liability | 01 10 1984 |
| Date of First Registration | 13 04 1976 |
| Year of Manufacture | 1976 |
| Cylinder Capacity (cc) | 1748cc |
| CO2 Emissions | Not Available |
| Fuel Type | PETROL |
| Export Marker | N |
| Vehicle Status | Unlicensed |
| Vehicle Colour | GOLD |
| Vehicle Type Approval | Not Available |
Vehicle Excise Duty rate for vehicle
6 Months Rate
£123.75
12 Months Rate
£225.00
Time 's continuum and an increasingly cost conscious manufacturing process has clouded my rosetinted spectacles that included my purchase and eventual part-exchange of a 2009 Suzuki Splash bought from a salvage dealer. It was not recorded on the insurance database; I had a history check done, but had suffered from panel damage, scrapes and deliberate scratch marks by some unknown. Some filler from Ghanaian Jomo and a coating of Cosmic Black made it look presentable despite the rippling and occasional pock marks left by not skimming filler with stopper. Interestingly, touch-up paint bought online from Vauxhall spares is far cheaper than going to a Suzuki dealership as this car shares the same architecture and paint as the Agila.
A £2500 purchase price from the advertised £2700 was agreed with mint conditioned examples advertised for double that – a clear profit margin. Remember also that if a V5 registration document isn't available for the car, it must be applied for which is going to take around three weeks and will cost you £25 for the privilege. Hours spent hoovering, wiping down and rehoovering removed most tobacco ingrained into the carpet – they are so thin on cars now…and a deft hand with a toothbrush removed the worst seat stains! It seemed that the previous keeper, Kerry didn't bond with the Splash and hastily left her Shearings blazer and pinny with shed keys and lipsticks. We Buy any car.com was visited who duly deducted £25 for each stonechip on the newly painted bonnet so calculator in hand, the potential purchaser offered me £3800 – upping to £3900 on account of my hesitation.
A contact in Cyprus wanted me to source a 2009 BMW diesel so the Splash was despatched to the dealership with an agreed price of £4100 despite a flashing traction control light and 'SEC' displayed ominously on the stereo display. It had been working when I collected the car but a set of jump leads seemed to have damaged a circuit within the audio unit. Curiosity led me to Autotrader to discover whether the Splash had been advertised there; it was – for £900 more than I was paid for it. A valet and enough tyre wall lacquer to dupe a buyer into thinking they were new (the two rear Continentals were close to the space indicators of 1.6 mm) with a number plate change to revert to the original were the only changes with the audio unit still muted as the photo showed 'SEC' clearly visible. More disturbingly, my ex had been headed with "one former keeper" when I was the fourth recorded owner and ironically, the part exchange centre was owned by a dealership named acronym that meant Honestly, Produces and Loyalty!
Interestingly, the Splash has made a reappearance on autotrader at another dealership:
34,625 miles
Manual
1.2L
Petrol
Fortunately, a new MOT certificate without any reference to one former keeper and a £604 reduction in price…
Words and photo are copyright of Sotiris Vassiliou
May 2013