Still smarting after a charge of £94.08 to diagnose the "STOP – START ERROR"  that transpired to be a missing 25A fuse – they must be a rarity, came an ominous beep warning me of an impending spontaneous combustion, well, a service warning actually so a call to Seat in Stockport elicited a cost of £199 including VAT after their service assistant outlined a first service incorporating an oil/ filter change with fuel filter – mistakenly, the latter is only advised when diesel fuel has a high sulphur content. Now, some lateral thinking was required, considering Seat is part of the Volkswagen – Audi Group so dismissing the hierarchy of Audi and Volkswagen left a potential Skoda dealership service. Unfortunately, a ten pound reduction off Seat's fee was all I could potentially get so then thoughts led to buy genuine service parts to validate the warranty and then take the Seat to a registered independent garage to have them fitted.
Luckily, the helpful and patient Skoda part's man replied that 5W/30 fully synthetic oil was on offer and that I could have a five litre container for £27; a sump plug  and oil filter would then bring the total price to about £40 which seemed reasonable for original manufacturer parts. Spotting hydraulic ramps with Skodas being attended to, one of which was an Octavia ambulance led me to enquire whether Skoda would do my Seat's service so that I could gain the credibility of a main dealer stamp in the precious service book, importantly because this was to be my car's first service at 19,313 miles. Yes, came the response; contact details were exchanged and the service was booked with parts and labour for a 'ball park figure' of £90. Just I was leaving, Skoda parts man instructed, "don't bring it here – go to the dealership."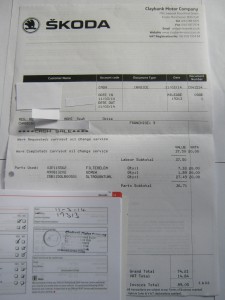 With service completed, indicator reset and a remaining litre of oil in the container, my objective was now happily achieved – and Claybank Motors of Irlam even washed it. So a first service for half-price via a referral from their parts department. I am NOT complaining!
Words and photo are copyright of Sotiris Vassiliou
March 2014