Relative (adjective) : having meaning or significance only in relation to something else; not absolute.
Has 'real' fuel-efficiency improved over time? Yes, generally speaking although the array of electronic gizmos loaded on most cars these days reduces that efficiency, with a driver's heavy right foot even more. Luckily Kia's new Rio '1' Ecodynamics has a diesel that negates the inclusion of energy sapping air conditioning, going some way towards achieving that much lauded 88mpg, even if it was achieving on a rolling road. In reality, motoview.co.uk had the slightly more expensive Rio '2' Ecodynamics that had air con., with a stated combined 74 mpg figure. Forgive me for harping on about mpgs as I do get some pleasure from calculating actual miles per gallon numbers, a distraction from the Gideon's bible, nestling next to the bed at le chateau, a la travelodge. Thing is, the new Rio has won awards based on its frugality and abiding by the Trades Description's Act is fine but for the differences in reality. How many of you have bought a car and discovered soon after that its apparent mpg figures were startlingly different? Enough said, for now…
[youtube]http://www.youtube.com/watch?v=xqNOQAgQIf0[/youtube]
The new Rio is a great contrast to its predecessor which I owned for a year and a half, eventually selling for a tidy profit. I gloated about its peak torque, somewhere between second and third gear so that you could get pedal to metal wheelspin on a wet road, which I proudly announced to Kia's press officer. That sixteen valve diesel unit unfortunately ceases to exist now, with a conformist 1.1 three cylinder and 1.4 oil-burner to suffice. Gone are the dashboard plastics that you could scratch with fingernails, replaced with an improved grade that even has some 'give' near the windscreen , not up to Germanic standards -yet. New Rio is a larger car as well, being positioned in the upper echelon of the B segment where it will compete against the Ford Fiesta, Vauxhall Corsa et al. Thick A and C pillars help structural integrity, scoring five stars from Euro NCAP even though you have to do a double-take when reversing so as not to scar the rear corners you so often see on Ford Focus'. From the driver's seat, there's no sign of the bonnet and front wings so you have to make a judgement call when manoeuvring, in common with other hatchbacks. After nudging the bootlid up as the gas cylinders are too weak; folding down rear seats provides a surface that has a small step mid-way and there's a high lip to lift your luggage over the rear bumper. Our five door 1.1 CRDi '2' Ecodynamics, costing just under fourteen thousand pounds has sixteen inch alloys, front fog lights, folding mirrors with "chrome" radiator grille that is in fact, plastic. Bluetooth is standard on all Rios, with the compulsory USB port and ipod connection to listen to Justin Bieber. 74bhp is adequate on inclines for two people with an assured feel on most surfaces. Electrically-assisted steering doesn't compare to hydraulic on windy B-roads but that's a compromise made to improve the mpgs even though it's a bugger correcting steering during a buffeting wind. Torque and angle sensors are supposed to counter that, apparently.
[youtube]http://www.youtube.com/watch?v=jAWTyaPtd-I&feature=fvwrel[/youtube]
Now, the crux; when the tank was brimmed, the trip computer read a potential range of 456 miles which calculates to 50mpg over the 42 litre tank. In reality, we achieved just that during a trip around Wales over a combination of motorways and A roads but 24 mpg less that the official figure; my old Kia consistently achieved a combined 58mpg with a slightly larger tank. Relative it is although it highlights the practice during which official mpg figures are worked out. Advice: if you're thinking of buying a new car for its alleged fuel-sipping ability, either hire one for a week or arrange an extended loan with the dealership to research whether the theory is similar to reality. So, is the new Rio a good car? Well, yes it is with an outstanding seven year warranty, assuming you get a decent dealership to do the work (Kia, Altrincham took five attempts to rectify an intermittent starting problem on my 2009 Rio), and value for money. In a crowded and competitive sector, it holds its own niche and is such an improvement over the old car, relatively speaking!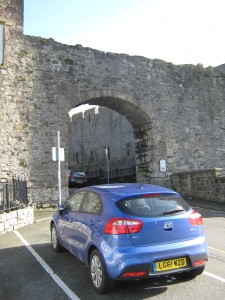 Words, photos and film are copyright of Sotiris Vassiliou
June 2012