Having re-read my account of the Society of Motor Manufacturers and Trader's testday at Millbrook a year ago, this quote seems apt now; "there is potential, as SMMT Chief Paul Everitt explained, for component suppliers to produce new technology as we adapt to our environmental obligations."
 [vimeo]http://vimeo.com/13030247[/vimeo]
Moreover, manufacturers such as Nissan are taking the lead with the Leaf to be produced in Sunderland ready for sales in March 2011 and the first European plant for the production of advanced lithium-ion batteries. "Affordable pricing" that Nissan stated in its first press release is a dubious term in recession despite a UK government discount of £5000 off the £28,350 list price (motoview.co.uk optimistically estimated at around £15000); only time will tell how well battery technology and residuals perform. The Renault-Nissan alliance ensures Renault's venture into the zero-emission market is going to begin in mid-2011 with the launch of two models from an 'affordable' four-model range. Furthermore, "details of a £30 million fund for a network of electric vehicle hubs has been revealed by the UK government" with Milton Keynes, London and the North-East being the first 'plugged-in places' to receive over 11,000 charging points over the next three years.  Ford will invest millions in researching affordable low carbon technologies in four of its five UK plants and Toyota will build the Auris, its first European hybrid in Burnaston, Derby. The electric Mini or Mini E with innards fitted in Germany, is being leased to selected drivers around the south-east although it's too early to tell whether BMW will launch mass production. Its distinctive whine, like an Evil Kneivel wind-up bike could be heard as it charged and volted around the city circuit but why wasn't the Clubman chosen as it has more space to fit batteries? The Mini press officer couldn't answer that either…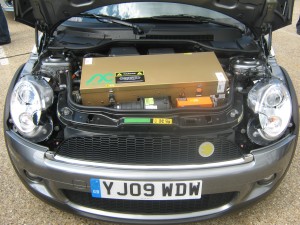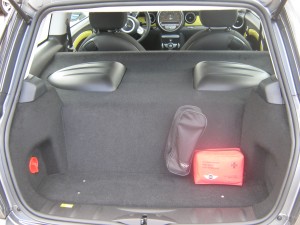 Volkswagen brought in left-hand drive examples of the Polo GTI which I lost track of time in. Not that it was nostalgic, apart from a reference to the tartan seats; moreover to marvel at the ' as if it's on rails' handling although the lack of playful bodyroll does dilute the experience. For sheer speed, there's no denying the choice of a 1.4TSI engine bolstered by turbo and supercharger but a complex unit if one or both chargers go wrong. That 'experience' should be one with a  manual gearchange, cheaper than the Direct Shift Gearbox which is only available.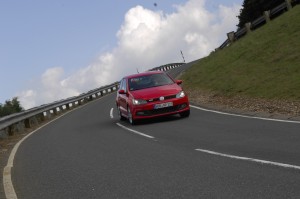 Renault's Twingo 133 Cup was on my agenda to see  how it compared with the restrained Polo. The Twingo has high tension cabled racing style pedals to match a firm ride and its utilitarian gearbox reminded me of  my 1977 R5, not a bad thing. Its orange digital speedometer is large enough to be read by following rozzers yet the Cup chassis demonstrated that it could understeer to a safe threshold that made it an invigorating experience, the joie de vivre!
Contrastingly, the Fiat 500 Abarth Esseesee made the definition of 'pocket rocket' its own as it stormed and wallowed its way around the concrete bowl circuit. I admire Fiat for keeping the design true to the original but it's undeniably narrow, as are the seats so that my upper body wasn't comfortably held in place. It was my piece de resistance though, with clear steering feedback and undetectable bodyroll. Bellissimo!
Sitting in the back of a long wheelbase Jaguar XJ should be a unique experience although it felt claustrophobic with high door skins and narrow windows; my hair also touched the ceiling ( I don't don an Afro). Fortunately a drive in the XF DS,  that has 34bhp over the 3.0 litre diesel compensated as it was refined and smooth.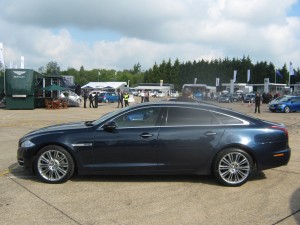 Peugeot's RCZ looked like a real departure from what we expect from the Lion brand although it demonstrated yet another exercise in style over substance with vague steering and imbalanced front/rear weight distribution that became apparent on take-off. I wonder how much that 'double bubble' glass roof would cost to replace… A shame.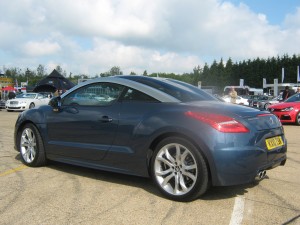 Porsche had driving specialists to advise on line and throttle control through the hill circuit, beckoning,"keep the wheels straight" as we reached the crest of the hill where the Aston Martin DB9 was rolled in 'A Quantom of Solace'. The Porsche wasn't memorable for any reason apart from its badge,  feeling overweight and stodgy.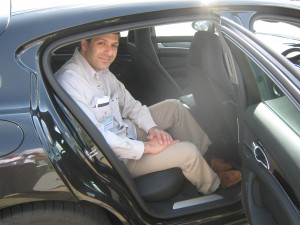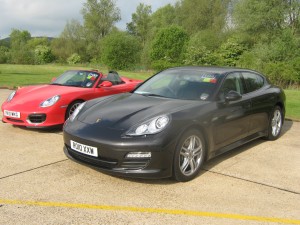 The Audi R8 reinvents itself in its third consecutive visit to Millbrook. Firstly with the 4.2 V8, secondly with the 5.2.V10 and now with the latter inserted into a convertible body which looks equally appealing than the hardtop. Unfortunately, I didn't reach the Audi stand, distracted by the Bentley GTC Series 51, numerically titled after the inception of Bentley's styling department. The Bentley burbled its way around the hill circuit with dignity to prove that a convertible can blast through bends with no embarrassing wobble or flex.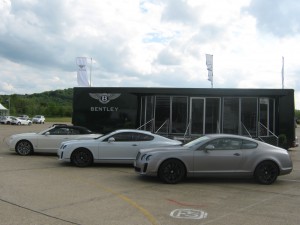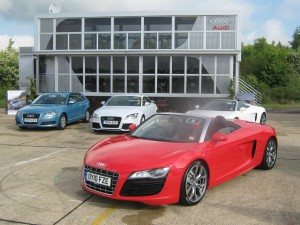 SMMT day at Millbrook is special; where the sun has always shone since my first visit in 2006.  Let us hope that our coalition government continues to support and promote the UK as a centre for low carbon technology despite the spending cuts so that our country can specialise in eco-technology and be known for it. It is time!
Words, photos and film are copyright of Sotiris Vassiliou
July 2010