I find it difficult to begin an article about Skoda without including some reference to badge obsession; it appears to be more prevalent in the UK as I suspect it's because we live on an overcrowded island. Insular, when you compare the price of the reintroduced Skoda Fabia vRS to the Volkswagen Polo GTI which motoview.co.uk drove recently. A five door Fabia (there has never been a three door) will cost you a substantial £3175 less than the Polo even though they both share the same 1.4TSI engine and DSG gearbox, defined later. The most obvious difference between both is with interiors with the Fabia having little evidence to prove that it is an athletic vRS, apart from that acronym stitched onto seats and a small dogtag at the bottom of the steering wheel. The Polo excels in this respect with more real chrome and red stitching, even though it's the only choice.
[vimeo]http://vimeo.com/13281642[/vimeo]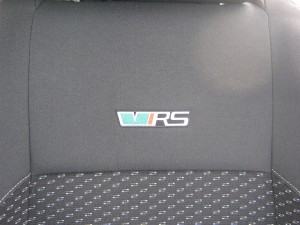 The unique TSI engine includes a turbocharger and supercharger that swap with each other at 2500rpm, not that you'll initially notice with the hyperactive rev counter reacting momentarily to the Direct Shift Gearbox changes, surpassing the reactions of any humanoid. You'll lose track of which gear you're in but can resign yourself to the consolation that there are paddleshifts to play with like Sega rally games, a human interaction at least…
[vimeo]http://vimeo.com/13277650[/vimeo]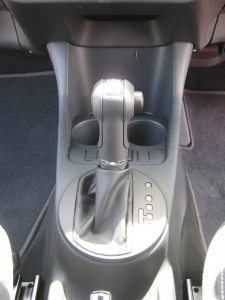 On paper, the Fabia is 0.4s slower than the Polo, with a higher rung on the vehicle excise duty ladder than its German cousin although the Czech brand offers an estate which unfortunately wasn't readied for the UK launch. On track at Prodrive's former RAF runway, the vRS stormed away on straights and pushed cleanly through bends with the XDS differential delicately responding to the inner rear tyre's forces. A balanced chassis perfectly mated to its running gear?; a little too perfect you may argue. The electrically-assisted steering was the only partial drawback as it isn't the clearest but for the sake of reduced emissions compared to hydraulic pumps that sap power, it is reluctantly accepted.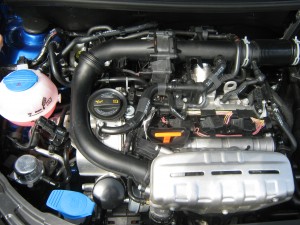 On public roads, the vRS achieved mpg figures of above 40 and proves that it is eco-friendly and economically thrifty with today's constrained budgets. Maybe Skoda have missed a niche here as there is no three door so no appeal to the Chelmsford crew 'back in the ghetto' who would have given it an ECU remap whilst pumping bass to the tunes of 50p and Snoop Dog Doo. Is it because I is a bad boy? Ahem. Nevertheless, there is a wider choice of bling wheels than the Polo that is issued with standard 17″ Monza alloys.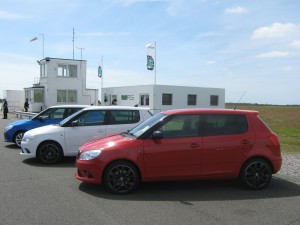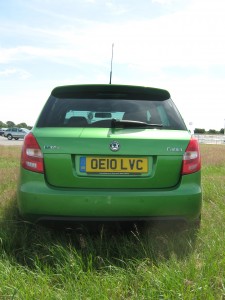 Evidence surrounds us of the increasing popularity of Skoda, with Octavia estates used as ambulances and those discrete vRS badges lurking on the M6 around Brum. Surely to increase, as everybody is forced to justify their use of value for pound purchase. It's also interesting to note the continuing evolvement of Skoda as they metamorphosise into a brand that is increasingly targeting a wider market; the disclosure of a forthcoming city car with another to fill the gap between Roomster and Octavia to complete a seven model range. Would you believe that the Superb hatch (launched at the end of 2008) is their oldest car? Skoda's UK product manager stated the demographics of the potential Fabia vRS owner followed by an Orwellian, "they like sport", said to a chuckle from one 'discrete' hack, sat of course at the back.
[vimeo]http://vimeo.com/13281546[/vimeo]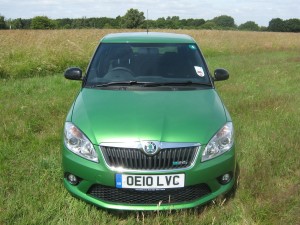 Returning to the Fabia vRS which has no diesel option unlike its predecessor, rendered redundant with 250Nm of torque at 2000rpm from the supercharger;  the introduction of red brake calipers replaces traditional green, also soon to be erased from the logo which is set to become more contemporary. The amount of technology featured is incredible for the price although I'd like to analyse the warranty, specifically for super, turbocharger and DSG to discover how much is covered and up to which mileage. 850 hatches are forecast to be sold next year with over 150 estates which I suspect, will be an underestimation as with the vRS of old that was launched in 2003.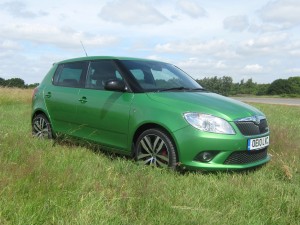 Badge snobbery or value for money frugality? There is only one choice now.
Words, photos and film are copyright of Sotiris Vassiliou
July 2010