I had been on the hunt for something else when I was distracted by this category c recorded Mitsubishi Colt. I had one on test and gave it a good review although it had been eight years into its product cycle which is long by today's standards – maybe it should have remained in production as I haven't seen many of its successor, the Mirage.
Anyway, photos showed that it had been passenger corner swiped and was single lensed – a dark abyss showed where the second headlight should have been. I paid a total auction cost of £366.40 which is cheap for any 2011 car. The laughable thing is that the missing headlight for which there is no copy part available cost £119.69 from Euro car parts. We drove it back from the auction company despite inflating a front tyre that was flat. Happily, tyre pump with fluid, two keyfobs and handbooks were present. The former keeper hadn't owned it long and either attended or worked at Kendal college as the car parking permit showed on the inside of the windscreen. Mitsubishi cars have a good reliability record although the company seem hesitant to market their products in the UK although lately I've been told, their Cirencester base has a greater degree of autonomy from Japan so hopefully, their advertising can become more aggressive.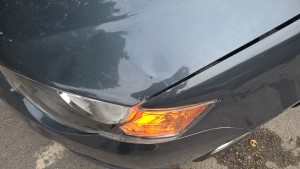 With a corner impact, there could be movement of chassis legs as panel gaps had either widened or narrowed substantiating the category c marker. That said, there was no vibration from steering on the way home but you should take the journey gingerly as we didn't know the car and the front tyre had a slow puncture; reasons enough for my driver stupidly not to heed.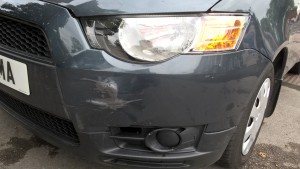 A call to the issuing dealership verified that it had been serviced in its early years although there had been an absence of stamps in the handbook for the past four years. This 1124 cc engine had a chain cambelt so none of the anxiety of will it/won't it with the longevity of rubber belts. I do like Japanese manufacturing and consequent ease of repair i.e. screws and bolts mostly accessible. The passenger door had been scuffed against a wall and was dented so a simple door card removal with a gentle push from inside removed the dent.
A bit more spit and polish brought the Colt to a respectable level and luckily, a friend of a friend viewed and bought it,  with a replacement matching front tyre courtesy of Kwik Fit which strangely undercut Tyreshopper on this occasion.
Time to now look for semi-automatic city cars; the search I was originally looking for!
Words and photos are copyright of Sotiris Vassiliou
July 2017