Like most people, I admire the newly-elected American President. He is eloquent, thoughtful and I think, a realist. In all his speeches, I have never heard him refer to the United States of America as a 'superpower' unlike predecessors, Bush and Clinton. Superpower has different interpretations: military or economic? Obama does not use this term because the United States of America is not one anymore. Period.
We know about the rise of the Japanese car industry in the 1970s and the ass-whipping they gave to Detroit, yet more recently, there has been an emergence of one country with one sixth of the world's population. China. There is a widening disparity of income between rich and poor, evidence of flouting the one-child policy by paying fines to have more children. Of course, more people, in economic terms means more markets.
Yes, Chrysler and General Motors have filed for bankruptcy and the global car industry is forced to reevaluate itself. Triggered by the banks, granted, this has highlighted inherent weaknesses, especially in the US. Chrysler for its presumption that it could continue producing high carbon emitters. GM is simply in need of shedding dead wood in a company that was, until this year the largest car manufacturer, by sales in the world.
Shanghai Automotive Industry Corporation produce the Roewe (pronounced 'Rongwei') from mildly tweaked Rover 75 design sheets and the resurrected MG TF LE500 is still produced in Longbridge, albeit from Chinese componentry. The old Skoda Superb was a stretched VW Passat platform aimed at transportation for the Chinese masses so these are clues to the slant manufacturers are taking, to adapt 'European' based models towards these middle-class audiences.
Chinese car makers' have to pass stringent NCAP crash tests in their attempts to export to Europe. Quality, in general is an issue and at worst, downright dangerous judging by high-profile failed crash tests of Landwind and Brilliance cars. There is also the issue of design piracy with one of BYD's models, the F1 city car, being a carbon copy of the Toyota Aygo. Despite this, BYD is an automaker with a difference as it is the subsidiary of one of the world's largest battery manufacturers, and that could give it a crucial advantage in developing environmentally-friendly vehicles. None of the cars at the Geneva show will ever be sold outside China, said Henry Li, general manager of BYD's auto export trade division. Instead, special European models will be designed, with major input from European design consultancies. "It will take two or three years before we enter the European market, and we know it takes time to build a positive image," Li said. "But we are bringing a lot of innovations to the market. We are focused on technology, and have greater competence than most other Chinese companies."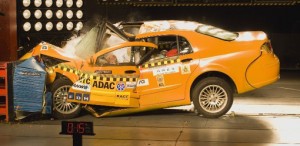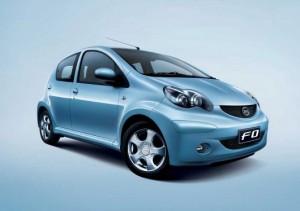 So, while BYD's models built for the Chinese market won't be sold in Europe, the technology under the skin will come here, especially the DM (dual-mode) hybrid system fitted to the Toyota Corolla-sized BYD F3 model. This combines hybrid and pure electric systems, with a 100km range with B and C segment cars also planned for Europe. The DM system also employs BYD's own ferrous battery technology, which offers a "significant price advantage" over rival battery technologies such as Lithium Ion (Li-Ion) or Nickel Metal Hydride (NiMH). Battery charge and range remain a problem, most recently shown on Top Gear's Tesla test. BYD is the global number one supplier of Nickel Cadmium (NiCad) batteries for laptop computers, with a market share of around 65%, and is the biggest supplier of Li-Ion batteries for mobile phones so this expertise should ensure a reliable source in which to power their cars.
Ratan Tata launched the Indica 12 years ago, a car that was designed in India, and now, having acquired Jaguar- Land Rover, a heavily-revised Indica may return, formerly sold as the archaic City Rover. Tata said he "hoped this car may be available in Europe in the future." Of course, the tiny Tato Nano, which sells for 1700 euros in India will never make it to Europe because it would struggle to meet emissions or safety standards but it is only a matter of time before these obstacles are overcome. A high-spec version was displayed at this year's Geneva motor show and the insight gained through the purchase of J-LR will provide invaluable infrastructure towards Tata's European growth. Moreover, sales of these micro-cars with higher specifications have exceeded the company's expectations in India, other evidence of increasing prosperity.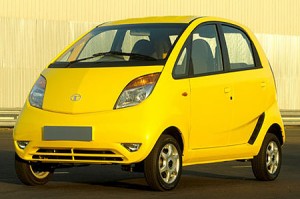 I predict that, in time, Indian and Chinese manufacturers will inevitably infiltrate though to European markets to offer cheaper cars although there is evidence to suggest that what we are driving now, and are going to drive will become similar to white goods in our kitchens. That is, as sensors, circuitry and ECU systems become more advanced, so will the increasing cost of maintainance on an ever-depreciating product so that, it eventually will not be economically viable, resulting in shorter life-spans than we have at present. At least, it self-perpetuates car production though…
All words are copyright of Thomas Striosi
Images are copyright respectively of Roewe/BYD/ADAC and Tata Press Offices
July 2009