Car manufacturers seem to have exhausted their forms of compound words for obligatory environmentally-friendlier products: 'Ecodynamics, Ecoline and Ecomotive' are examples with the latter labelling the tailgate of motoview.co.uk's very own 2012 Seat Ibiza S Copa CR (Common Rail) 1.2 TDI Ecomotive. So, how has the year been – living in our Ibiza? From an economic perspective, very thrifty with a consistent 500 miles gained over 38 litres with an additional thirty miles coerced using stop/start technology equating to a combined figure of 65mpg – the maximum I have tried to achieve but fifteeen miles short of a clamed 80 mpg from Seat.
The three cylinder Volkswagen-derived engine generating 75PS wheezes at low speeds – like a Singer sewing machine and sounds similar to its petrol equivalent which progresses to a hoarseness under acceleration. This car though, has been designed to be driven diligently as it has a close-ratio gearbox so early changes are appropriate, indicated by a subtle reminder between the dials. Cruise control with driver's armrest are welcomed once you reach a cruising speed so you can relax and marvel at how the fuel display doesn't lose any segments after the first one hundred and fifty miles. Low rolling resistance tyres around 16 inch alloy wheels adorn as this is the 'Copa' model and there is a brake recovery system that collects kinetic energy and restores it for starting or acceleration. Furthermore, the radiator grille has been blanked out enabling the engine to reach its optimum temperature quicker although after a long journey, the fan labours away for time to cool it. For me, the Ibiza Ecomotive has been the best car I have ever owned in terms of fuel efficiency and practicality. The Sports Tourer or ST to be pretentious, transports me and my partner around the windies of Wales with camping gear or mountain bikes in the back. An additional two passengers would make journeys more tiring as I would have to labour away at gear changes or plan them before hills or overtaking manoeuvres. A foglight that illuminates as you corner is de rigueur within the Volkswagen group adding distinction and aiding safety. Where the bean counters have been at work though, is to have hard plastic on the door cards so that resting your elbow on the window sill becomes uncomfortable to the point of painful and the seats in our Seat are too thin on long journeys. Recently whilst wanting to clean a mucky blade, I discovered that the driver's windscreen wiper can't be raised without scraping the edge of the bonnet however it can be erected below a raised bonnet – bizarrely.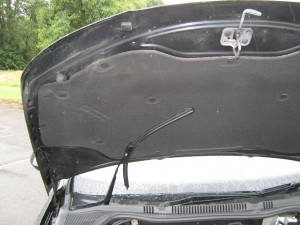 The Ibiza must be nearing the end of its product cycle although happily, there are many second-hand spares available. Our Ibiza was bought after being damaged by a careless hirer from Hertz car rental so both passenger doors had a deep low down crease although I quickly sourced two replacements for £170 and spent a further £700 on labour with phantom black paint to get the Ibiza up to standard. I have renewed yearly tax at £20 as our model emits 102g/km (unlike other Ecomotives of 92g/km or nil tax but Seat haven't told me why this is) and servicing by Skoda came to only £89.05 by purchasing spare parts and then booking the car for service via their parts department therefore more than halving Seat's price of £199.
It's up for sale if you're interested but the problem is, which car can ever replace it?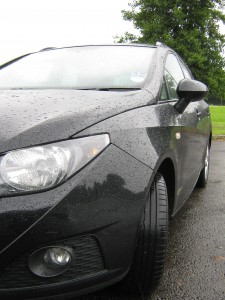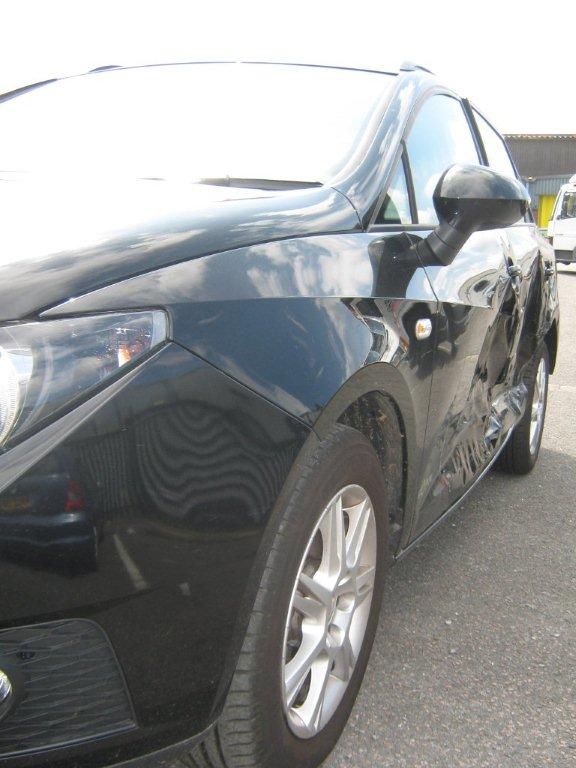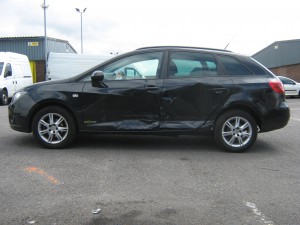 Words and photos are copyright of Sotiris Vassiliou
June 2014