I'd actually gone to view a 2007 Toyota Prius that had suffered a light frontal impact but was too late; it was sold, having been advertised at £3000 so I wandered forlornly around a covered and crammed warehouse to find a 2009 Kia Rio adorned with dealership livery. It had been a courtesy car that, to my inspection had mounted a high kerb and pushed the driver's front wheel back into its arch. There are four classifications of insurance write-off, this one being a category C  therefore would have suffered more damage than a cat. D; theoretically speaking at least. Those classifications lie within the mindset of the insurance assessor and to prove the point, the affable scrappage geezer showed me two Seat Ibizas that had been classed as cat. C and D although the one that had more creases and airbag deployment was strangely the latter!  
A short negotiation resulted in an agreed payment of £2100 with delivery, saving me £100 off the displayed price and £50 to transport the stricken vehicle to my friend's garage in Manchester. The car eventually arrived and with the help of two other colleagues, we gingerly moved the car into position, not easy as the damaged wheel wasn't connected to the steering rack. A preliminary inspection by Chief Engineer (my mate) ended with an acknowledged nod to tell me that there was another problem which I wasn't fully aware of, a bend in the subframe!
Despite this, I wasn't perturbed as the cheapest equivalent Rio diesel, was advertised in Autotrader for £7995 so clearly a wide profit margin even taking into account repair costs. As the Rio was being stripped, another model from the same country entered the garage, discovering the gene sharing between manufacturers with the Hyundai having an identical dashboard to the Kia with a Hyundai sticker behind the Kia's front bumper! This theme of homogeneity seems similar to what you'd find in the white goods section at Currys; hopefully you'll get six or seven years reliable service before its disposed off citing the reason of 'uneconomic to repair'. A world of difference to my Audi 80, built at another time when cost wasn't a large enough reason to alter the quality of the maunufacturing process; I'd argue that car was and remains one of the best built production cars…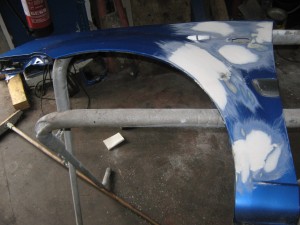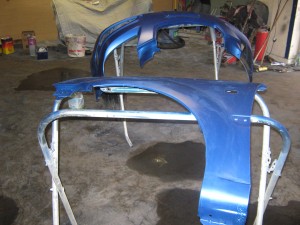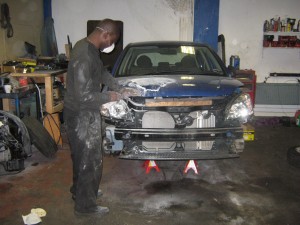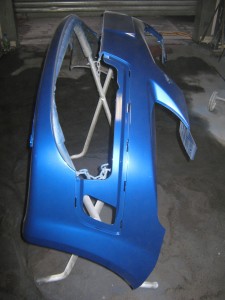 A category C write-off, like the Kia requires a mandatory visit to a VOSA office (at £41) for a physical examination to confirm the car's identity or rather that it hasn't been stolen and cloned the registration plate from a legitimate car. No worries as a simple free check can be done by clicking vehicle enquiries to type in the registration plate and manufacturer on the DVLA website to verify colour and engine size which I did before parting with cash. A fleeting visit to the garage has revealed that not only is the paint code in Korean but that two different shops (including Halfords) have mixed the wrong shade of paint to increase my friend's labour time. Incredibly, it has been sprayed three times with incorrect hues! A substantial repair of this nature requires observation during the process so I tactfully instructed Michael the Mechanic to rid pitting from the dented wing which is indicative of filler which he hesitantly did.
Returning to parts sharing; the Kia airbag light is glowing even though no airbags inflated during the prang so we plugged in the expensive diagnosis machine (£4800 with part-exchange of its predecessor) and scrolled down to discover that no manufacturer named Kia existed so I suggested Hyundai which was recognised that shared the same diesel engine with its Korean cousin. Success at identification but no joy removing the red hue so a trip to the local Kia dealership was in order which deleted ten fault codes to isolate a problem with the airbag electronic control unit. A whirring sound that I've heard that increases in pitch with speed seems to be coming from the nearside front wheel, indicative of a worn wheel bearing although the Kia mechanics diagnosed a noisy gearbox bearing. Fortunately, these problems are covered by the warranty but are worrying having recently surpassed only 8000 miles.
With Vehicle Identity Check certficate and insurance document in hand, off I went to my nearest DVLA office to buy one year's tax at £30 and apply for a vehicle registration document at the same time; note this can't be done at a post office as the car was a category C received without a V5.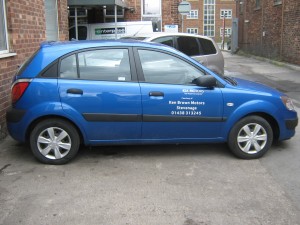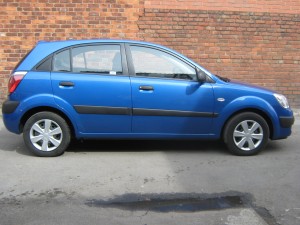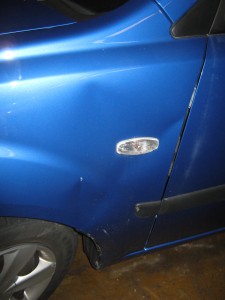 There we have it; the Rio-I can't forget the 'Chill' label, is now the official motoview press car standing in for our veteran Audi that has suspension issues to contend with before its trip to the MOT centre. The Kia is a different driving experience although not an immediately memorable one…
I gingerly walked in to my nearest Kia dealership, expecting to be quizzed over warranty small print as the Rio's airbag light turned red and an annoying whirring began to make itself known. Surprisingly, their friendly parts man simply said, "If you haven't broken it, then we'll fix it" so the Rio's keys were duly exchanged for a Suzuki Swift courtesy car as the Warrington Kia and Suzuki dealerships share the same roof.  The new Swift is a great handling car but I can't match it to anything else in the budget sector, such is its reactive steering and sharp turn-in; it'd be even better with the Kia's diesel inserted within the engine bay although a 1.3 turbodiesel will arrive next year. One week passed and with my request for a straight swap politely declined, the Kia's keys came back and my brain had to reconfigure itself to cope with that right-hand indicator stalk! Of course, the airbag light was switched off and the gearchange seemed tighter; I wish everyone's experience of warranty claims was as simple as this one…
Words and photos are copyright of Sotiris Vassiliou
August/September 2010