I have a confession. My numbers got muddled up; after all, I can remember testing the Mazda CX-7 in 2008. It was a good car. Although the timing was right (Nissan had recently launched an aggressive marketing campaign with King of Crossovers, the Qashqai – remember the urban skateboard ad?), its size and engine weren't. It remains on sale in China but not in the UK. Most roadtesters, journalists if you pardon the label, agreed that a 2.3 turbo engine in a large-bodied SUV was not a good combination that resulted in a bitter pill that Mazda was forced to swallow, then regurgitate four years later in the form of the refined CX-5. And here's the thing: the confusing crossover/SUV sector has spawned its offspring within the same niche which Mazda has also done with the CX-3. Do you understand where my confusion lay?
So, yes – should have been a CX-3 "on test" to use a Clarksonism. Then again, looking at what you tested years ago then comparing with a 'refreshed' product does justify its loan, don't you agree? I used to Mazda- moan about in chronological order: lack of a diesel engine range, poor storage space and a dark cabin. Others criticised poor noise insulation that still resounds today.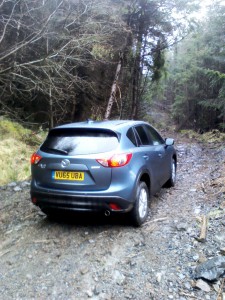 From £26995, the new CX-5 2.2 diesel (150ps) in SE-L specification highlights a silver effect strip that divides and breaks the uniformity of dark plastics so well on the dashboard – such a cheap but effective change. Furthermore, an electric parking handbrake is now standard across the range that allows an extra cupholder to be integrated into the centre console and door pockets have been lengthened to hold more than a water bottle so again, more space.
With i-stop, our model's engine wasn't off for long before it decided to re-ignite when stationary, a habit I hadn't noticed before. Our 150ps diesel generated enough power and torque to feel athletic although its combined mpg figure at 39 mpg was strangely 4 mpg less that the 2.2 diesel 175ps version driven previously despite both being All-Wheel-Drive. Not a true off-roader as it doesn't have enough ground clearance that I was sensible enough to realise on a logging track by Lake Vyrnwy in North Wales – a track gouged deep by ex-military trucks, I suspect. An ominous warning in the handbook stated not to spin any wheels off the ground as it would damage the drivetrain so back on tarmac, then? Its height and size is suitable for North Welsh territory as you can see a better view of the road ahead on windy A-roads and the manual six-speed gearchange is short, slick and so satisfying that other manufacturers, like Peugeot and Honda could learn from; with the new HR-V, its gearstick is more joystick without the connectivity it brings to an arcade game. Yes, stone chips with water did make their voices heard on lower door skins whilst I outlined the lake but would it have been significantly reduced in any other crossover/SUV?
Our car had standard cloth seats yet lacked base support and also felt too short so that there was a significant void between its seam end to the back of my kneecap. Leather would have provided more tautness to the seat which was on the first CX-5 that I tested so was probably why I didn't comment on it then. An adult's mountain bike lay flat in the back after folding flat seatbacks – and I didn't have to remove the front wheel either. Compared to the four years ago, car mat clips that snapped have been moulded into hardy studs to prevent any issues that affected Toyota.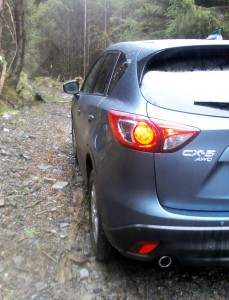 One irritation that grew into irrateness was the slow response from the parking sensor screen to default to the Sat. Navigation display which it did – when you were pulling away from stationary. That only happened when reversing into a parking spot with the view to input destination names onto the screen – could have used paper maps, I suppose? Ergonomically, the fan speed – and + buttons are sited too low down and have no distinction so you have to take your eyes off the road to alter them – dials are better.
After four years, the CX-5 still offers a credible offering to the competition as its driveability and performance are still to be admired within the crossover sector although Mazda prefer to label it a mid-size SUV. AWD is a euphamism for 4WD but in reality, this translates to an ideal towing vehicle.  And yes, I still wish to test the CX-3 to discover if Mazda core values can be transferred within a smaller body – a compact SUV/crossover at that!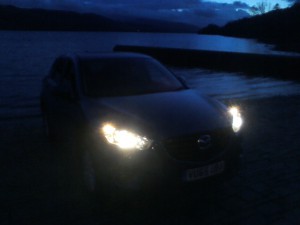 [youtube]https://www.youtube.com/watch?v=rMLRhqE3jdU[/youtube]
Words, photos and film are copyright of Sotiris Vassiliou
March 2016