The motoring industry is a small one, new faces appear and some reappear, nods of acknowledgement or looks of bemusement, even sidesteps of avoidance if you've ever had an awkward partnership on a launch test-drive. Stories make the rounds with embellishment, often recounted over lunch although it is a generally friendly environment to work within. I crossed paths, tracks really with two of the newly-unveiled Top Gear team.
Okay, I have a vague recollection of asking, probably mumbling for Eddie Jordan's autograph at Oulton Park when I was eleven years old that came about as my primary school's headmistress – that is what we called her, had a daughter who worked for Brian Henton,  a British racing driver who also competed that day.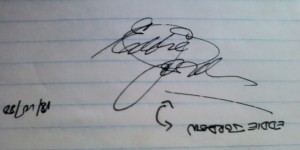 More recently, last September to be precise, I came across Rory Reid straddled across a Honda lawnmower waiting to compete against me. Honestly, he admitted that his machine was faster so we had a re-race that I won levelling the competition. Later on, he went on a harder quadbike route that I should have done although did not have the assertion to say so – a quietly confident man, he appeared to be. Karting later, I was repeatedly rammed by him, protesting by raising my hand and resisting the temptation not to use my finger or fingers – a competitive soul, then?
Describing when to steer and how much throttle to apply whilst he was blind-folded in a Honda CR-V was done in good-humour despite flattening cones – he steered to my directions so it was a team effort! Towards the end of the event, whilst I was preoccupied taking photos of Silverstone, I entered the hall to see him on the podium still dressed in waterproofs, it may have been his lawnmower time that won it.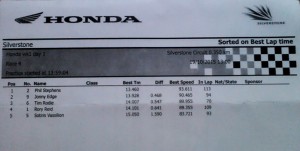 I did submit a thirty-second clip to the BBC for the open audition of Top Gear but after watching Rory's, I think he was by-far the right choice from the field of reviewing and presenting. Maybe one day, I will get ahead of him in  Karting – it is a non-contact sport after-all, Rory!
Words and photos are copyright of Sotiris Vassiliou
February 2016