GETTING DISABLED DRIVERS BEHIND THE WHEEL – 
The Mobility Roadshow incorporating Get Going Live! 
Silverstone Circuit, Northants, 26-28th May 2016
Since 1983,The Mobility Roadshow, organised by the charity Mobility Choice has been helping to meet the nation's mobility needs. From 26-28th May, this unmissable and popular event, incorporating Get Going Live! takes place for the first time at the iconic Silverstone Circuit.
Lamin Manneh, inspirational disabled war veteran, Invictus Athlete and star of BBC TV's DIY SOS 'Homes for Veterans' Special, has accepted the invitation to open The Mobility Roadshow at Silverstone Circuit – 10am, 26th May. 
UK and international visitors will have the free opportunity to test drive adapted and wheelchair accessible vehicles (WAVS) around the British Grand Prix circuit accompanied by professional drivers. There will be over 40 different cars available to test-drive including the latest models from BMW, Ford, Hyundai, Nissan, Suzuki and Vauxhall. Visitors will also be able to discover the largest range of adapted driving controls available today – no other show has this remarkable choice. This vast range will include push/pull hand controls, floor mounted controls, left foot accelerators, lightened power steering, ring accelerators, specialist electric triggers, 4 way joystick steering, electric mini wheel steering, remote secondary controls and more.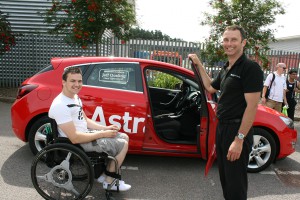 As well as free test drives, there will be further vehicle displays inside the spacious Silverstone Wing. Gold Sponsors Autoadapt, Elap, Mobility Networks and Kivi, will be showcasing their accessible vehicles and driving adaptations alongside other leading conversion specialists such as Sirus Automotive and Lewis Reed. 
2016 also sees the exciting return of Get Going Live! to the Mobility Roadshow. This popular three day test-drive feature focuses on the needs of younger people with disabilities and novice drivers; there will also be hands-on testing available of the latest mobility scooters, rehabilitation products, ramps and hoists in the spacious Silverstone Wing. Adding to the rich show experience this year Let's Play! will be hosting 'come and try' sessions for visitors interested in learning a new inclusive activity or sport.  On the 26th May, visitors can enjoy free taster sessions of Boccia and Disability Tennis whilst on the 27th and 28th May, visitors can try Powerchair Football and Wheelchair Basketball. 
Ann Frye, Chair of Mobility Choice, comments:  "We are delighted to be holding the Mobility Roadshow at Silverstone for the first time. In response to visitor feedback, we have chosen this magnificent venue with space to expand the range and choice of mobility products from around the world as well as giving visitors the opportunity to drive on the famous race circuit. Maintaining the show's focus on independent mobility for everyone, we are working again with NFE Group to deliver an event that we believe will enable anyone with mobility difficulties to find solutions to meet their individual needs."
Running on all three days there will be amazing prizes to win as part of the Mobility Roadshow's Daily Golden Ticket Prize Draw! Event sponsor Aerobility will be offering a "once in a lifetime accessible trial flight ", iCAN are giving away a thrilling accessible Supercar Triple Driving Experience and there will be an iPAD Air up for grabs.
All Mobility Roadshow and Get Going Live! activities are free, including all test drives, entry and parking on hard-standing. For further information and to book a test drive visit:
http://www.mobilityroadshow.co.uk
For further information, please contact the NFE Group on: +44(0)1332 810007.
Words and photos are copyright and issued on behalf of:
Mobility Choice / The Mobility Roadshow
Email: mobilityroadshow@gmail.com
April 2016