At just 23, Norwegian Andreas Mikkelsen is one of the hottest talents in the motorsport world as in only his second season in the Intercontinental Rally Challenge (IRC), Andreas won the 2011 IRC Drivers' Championship, driving for the ŠKODA UK Motorsport team and helped ŠKODA win the IRC Manufacturers' title for the second year running. He holds records for being the youngest driver to win the IRC, win a British national rally, score FIA World Rally Championship points and set a fastest stage time on a WRC event. In addition to becoming IRC champion, Andreas also won the Italian Gravel Championship (Trofeo Rally Terra) after winning the Rally Adriatico, Rally San Marino and the Azzano Rally in a ŠKODA Rally Team Italia Fabia S2000.
A multi-talented sportsman, Andreas first affirmed his love for motorsports when he represented the Motocross national junior team.  He was a promising skier, competing in all disciplines of skiing and, at 12 years old, became a member of the Norwegian national junior alpine skiing team however a knee injury cut short his ski career, and at the age of 16 he turned his attention to rally driving. 2012 looks set to be his biggest year yet as he attempts to defend his Intercontinental Rally Challenge title in a ŠKODA UK Motorsport Fabia S2000, co-driven by Ola Fløene.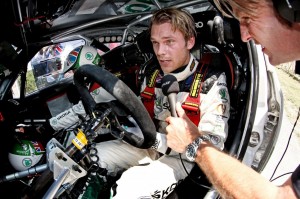 1.) Who is your driving hero and why?
"My driving hero is, for sure, Sébastien Loeb. What's he's achieved over the last nine years [he's on course to win his ninth consecutive FIA World Rally Championship drivers' title in 2012] is incredible. He's still winning, he's still hungry to perform well and he still wants more success. How he manages to keep his motivation to do all of this really impresses me."
2.) How did Marcus Gronholm improve your driving techniques?
"Marcus came to see me in the winter of 2007-08 to help me with my driving technique and because of that I changed my style a lot – from being quite crazy in the slow parts of the stage to driving more neat and tidily, and that saves a lot of time. I'm slower into corners, faster out, the tyres don't wear out so quickly and it's safer, so there is no downside. Marcus came with me on a lot of gravel tests after that too and all his tips on driving, his thoughts on making pace notes, how to study and prepare for a rally – everything was good for me."
3.) Compare Norwegian rally driving styles to that of British ones ?
"Because of the nature of the roads and the long winters, Norwegian drivers are good on gravel and loose surfaces. British drivers also have gravel rallies, but they also have tarmac rallies, which in Norway we don't have so we don't learn tarmac. I think British drivers are more all-rounders because they grow up on tarmac and gravel rallies and in Norway it's only gravel and snow rallies – and snow rallying is more or less the same as gravel, except everything is white!"
4.) Which is your favourite road car?
"I have driven a lot of Škodas and I really like them. I have a Yeti for my road car in Norway, my recce car is an Octavia Scout and every time I come to the UK I like to drive a Fabia vRS. In fact, I have a bright yellow one that I like to drive – it's great around London, but it's also great for motorway journeys. My favourite road dream car is an Audi R8 GT. I saw one for the at the Bettega Memorial Rally at the Bologna Motor Show in Italy a few years ago and I fell in love with that car."
5.) What advice would you give to potential rally drivers?
"I've had a lot of setbacks in my career. When you have success, you must enjoy it because there are many more setbacks than great results. The way you recover from a setback, and to have a never give up attitude, is very important for an athlete. If you have a bad result, it's important you get straight back up on your feet and prove that you're the best next time."
6.) Do you have any routines/superstitions before stepping into your rally car?
"The only special routine I have is that I tighten my seatbelts really tight a lot of times. I know that the seatbelts are correct, but one minute before I start a stage I tighten my seatbelts five or six times just to double-check, even though I know everything is correct! "I have one superstition that nobody knows about. If I have not such a good first day in my rally car and it's a two-day event, for the second day I never shower! I don't know why, but it gives me this wild man feeling! If I have some time to catch up on the second day, I say to myself 'okay, I need to be a wild man tomorrow' and not showering is part of being wild. In the Ukraine last year, when we needed to try and catch up twenty seconds on Jan Kopecký [Škoda Motorsport driver], I went straight to bed with no shower and jumped straight into the same clothes as I did the day before. Then I'm a wild man! – and it's flat out."
Quotations and photograph are copyright of Skoda UK Motorsport's Andreas Mikkelsen
Questioned by Sotiris Vassiliou
September 2012