Banjo-playing, dungaree-clad Sotiris Vassiliou is doing chores using  Mazda's BT-50. Yeehah!
I had never driven any pick-up before the (deep breath) Mazda BT-50 2.5 twin-turbo diesel 4×4 TS2 Double Cab was delivered to my door. Can't say  I have recognised it in my parent's country of origin, Cyprus. Mitsubishi and Isuzu are the dominant utilitarian brands outside the increasingly affluent cities, often loaded with overflowing bins of freshly-picked grapes from the peaceful Troodos mountains. The BT-50 shares components with the more expensive Ford Ranger, Ford having a stake in the Hiroshima-based company.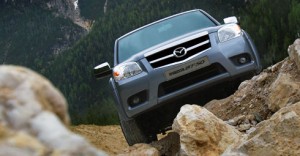 Driving over speedbumps in the urban jungle gives a clue about what lies beneath as the rear suspension catapults your neck into the headrest. Archaic, stiff leafsprings are used to cope with a payload of up to 1200kg and a crawl underneath reveals its simple attachment, that is a pair of U-clamps that bolt the bracketed metal strips to a pair of chassis legs. My travels around The Fenlands of East Anglia highlighted that the Mitsubishi Life and Nissan Navaro also have rear leafsprings as do the majority of heavy-goods vehicles, showing the lack of innovation in this effective but crude suspension.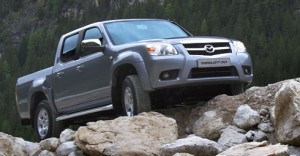 So, we pressed the BT-50 into action by removing the carcass of a large wooden shed in my brother's back garden. We inevitably scraped the paintwork around the loading area which would require the optional bedliner although its payload was more than enough for three loads of timber with two redundant washing machines. The drop-down loading gate, that is retracted by steel cables would have been better with hinges as there is flex as you stand on it, not reassuring when you are pulling the remains of a heavy window frame. The smooth-pulling 2.5 diesel engine, still ignited by glow plugs "has a class-leading towing capacity of up to 3000kgs" and the separate low-ratio gearbox will aid you through serious off-roading, should you need it. The BT-50 is classed as a commercial vehicle because of its load-carrying capacity and is tax-efficient so it is surprising that there are not more on rural roads.
The accurate steering feedback and tidy handling does go some way to justifying its presence within Mazda's UK range but the BT-50 is still an anomaly. Mazda's PR Director described it as a "bloody good drive" which it is for a pick-up but then all things are relative, like those leafsprings.
All words are copyright of Sotiris Vassiliou
Images are copyright of Mazda Motor Company
August 2008