How many of you check your tyre pressures on a regular basis? Garage forecourt air lines aren't always accurate, or at times do not work so it is advisable to invest in a footpump or alternatively, one that will inflate itself with a connection to your vehicle's 12 volt power outlet.  Motoview tested one footpump which reminded me of what I had when a new driver. Having a single cylinder can make inflating a flat tyre a tiresome process and I had found, through experiences of owning two similar footpumps; that cylinder does eventually pierce as there is friction between it and the rod it slides through. Some grease would ensure longevity although I would invest in a double cylinder footpump which is quicker to inflate and more robust. The only thing you need concern yourself with now is to identify your tyre size and match it against the inflation reading that will be on one of the door pillars or inside the fuel filler flap!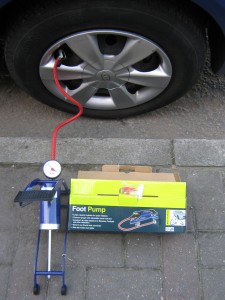 Changing or pumping up your tyre at the side of the road requires wearing a high-visibility vest, required by law in some European countries to also include cyclists in France. It is not mandatory in the UK yet, but ought to be as it could make the difference between life and death, moreso on a dark night. The vest we had to test isn't only a bright, flourescent yellow but has reflecting strips. Furthermore, lines of LED lights powered by two AA batteries ensure that you are seen. Motoview tester, Anna cycles and found it beneficial although felt self-conscious when she approached the supermarket car park, LED lights winking to highlight her arrival!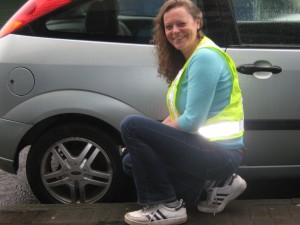 Sonax manufactures a range of car cleaning products that are embossed with, "official supplier to Vodafone McLaren Mercedes". Together with a black, red and yellow stripe makes the German flag that ensures this is a quality product. We tested a cockpit cleaner that gave off a subtle lemon aroma when applied and left no slick, slimy residue that is so often overly applied by car handwashing outlets. More importantly, the matt effect gave off no distracting reflections on the windscreen as well as being dust-repellent and anti-static. The car polishes contain canauba wax, leaving no chalky residue that can take an age to completely wipe off, making it a less arduous and lengthy process. The glass cleaner also removes insects and road grime but is it just me who can't help but notice smears on glass when the sun shines through!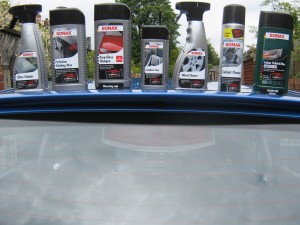 Finally, my seat was fraying on the side you slide into so covers were in order. The instructions sound simple and after pulling the  Sakura covers over the seat, you must remember to pull a flap between the seat base and back so that you can pull it though to attach hooks to secure the loops. Alternatively, I pulled the loops around the corners of the seat back  without using the hooks which seemed tight enough; moreover, it's difficult to tell that this is a cover as the cloth is similar to the original seat!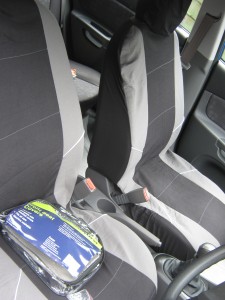 Words and photos are copyright of Sotiris Vassiliou
May 2011