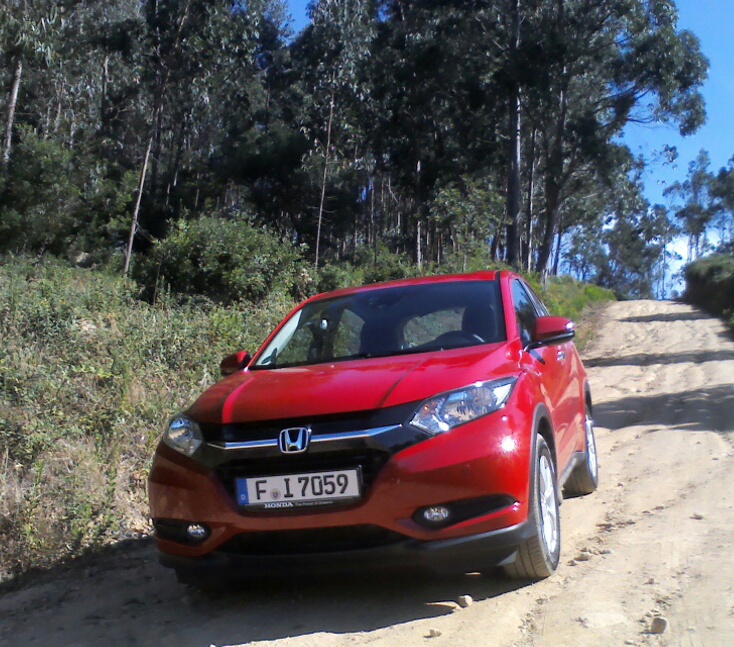 Honda credits itself with the creation of the 'crossover' market with the original HR-V launched in 1991, and has calculated a new equation:  HR-V= Coupe styling + SUV solidity + MPV versatility. With an 11% increase in the sector this year, Honda wants a piece of the pie so a resurrected and rejuvinated HR-V ( the acronym is meaningless in this country) arrives with a 130ps 1.5 petrol unit available with Continuously Variable Transmission or manual and a 120ps 1.6 diesel with a manual gearbox only.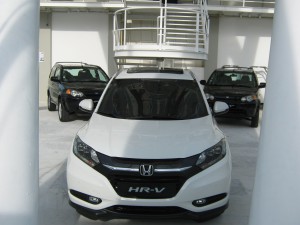 The Nissan Qashqai has been and is king of the crossovers and part of its success is because there are so many variants available such as semi-autos with four-wheel-drive. Honda won't offer HR-V 4WD in the UK as there isn't enough of a market for it and when asked whether a CVT gearbox would be intertwined with the diesel, that question was met by an abrupt "no."
Interior space excels the Qashqai which has been achieved in part, by re-locating the fuel-tank beneath front seats like in the Honda Jazz. Combined with the innovative 'magic seat system' enables you to pivot seat squabs vertically so you can even clamber through tunnel-like, and there's space behind the feet for storage with a deep recess under the boot carpet that increases the volume further.
[youtube]https://www.youtube.com/watch?v=2A_SuWLPVew[/youtube]
On the road, the 1.6 i-DTEC's 300Nms of torque pulls it through Lisbon's inclines with little drone to indicate that it is a diesel although I would have preferred a CVT mating that I think, is better suited to a higher compression engine. The petrol unit by comparison feels laboured and revs do overcompensate raucously before you are served another change. Honda predicts the HR-V will appeal to couples and those with young families but I think the HR-V's image depicts more maturity; there's an overwhelmingly dark interior yet tasteful piano black finishing around the gearbox with dubious body styling options title"chrome and aero." Furthermore, with nine consecutive years at the head of reliability and customer satisfaction surveys, it must be the choice of the sensible thinker?
The rear cabin captures light thanks to rear windows that don't have a quarter-light and although that coupe roofline doesn't replicate itself in headroom but is constrained for a six-footer on the firmer middle seat. Steering is slightly weighted when driving forward and suspension managed surprisingly well over ribbed and ruffling surfaces around the Portuguese capital.
Mandatory on all models except S are driver assistance safety systems that include a traffic sign recognition system that is literally that. In reality, signs did not match the speed shown on the seven- inch screen which indicates a software issue. That element of Big Brother also extends to a City-Brake Active System that is including on all models within Europe.
So, will the HR-V>Qashqai? The Honda covers the sums of the first equation but it lacks a CVT box with the diesel. I can see the manual 1.6 i-VTEC selling to those who want to upgrade from a Civic or Jazz; it is a worthy alternative to the ubiquitous Qashqai.
[youtube]https://www.youtube.com/watch?v=-5etkxnBj9s[/youtube]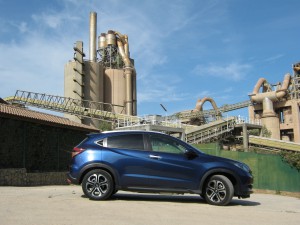 Words, photos and film are copyright of Sotiris Vassiliou
 July 2015