I hadn't 'tested' any cars this year – more of an admission than a damning confession. A courtesy car i.e. Seat Mii transported me to and from work admirably via motorway at the expense of tumbling mpg figures. There was the Ford Transit rented from the company that "picks you up" but left me waiting over half-an hour before realising the van was at another branch; they were genuinely apologetic however and wavered one day's rental. Fuel consumption from the 2.5 litre diesel averaged over 30 mpg from Manchester to the Wirral then south to Hereford – and back. That high-up driving position provided memorable views of freshly furrowed fields and gave a sense of perspective – you should try it.
So, the absence of press vehicles outside my humble abode was not a great loss, afterall it gave me the opportunity to gather notes over the past ten years and at least, calculate combined mpg figures. My first loan vehicle was a Jaguar X-type that hadn't covered a thousand miles on delivery, whose clutch was so sensitive on the bitepoint that I had a habit of stalling it. The Skoda Yeti that took me to the Isle of Skye and ran out of fuel in pitch darkness on the A9 to Perth; if that wasn't bad enough, discovering that I was only a few miles away from a service station annoyed me even more. The petrol attendant culminated the day by advising that filling-up a vehicle on the back of a recovery truck was against normal protocol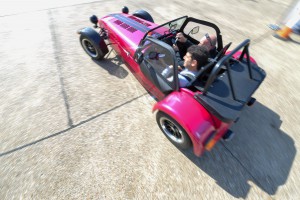 I've been busy preparing my sale of second-hand cars and even managed to sell a Fiat and my brother's Polo to cash buyers in the same month. I managed to get my former commute vehicle, the 1992 Audi 80 on the road again and solved the permanent ABS light via a blown 10 amp fuse in the sensor beneath the rear seat squab, when various mechanics could not. Another consolation is that a constant succession of press cars on loan can make you either complacent and unhealthy or both.
But that Millbrook invitation arrived and after some hesitation about whether I should accept, I did . SMMT Chief , Mike Hawes outlined the state of the industry that paradoxically is relatively healthy with the aid of a powerpoint presentation with various statistical displays culminating with the overwhelming comparison of 1.9 million vehicles produced in 1972 within the UK – peak production. Investment stats and employment aside, the Euro VI emission limit is upon us as is the shocking issue of Nitrogen Oxides. On a lighter note, we were informed it was the 23rd SMMT test day, or my eighth which reminds me that I should return my lanyards for recycling.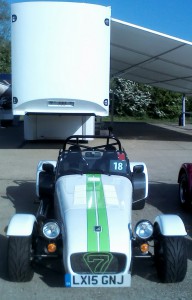 Instead of a GT-R, Nissan brought a Qashqai and Mazda were surprisingly absent despite two new launches of MX-5 and new 2. Driven a Caterham?.. I thought not so it had to be my first port of call. Now, I always thought that I had narrow hips but this was not the case in the 420R. You slide your legs down the floorpan, like an E-type apparently and wedge yourself in. Sounds comfortable? And then there's the procedure of fastening the three-point harness which made me frown although that was offset by the anarchy of raucous revs demonstrated by my instructor punctuated by an ominous "It'll bite!" It is rare to drive a car that you can feel the road with and you definitely get that with the Caterham. My head bobbed on the Millbrook Bowl and my left-foot began to ache with teeth chattering but it was an invigorating drive that highlighted a benchmark for the day ahead.
[youtube]https://www.youtube.com/watch?v=af6wcRlD_68[/youtube]
As is often the case as these events, it is customary to raid the cabinets for keys to prestigious brands although I like to try marques that I haven't tested before so I highlighted Ssang Yong and Dacia. The former brought a left-hand drive Tivoli in Korean spec which I drove with Steve Gray, marketing director on the hill circuit who explained that within the SUV B-segment, this had the longest warranty and even shared an automatic gearbox with Mini and Renault. Suspension coped well with the obtuse bends although I could hear a constant creaking of plastics as if they were protesting at my driving.
[youtube]https://www.youtube.com/watch?v=nhsCYYJonFY[/youtube]
Towards Volkswagen to nab keys to the Polo GTI 1.8 TSI. 182 bhp with wheel scrub on initial second gear selection on the three-door version. The solidity and semi-auto DSG flitting proved VW's worth with 0-100mph sprints on the bowl circuit, tartan seats reminding the GTI lineage. Fortunately, I brought both examples back without being followed by the security car! A Skoda Octavia 2.0 TDI 4×4 estate that had been partially immersed in mud had to be taken off-road – again. It slithered and slid along ruts and managed its challenge with the additional benefit of its DSG semi-automatic gearbox although at times, the limits of ground clearance were found; I even increased the height of splash marks on its side suggesting  this could commence a competition. I'd seen these cars used as ambulances to transport organs, the assurance of four-wheel drive and faultless Skoda build quality.
[youtube]https://www.youtube.com/watch?v=2ZJXGu5N8p8[/youtube]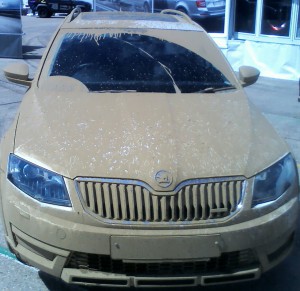 An orange Lexus RCF was chosen to widen the goalposts of choice. It's 5.0 litre burbled and whined in 0-100mph accelerations but I thought the 100mph limit was reached so undramatically with little to indicate that we were travelling at limit on the bowl circuit – speedometer aside. I question the choice of some dark plastics within, but then this catered for the American market- enough said.
[youtube]https://www.youtube.com/watch?v=Iq2lTy0AXzk[/youtube]
Dacia's Logan MCV, so boldly printed on the tailgate sounds futuristic although the Renault-based 1.5 DCi diesel is an old but proven unit. It is cheap at £ 6995 and wallowed around the hill circuit as my derriere slid  across the seat. Okay, you wouldn't drive that way usually but those seat bases were too flat and could be more supportive on longer journeys – that sounds like a sobering criticism. News distributor, Newspress brought a Vauxhall Nova and Austin Allegro. The former was the first example that I had seen with intact locks although my observation was bettered by a colleague stating that was all the more remarkable as it had spent its life in Luton. The Allegro had that odour of oil and thirty-five years of dust but what they both had in common was that you could feel the road. They were driven to counter complacency because when you drive a succession of new cars, you do often forget what you felt to become comfortably numb.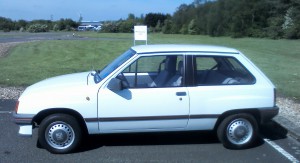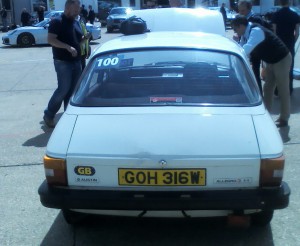 BMW's 125d showed how even weight distribution with rear multi-link suspension equates to sublime performance on a dry hill circuit. I had solitary rides on that – three is succession and it was very satisfying. I recently sourced a 2007 116 with 28,000 miles that drove similarly despite its age but wish it had better fuel-efficiency. Have I mentioned mpgs?
[youtube]https://www.youtube.com/watch?v=yCyRuaEf1Fc[/youtube]
My conclusion is that a respite from driving is positive as is choosing a different genre of vehicle to test your perspective as everything is relative.
Words, photos and film are copyright of Sotiris Vassiliou
June 2015