mainlandHas anyone out there paid £5.52 per day for any rental car ? I have – £50.52 for ten days including all charges – to be collected at Paphos airport in Cyprus. In this lifetime and hopefully, this trip, I'd like to travel to the Karpass peninsula or so-called panhandle as its shape resembles, to the north east of the island. At its headland is Apostolos Andreas, which has a monastery. As this area lies within the Turkish Republic of Northern Cyprus, a 20 euro fee will need to be paid at the border in order to cross but only covers you for 'third party insurance'. As this territory is an illegal state, recognised by nobody other than Turkey, in the event of an accident, it is unknown how the insurance process would work unless anyone out there has experienced it?
I am a bit apprehensive about staying overnight in the north; will we be chased by mountain men down isolated dusty roads attempting to make a hasty beeline to border safety ? – a melodramatic scene nurtured by my mind's eye. Then again, it wasn't that long ago when I was advised to lose my passport as I was about to go to mainland Turkey yet had visited Southern Cyprus three years before. To prove a point, out of all the other empty passport pages, the Turkish passport control officer chose to stamp entrance and exit marks on the same page as the Greek-Cypriot one. I made it out with no harm done.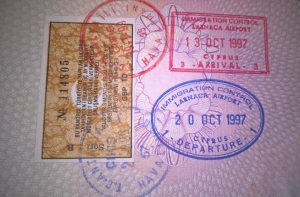 Prior to European Union membership in Southern Cyprus (how apt !), British born Greek-Cypriot men had to obtain a stamped piece of paper from a small governmental office in Nicosia, the capital city for exemption from army service – barmy bureaucracy in a bygone age.
Sniffing and coughing passengers aside, the flight went smoothly although I developed increasing tension in my forehead despite not having had a cold in the past year so am convinced that air conditioning is to blame for recirculating sniffy and coughing breath to afflict.
Paphos airport too, has many more passport scanners than even Manchester so new arrivals can get to passport control quicker. Flights from Manchester cease at Larnaca airport at the end of November which is why Paphos was the point of arrival. So far so good and I even had my car rental confirmation number written down although there was a problem as I had forgotten my credit card PIN number which the rental company needed to take 1000 euros as security. As my partner continued to glare at me, I began to perspire profusely. Last year, a rival rental company swiped my credit card but this year according to SIXT rental, policy had changed so despite my celebrations about bagging a cheap ten day car rental, I unfortunately had no choice than to pay 160 euros for ten days as insurance for the rental car – a bitter pill to swallow when I was supposed to be budgeting.
The car issued was an unmarked 2015 VW Up! ,except for a stone chipped bonnet and damaged nearside wheeltrim that had been marked on the carbon copy car check sheet. It had a full tank of fuel so had to be returned with one otherwise further charges would accrue – for sure. It drove well although that tell-tale sign of brake judder through constant braking through the Troodos mountains in the summer was apparent – like last year's Nissan Note !
Despite the rental company emphasising that the car was not to go over the border into the north, we had planned to outline the Pentadaktylos mountain range to stay close to Bellapais abbey which is a remarkable example of Gothic architecture by the Lusignans who retreated to Cyprus after being persecuted in Jerusalem.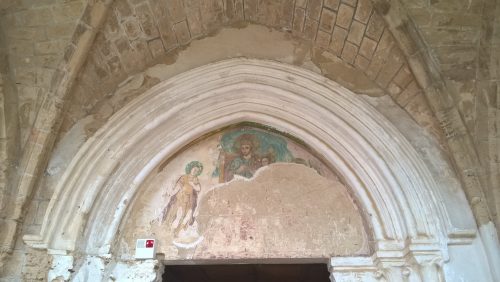 Beforehand, I knew that there was a border crossing point at Morphou although having travelled north from Paphos to its westerly point at Polis, we unexpectantly came across another crossing point at Kato Prysos in the mountains, not that dissimilar to North Wales terrain. 20 euros were exchanged for a 'Tower insurance' headed A4 paper – effectively a tax and seemingly worthless in the event of an accident claim. We found that navigation applications are vague to say the least so a good idea is to study the route beforehand using paper maps, the old way.
At Bellapais, stormy weather ensued throughout the night which I was blissfully unaware of according to my partner who subsequently went to check that the rental car was okay. Surprisingly, further inspection in the morning revealed a rash of dimples over the bonnet and roof with a few well-defined dents, by larger hailstones I suspect. Oops.
The Turkish Northern Republic of Cyprus, as it is known, has sporadic signage on its road network so you need study your route beforehand. Cars get parked randomly and join the road in the same fashion so you have to have your wits about you, moreso if you're uninsured !
The harbour wall of Kyrenia was fortified by the Venetians, protecting their other territories to the east. Kyrenia castle was used by, amongst others, the British to imprison Turkish rebels who wanted independence from Britain.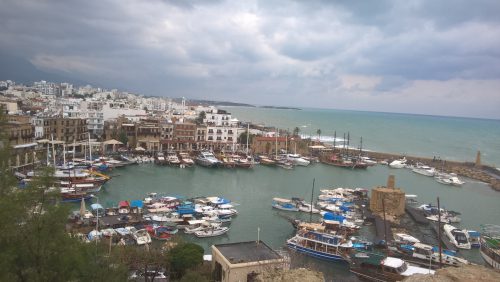 Leaving north to head south towards the capital city of Nicosia gives you a stark impression of the brutal nature of the divide – what were residential houses have been crudely adapted for United Nations posts. Looking up and beyond in the buffer zone is to provide an insight into the anomaly that makes Nicosia the only divided capital city – in the world. Close to the ancient Famagusta gate is Paphos UN post and a wander towards the pedestrianised Ledra Street gives you a flavour of two distinct cultures. Chain food shops litter the southern part of Nicosia that deter desperate toilet needers. In contrast, 'North' is to revisit a Cyprus of yesteryear as aromas which were long forgotten are reminded; shisha and strong tobacco are absorbed with a slower walking pace.
Close to one manned southern border post, I chanced upon a weathered Toyota dealership sign that indicated where those elusive cars were parked awaiting their new owners – in 1974. I should have had the courage to ask the Greek Cypriot soldiers to show me – young men more preoccupied with scrolling through their mobile phone screens than watching the border. Photos online show an array of Toyotas that have now, unfortunately been cannabilised as well as vandalised. Some have their shipping sheets still attached.
Travelling due south towards the red earth towns, so called as they are preoccupied with agricultural activities like potato growing harks back to Cyprus' original economy. Vans crawl along streets verbally quacking their produce through loudspeakers, " Patates, Tomates !"
Stormy weather subsided so that we were able to eat outside amongst a bearable breeze. Fish from Liopetri Potamo awakens your palette and reawakens your senses.
Dhyrenia has a cultural centre devoted to make visitors aware of the defacto nature of division; a spy through binoculars sights unfinished hotels outlining an abandoned coast where apparently, wild dogs roam. Despite this, the village of Pyla accomodates Turkish and Greek Cypriots who coexist side by side as the contrasting registration plates indicate although Turkish stayers pay no taxes.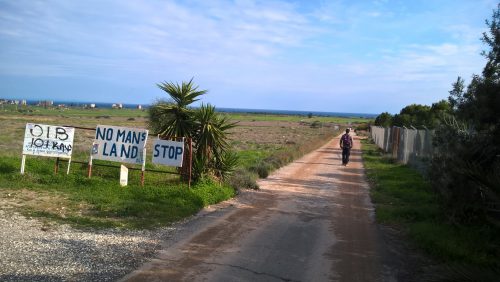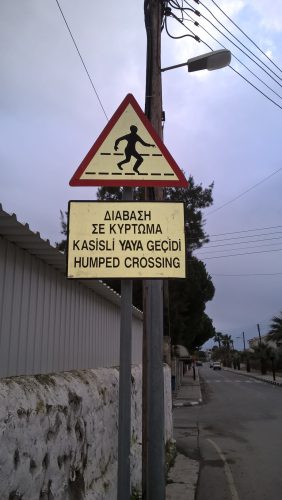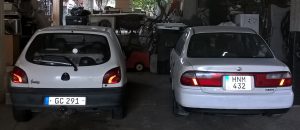 Cyprus has a long history of invasion and colonisation although the drilling of oil by Turkey within Greek Cypriot territorial waters is a source of tension as is the immigration crisis in respective mother countries.
Returning to Paphos airport in the evening, our VW was checked over by torchlight. Side panels, wheels, fuel gauge and even electric window retractors were scrutinised and exercised – we got away with the dented roof and bonnet. Calculation concluded that we had travelled a total of 688.5 miles on £46.30 of fuel.
Would I travel north again ? It is an experience even though Apostolos Andreas eluded me but maybe another attempt in an insured rental ?
Words and photos are copyright of Sotiris Vassiliou
March 2020