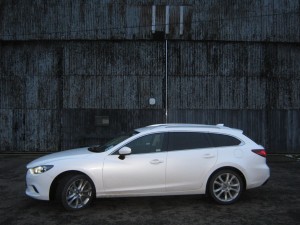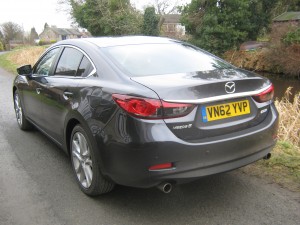 Launched in 2002, the Mazda 6 evolved in 2008 into the mark two despite a curtailed life compared to the seasoned Mitsubishi Colt which continues being manufactured in its ninth year! The need for a third generation 6 appealing to the company car owner is Mazda's candid prerogative, instigated in 2008 by the development of the now ubiquitous 2.2 diesel. Mazda hopes to increase its 12% UK market share with 72% in the fleet sector with eight out of ten buyers expected to choose diesel powertrains. The saloon is expected to account for 65 percent of sales with the remaining opting for the sports tourer ensuring the deletion of the decreasingly popular hatchback variant. With the aid of the deceptively titled SKYACTIV technologies, an admirable reduction of carbon dioxide levels highlights a new raison d'etre for Mazda, bolstered by the deletion of the RX-8 and that pickup thingee BT-50. Interestingly, the 6 is the first mass production Mazda model equipped with i-ELOOP  (Intelligent Energy Loop), a capacitor-based brake energy regeneration system fitted to Mazda 6 models sold in the UK (with the exception of two litre 145 ps petrol units), using a capacitor to store charge that can be converted into electrical energy.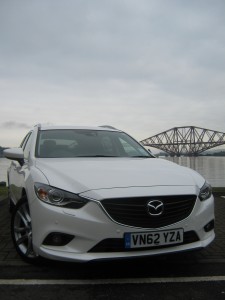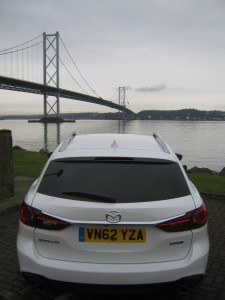 The 6 has stretched its door skins even higher at the expense of small windows tapering rearwards to dupe you into the sensation of a sportier drive. In reality with elbow cocked up like a chicken's wing; leaning on an unusually high window ledge and the sports tourer's 'visibility' that necessitates an upgrade to 'Sport' grade for the reverse camera to guide you, design language i.e. Kodo competes with a decreasing practicality. Subjectively, there appear to be design references to Volvo bonnets (an NCAP requirement) with Infiniti and Jaguar curves beyond the C-pillars creating a sturdier, tauter appearance incepted by greater use of tensile steels and welding seams. Mazda have adopted the feline theme abandoned by Peugeot with Kodo (Soul of Motion) inspired by the power and agility of a cheetah with angled headlights compared to cat's eyes that reflect off  'err cat's eyes – cue a reference to Mrs. Slocombe's pussy! in 'Are You Being Served?'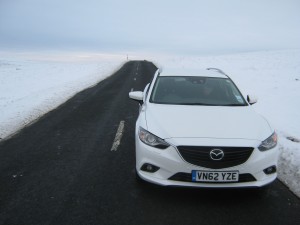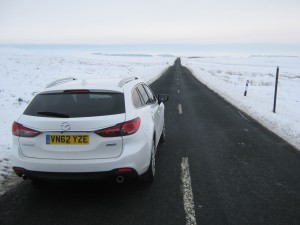 Motoview.co.uk tested 2.2 diesel versions (there are also 145 and 165ps two litre petrol engines) offering 150 and 175 bhp which my co-driver defined as being 'free revving' i.e. accelerating constantly and consistently up to and beyond the rev counter redline with torque that feels as if its distributed throughout the revolution range. Both diesel units appear refined with little noise intrusion within dispelling most criticisms of insulation that were often reported on previous Sixes. Combined with mpg figures displayed on the trip computer of above 40 will attract the fleet manager but will it be enough to topple the BMW 3 series off the company car podium? With a competitive price of £23140 for the 150ps diesel SE-L Nav saloon, £4885 less than the BMW 320 Efficient Dynamics with near identical emissions of 108 and 109 g/km respectively; the Mazda is economically viable in an unviable economy. Police patrols are using Hyundai i30 estates so with cost and fuel efficiency in mind, a favourable Benefit in Kind cost of £116 per month at the 40% tax rate, it is inevitable that the Mazda 150ps diesel should be a serious choice. Furthermore according to Glass's guide, residual values are expected to be five per cent stronger than outgoing models after three years or 60,000 miles.
[youtube]http://www.youtube.com/watch?v=En6xpM-pWYA[/youtube]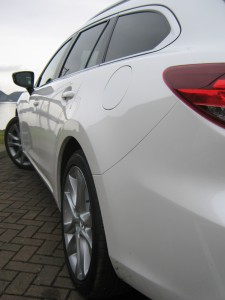 Inside, an 11cm increase in length over the outgoing model provides best-in-class rear legroom and overall boot capacity in the saloon model however the boot's hinges are made from a squared utilitarian cross-section of metal that looks exactly like a curved chair leg. Happily, in the cabin, Mazda has moved the handbrake towards the driver's side but the gearbox housing has a blancmange like sturdiness when nudged by your left knee and like the CX-5, door pockets are too small to be useful. It is a great shame that much lauded design language has not translated within especially in the back of the sports tourer which is likened to a dark abyss.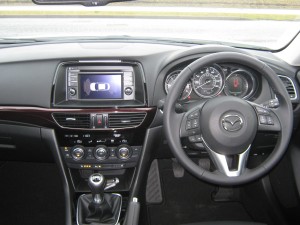 Mazda has pushed through established boundaries with the CX-5 and 6 with The Association of British Insurers lowering insurance groupings of all models because of The Smart City Braking System. A belated but welcomed acceptance into environmetal credibility that BMW took the lead in, Mazda has ensured that the new 6 provides a new benchmark in fuel efficiency and safety. I applaud them.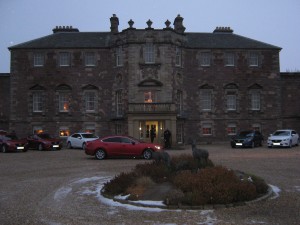 Words and photos are copyright of Sotiris Vassiliou
March 2013