Snowbound, with soup stocks in short supply and I'm musing; do we have to resign ourselves to the elements and rely on reports that repeat: 'Frozen Britain'- after all, it IS winter.
My previous trips to Cockermouth had to be cancelled because of floods so I thought it wise to consult weather maps which showed snow flurries affecting the north-east; so with a room at Travelodge already booked, all that I had to contest with was driving. Waking up early on a Saturday morning revealed a clear, turquoise sky with sunrays reflecting off the shrouded surface. My route was planned to avoid the monotony of motorways, to acknowledge and applaud the A49 that dissects Warrington and continues due south to reach my favourite market town of Ludlow in Shropshire. Roads were quiet and clear, surprisingly free of hazards excepting roundabouts that had to treated with greater care. My only interference occurred whilst overtaking a truck which caused the front nearside tyre to momentarily lose traction with slush, remedied by sudden throttle reduction.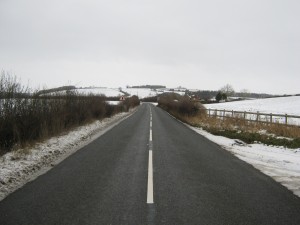 Shropshire is one of England's largest and least populated counties with most towns having their own distinct character: Church Stretton with a background of hills such as The Long Mynd and The Wrekin.  Bishop's Castle has one of the oldest breweries with intriguing second-hand bookshops and junk stores. B-roads will lead you to Acton Scott working farm, featured in BBC's 'Victorian Farm' and Acton Burnell, south of Shrewsbury includes Robert Burnell's 'castle', essentially a fortified manor house. He became the Bishop of Bath and Wells and the first parliamentary meeting reputedly took place within the walls of 'Parliament barn' which still stand defiantly in the adjoining grounds of Concord College, where I spent sweltering summers teaching English. Reaching Ludlow's Woofferton travelodge, south of its market town showed an almost vacant car park, yet Little Chef confidently displayed a 10% reduction if you had a room booked opposite.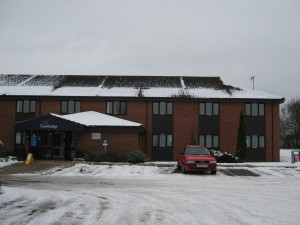 I admire the simplicity of Travelodge, with television, towels, a bar of soap, hot drinks sachets, kettle and a Gideon's bible, should you feel the need. Inexpensive too, seeing as I had booked it months before at £19. Trudging across to an eerily silent Little Chef for some mash and sausages, I was 'greeted' by members of staff dressed in overcoats in readiness to depart so I politely asked if there was any food left. I was duly rewarded with my chosen meal, only disturbed by a cold, fixed stare from one assistant that translated in my mind to; and who should walk in but you, fifteen minutes before closing time!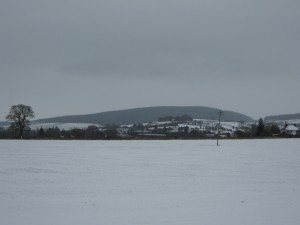 Stomach duly filled and with warm room awaiting, I retired into a deep sleep. Evidence that there is life, snow and media aside!
Words and images are copyright of Sotiris Vassiliou
February 2010