When things get too complicated or don't work, my practice has been to stop, re-evaluate and re-commence with a fresher outlook. Peugeot has done this with the new 308 with the launch of two e-THP turbocharged 1.2 litre engines generating 110 and 130bhp – the latter on test. Can you think of a petrol 1.2 litre that has an output of 130bhp? – me neither. BMW Mini has recently launched a 134bhp turbocharged petrol 1.5 but how has Peugeot done it? Over four years, the engines have been developed solely by PSA Peugeot Citroen so there has been no collaboration unlike the 1.6 turbo. The two 1.2 units are composed of aluminium except cast iron liners to protect the three cylinders and use 40% of parts from the 1.2 VTi that has an output 48 bhp less than our testcar. Having driven a similar version at Millbrook on the bowl, hill and city circuit, I was genuinely thrilled with the performance – after having driven a Maserati Ghibli and VW Golf R . The 1.2 e-THP IS a revelation because the torque range is wide from 1500 rpm to 3500 rpm giving the sensation that you are driving a 1.6 diesel – second gear was selected for the majority of the city circuit and the engine didn't feel strained either.  A new turbocharger has been designed to spin at 240,000 revolutions per minute with injectors reaching a pressure of 200 bar with five holes for an even distribution of petrol. The figures are so good that it will replace the 1.6 THP within PSA . The new unit's mass of 80kgs combined with a lighter chassis shaves off 140kgs from the previous model. On the road, the car is spritely and if you select a wrong gear as I did, the engine compensates and copes because of that broad rev range. Our test car had 16″ Quartz alloys with Goodyear Efficient Grip rubber yet the feel on dry tarmac was anything but. A motorway sliproad that I regularly use to get onto the M56 has a sharp right hand bend;  I usually apply throttle mid-bend when everyone else is braking although I couldn't do this in the 308,  backing off when discovering the grip limit.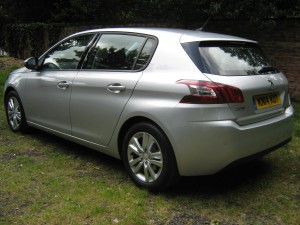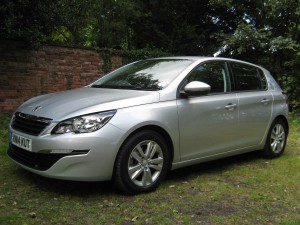 The 308 feels solid and well built although a rung below the revered Volkswagen Audi Group and interior finish and fit is fine although different textures would contrast surfaces around the dashboard. The elevation of the binnacles is positive, framed by the smaller steering wheel which can be set so that you can see all dials with adjustment of steering wheel and seat – no more whining about the steering wheel, car reviewers! The seats have bolsters on the sides and feel like those in a Vauxhall Astra and rear seat room is good all round aided by recesses in the seatbacks but there is a wide area between lifting your leg over the sill to shuffle your way over the back seat. The seat backs fold easily but the squab stays put so that there is an uneven load area from seat back to boot floor with a surprising absence of any hooks for shopping bags.
[youtube]https://www.youtube.com/watch?v=1761Zb1UZGI[/youtube]
As I said, I did select the wrong gear and this happened frequently when down-changing from fifth to third. As the gears' gates are spaced out, I hit the area between them when reducing speeds at roundabouts which are frequent on the A49 between Hereford and Shropshire. Peugeot desperately need a short-shift gearbox with this engine as it is anomalous without one; the RCZ has a decent enough gearbox but Peugeot is doing itself a disservice as the full potential of the 1.2 e-THP is hindered. It's no exaggeration that almost one week on from when the car was collected, I have a yellow hue of bruising covering my left bicep achieved through some vigorous gearchanges with subsequent choice Greek expletives. I also found the same issue with the 208 GTi gearbox that sits too tall in relation to your elbow although an adjustment of the armrest tilt solves this.
[youtube]https://www.youtube.com/watch?v=1FyiNzOSAaw[/youtube]
In one week's driving, we covered over 800 miles starting from Manchester following a triangular route south to London then across to Hereford and then back up north. A combined 54 mpg  (515 miles for 43 litres) is very respectable for a small petrol engine that was being driven without economy in mind and isn't that far from Peugeot's official fuel figure of 61.4.
The 308 is a good product, even better with the 1.2 e-THP and will narrow the gap between it and in order of descending rank order of sales: Ford Focus, Vauxhall Astra and Volkswagen Golf. For the 308 to directly compete, a redesigned gearbox with more attention to door panel materials should primarily be on order. Peugeot has shown that with development, it can deliver the goods but the 308 needs just a little more to become great.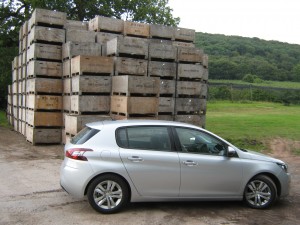 Words, photos and film are copyright of Sotiris Vassiliou
September 2014