Derv or petrol head? The increased torque and better fuel economy makes me side with the former and interestingly, there are some deceptive diesel engines out there. For example, Kia's soon to be replaced Rio has a 1493cc unit that has torque peak somewhere between second and third gear so a technique I use is to increase revs to set-off in second gear that often out accelerates anything from the green light; it is a dark horse!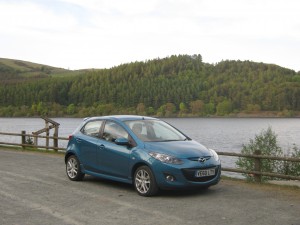 With complex collaborations between manufacturers, you may assume one marque shares its own which is the case with Mazda's 1.6 diesel that is a Peugeot – Citroen (PSA) engine. It looks like someone has dropped a plate of spaghetti on to it, such is the array of hoses and wires which pass over or under different components, the opposite of what you would see on a Germanic engine. Nevertheless, it is a trace of the agreement between Ford and PSA to share diesel technologies despite Ford selling their majority of shares in Mazda at the end of last year. Mazda, in my experience of the CX-7 and 6 initially, has been hesitant to launch cars with diesel units; ironically, the CX-7 is now only available with the ubiquitous 2.2 unit that is also used in the 3, 5 and 6 yet strangely at UK launch, it only had one petrol option. A Mazda UK sales manager who spotted me driving a press CX-7 cited the lack of a European base for this hesitancy but regardless, UK sales of diesel cars according to the Society of Motor Manufacturers and Traders amounts to circa 40%.
[youtube]http://www.youtube.com/watch?v=2a39Dpco1PM[/youtube]
Mazda refreshed the 2 at the end of last year with styling and engineering tweaks, notably a more supple rear suspension. The designer responsible for the RX-8 injected steriods into the 2's wings to bulk them up, giving definition and adding muscularity although from the driver's seat, it's impossible to see the bonnet edge and wing sides which for a small city car is surprising. The rear axle provides more 'give' than before, being a compromise between firm and supple for a sporting ride which the badge denotes. Unfortunately, this contrasts with only one diesel engine that doesn't have enough torque, having only eight valves to breathe through even though it's a 1560cc. It chuggs away with 20Nm less torque than the Kia Rio's, having an even spread of turning force that is. Ford's Fiesta has the identical unit that also shares the same kerbweight with the Mazda of 1100 kilograms despite Mazda's weight saving claims that were once refreshing for being innovative when the smaller 2 was re-launched in 2007. Obviously, diesel engines will tip the scales but Mazda has missed a trick here by not offering a spritely unit that could offer the performance to suit the look of the Mazda 2; Kia's unit would have been ideal here.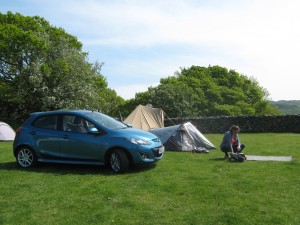 Engine aside,  comparing the 2 with the Fiesta as they both partially share platforms does highlight a disparity in quality with attention firstly to interior materials. The 2 has predictable dark plastics with texturing that I still bizarrely remember on the steering wheel cowling of my Dad's 1977 Austin Maxi, when the Fiesta has a mixture of patterns around the dashboard that breaks the monotony. Unusually, the felt inner wheel linings that reduce spray are stapled together which doesn't set a great example and the parcel shelf strings are tied at the end instead of plastic caps. This though, is a general simplification of the manufacturing process although from another point of view it is due to reduced cost. The boot release button, that is tiny for stubby fingers like mine does flex metal around it, not good when this may be the first point of physical contact with the car.  The boot's width is impeded by plastic inner rear wheel arches and the loading lip is high which will scuff the bumper. There is no storage for bottles or magazines for rear passengers which I also remember of the Mazda 6 at launch.
[youtube]http://www.youtube.com/watch?v=vpQrC8DJdqI&feature=related[/youtube]
The 42.8 litre fuel tank displayed a potential 487 mile range when brimmed to the first click and we calculated an overall combined mpg figure of 48.75 over mostly A and B roads. which for a diesel is no great achievement these days, especially when my Kia achieves 58mpg despite having a more powerful engine. An increasing number of small cars, like the Mazda 2 have digital bar displays instead of traditional fuel gauges although there is no clear reserve range despite an orange fuel warning light. The handbook is no help either and small amounts of diesel won't  increase the bars so the result is an ambiguous reading which isn't reassuring or accurate; I suspect this is yet another sign of cheaper components.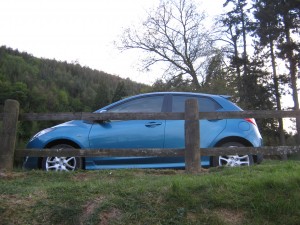 The Mazda 2 may have been 'new' in 2007 but the competition has moved on; a better diesel engine and more attention to materials as well as a more accurate fuel 'gauge' would improve but I'm still a Derv head,  just not the Mazda 2's!
Words and photos are copyright of Sotiris Vassiliou
Film is copyright of Sotiris Vassiliou and Peter Kemball
June 2011