P=VI therefore I which is Current equals Power (P) divided by Voltage (V) which should define the Ampera, or does it?
Having recently driven a prototype version at Millbrook, I was intrigued because it is unique, having dispelled the new term of 'range anxiety', moreover with an increase in two grand on the price of the Nissan Leaf, there are only three thousand pounds difference between them, taking account of the UK Department of Transport's "Plug-in car" grant. That represents value for money, which say Vauxhall has a three hundred and sixty mile range accounting for its E-REV acronym of Electric – Range Extending Vehicle.
[youtube]http://www.youtube.com/watch?v=f35jCT4245s[/youtube]
With only five minutes until boarding from Heathrow, waiting for the next shuttle train to get to terminal five, I chanced upon Kryten a.k.a. Robert Llewellyn who was in the same predicament. He has progressed from 'Red Dwarf 'and 'Scrapheap Challenge' to 'Fully Charged', that as its name suggests reviews 'electric' cars. We eventually made our way to meet fellow carhacks to 'wait' on the plane – which we did for two hours!; more than twice the flight time to Schipol airport in Netherlands, not Holland as most people seem to assume.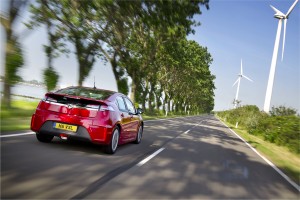 Negotiating my way through passport control enabled me to sit in one of the first production Opel Amperas, they'll be badged Vauxhall in the UK for this March's launch in Blighty. Having driven south in a two litre diesel Astra, I was reminded of the car's proportions as I gingerly eased the Ampera down the car park slope, sensors beeping manically The passenger bonnet corner seemed invisible, even when raising my head and I became aware of white lines – on the road, trying to place the Ampera within as both cars are based on the same Delta chassis. They seem solidly built, comparable to Volkswagen group quality, even though the Ampera's built in Detriot with battery cells also produced nearby. Alterations on our production model included "Spice Red" door inserts and matching hue on leather seat backs and trim to compliment the paintwork, with an oversized kangaroo pouch, designed as an afterthought to fill the void between two individual rear seatbacks. Of course, the T shaped battery pack of 198 kilograms has inhibited a fifth seat but I think  General Motors should have included soft padding between the rear seats, anything but that massive pencil case crudely held by velcro – this is a twenty nine thousand pound car after all!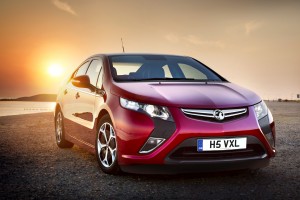 At Millbrook, I described the Ampera's performance on the city circuit as undramatic as it was in driving rain towards The Hague, location of the Louwman museum that doubled as our rest stop. Aside from linear pedal to metal acceleration on a sliproad with torque, equivalent to a three litre diesel, the Ampera's torque 'curve' is a diagonal line as it's evenly distributed; we felt assured, despite gusting winds and heavy rain responsible for our delayed landing. As a driver, I felt detached from the experience and distracted by screens showing range bars, kilometre speeds, a green ball as well as navigation in a foreign environment. The sensation of fluidity abounds in suspension and steering with only slight detection of the range extender i.e the constant engine pitch taking over when battery power was depleted  There is some indulgence for the potential performance driver with a 'drive mode' button offering power changes of 'normal' (for 90% of driving, say Opel) or 'sport'; 'mountain' (for high speed inclines) and 'hold' to use extended range produced by the engine to reserve battery charge for zero emission zones. Electrohydraulic regenerative braking is found using the 'L' ratio on gearing to give you the sensation of slowing the car to turn the generator/alternator although this function provides no increase in range.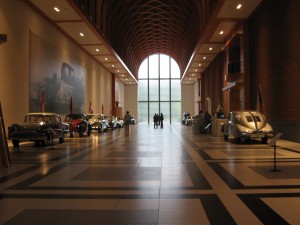 Extensive testing of the Ampera and its components have been conducted over the years, with an emphasis on electrical safety that has subjected the T-shaped battery to immersion under water and nails through its cells. Testing of batteries verifies warranty cover over eight years or 100,000 miles although Opel stressed that this is what they have found so far and that there was no reason why the batteries would not last even longer. Getting to the guts of the Ampera are (deep breath), the primary traction motor that generates 111kWs of power and 370Nms of torque with a second motor, the 54 kW generator; planetary gearbox and (86bhp) 63kW 1.4 litre engine that runs off E85 fuel and of course, the 16kWh lithium-ion battery pack . It's a fusion of engineering, especially when viewed in profile on the attached film.
[youtube]http://www.youtube.com/watch?v=IYlgHweaqws[/youtube]
The Ampera crept silently onto the stage of the Louwman museum, an ominous whirring from the electromagnetic handbrake punctuated an Opel design officer leaving the car, to explain the mantra of 'sculptural artistry', so passionately advocated also by Vauxhall/Opel Vice-President of Design Mark Adams. Aerodynamics has sculpted the Ampera, considering the additional mass, to create polycarbonate wheel inserts to improve airflow with slats at ends of bumpers. Furthermore, the Bose infortainment system uses 50% less energy than conventional units and air conditioning has an 'Eco' setting, slower than maximum.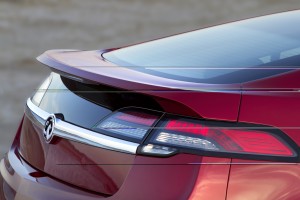 General Motors has clearly created an alternative product to subdue the range sceptics, complimenting the traditional combustion engine and electric components with substantially reduced emissions overall. I eventually left Schipol on my third attempt, the previous two flights having been cancelled, and collected the Astra in the red-eye hours. Torque boost with some diesel clatter distinguishes the Astra although the Ampera has a layer of environmental credibility hiding its engine!
Words, photo (museum) and film are copyright of Sotiris Vassiliou
Ampera photos copyright of Vauxhall Press Office (UK)
July 2011