How do you export a car to Cyprus? As simplistic as it sounds and with transport aside, there are logistical and bureaucratic hurdles to overcome before the assumption that payment via overseas transaction will go as planned…
Research a la Google was my starting point and after time wasted scanning outdated car forums, the rivettingly entitled, 'The Cyprus Ministry of Finance – Customs and Excise' webpage provided an appropriate source about costs incurred for excise duty. I still found it difficult to make any headway at my end i.e. how to export a car from Southampton, specifically a BMW 316 diesel with emissions low enough to guarantee a 30% discount on import duty at Limassol.
Shipping companies quoted a range of prices from £800 including transporting the BMW from Manchester to Southampton up to £597.60 inclusive of VAT from Pengelly Shipping Limited for roll on/roll off ferry from Southampton. Apparently, their profit margin per car was only £40 in response to a desperate attempt by myself to haggle for a reduced fee. A booking attachment through e-mail was received that had to be completed with details of the soon-to- be exported car. Having agreed £4100 as a trade-in for my 2009 Suzuki Splash, a 2009 BMW 316 saloon with 57,000 miles was purchased for £10599 from a local dealership. Being an ex-lease car, all documentation was included with a recent service at 51,000 miles. Being my first export, the car had to be in excellent order and a spare key was stipulated on condition of the purchase. At Motrix Motor Company, Offerton, Manchester, I had previously inspected a 2010 BMW 320 Efficient Dynamics advertised at a cheap £10250 but on a second inspection, an airbag light illuminated itself and the advertised "full BMW service history" wasn't on paper but on a computer as the 'salesman' resplendent in jeans and blazer enlightened me aided by his car washing minion. After an emotional and downright unprofessional outburst from blazerman, I thanked him for his time and strode off vowing never again to buy from a small independent dealership citing his office – glass cubicle having a sledgehammer blow to one side which blazerman sheepishly declined to talk about. I wonder why?
Meanwhile Dimitri, purchaser of the BMW exchanged e-mails with me about documentation required on import with the T2L document being an anomaly which the selling dealership had not heard about. That document used to be known as the Single Administrative Document so its acronym explains why it was renamed. Back to Pengelly Shipping who sent an attachment of a shipping note that had to be produced with the car at Southampton Dock, 105 Berth for Grimaldi Lines to transfer the car on the Grande Scandanavia ferry. An online payment was issued to satisfy the shippers and a date was specified to drive the car south. That Shipping Note is important and will cost you time and £10 should you forget it. After an arduous journey that included a bumper scrape by an anonymous git at Waitrose, Cirencester thus reducing my profit margin, we passed through security gates at the docks to give the secret sign. Interestingly, a steady convoy of left-hand drive Landy Range Rovers cruised towards agape bow doors no doubt going to emerging markets such as China.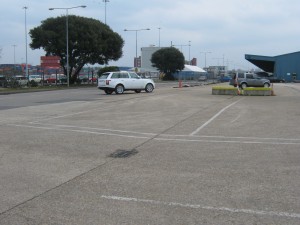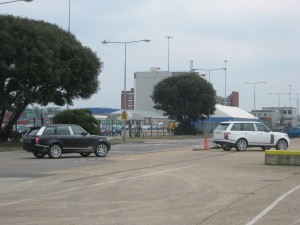 The elusive Bill of Lading or Freight charge document is important as two original copies have to be sent to the UK shippers who then e-mail confirmation of the documents to the receiving company in Limassol. This is made more difficult after receiving  Bills of Lading this morning when the ferry is due to dock in Limassol – tomorrow!
Finding insurers to cover a car during shipping is difficult with my research uncovering only two that were willing, on condition of a sales invoice in my name as the car still had the previous owner on the registration document. Furthermore a pre-shipment condition report had to be filled in by an independent party but the man behind the counter for Grimaldi Lines announced that "they didn't get involved in that" so that the BMW was uninsured during movement as the shippers don't insure goods being transported. Memories of a transporter that sank with the loss of Volvo XC90s reemerged. A French frigate stood guard by the wreck until the vessel was cheesewired by salvage companies to remove the wreck, slice by slice. Reassured by his colleague's observation that they move hundreds of cars every week without a problem, I left the Beemer with key on the driver's seat after being told to!
Fortunately, I had been paid by Dimitri before Cypriot banks went into meltdown. As for the BMW, it's in Alexandria now before continuing  towards the eastern corner of the Mediteranean to Cyprus – I hope.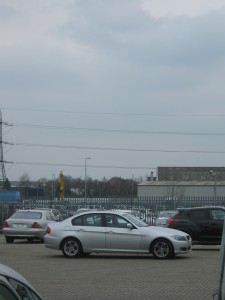 Words and photos are copyright of Sotiris Vassiliou
March 2013