'Crossover' is the market that has expanded massively in recent years, euphamistically replacing 'Sports Utility Vehicles' of yesteryear. Furthermore, smaller, lighter bodies with fuel-efficient engines ensures that this market will prevail, as the Nissan Qashqai has proven. With its successful marketing strategy, you'll have no difficulty finding one of these on your High Street; it is King of the Crossovers!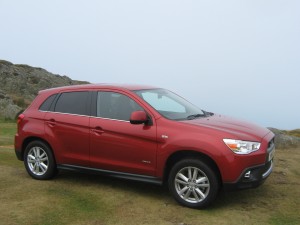 Mitsubishi launched the ASX, (take care to enunciate each letter) in June 2010 and those letters, in my view are the beginning of the marketing issue. ASX, said in quick succession sounds like ASEX, and it isn't obvious what that acronym means so that I had to ask Mitsubishi public relations, prior to driving one at last year's regional test day in Wetherby. When breaking into a new segment, as with this Mitsubishi, wouldn't it be wiser to have a distinctive name as opposed to a clinical acronym? Enough said.
[youtube]http://www.youtube.com/watch?v=pCyJq7RC8qU&feature=related[/youtube]
I requested the £22k ASX 3 1.8 diesel two wheel drive that will cost you £130 per year to tax. It's also available in four wheel drive although for economy, I decided to opt for the former especially as the Mitsi has lots of environmental technologies such as auto start/stop with regenerative braking as standard which again, isn't obvious from the front page of their website. It also has an eco meter to show how efficiently you are driving as well as a gear shift indicator. The 1.8 turbo diesel engine was jointly developed between Mitsubishi Motors and Mitsubishi Heavy Industries and has the lowest compression ratio of any current passenger diesel car engine in the market so that it ticks over at about 600rpm, only increasing when you depress the clutch. The turbo starts to whistle throughout all six gears so that torque is available throughout the whole rev range, rare when so many manufacturers highlight torque peaks. Moreover, the distinctive sounds of the valves ensures that breathing alters to ensure maximum fuel efficiency. This efficiency also works in harmony with the body that has plastic front wings to reduce mass and also helps score a 60% pedestrian NCAP rating. Evidence of wind tunnel tests have left their marks on the roof leaving raised ridges to lower its drag coefficient even if the 'jet fighter' grille looks like the Mitsi's been snorting too many white lines to make its septum drop out!
[youtube]http://www.youtube.com/watch?v=TSS9bMxVVCM[/youtube]
Inside, the Mitsi's instrumentation looks simple although digital bar displays for fuel looks like a novelty. Mitsubishi had been criticised for using hard plastics although this has been softened on the dashboard top although reverts to Austin Maxi plastic everywhere else, which combined with black doesn't invite. Surprisingly on a new car, you can see the edge of the bonnet as there is a short overhang which, with a raised seating position gives you a commanding view of the road ahead yet negatively, there is no Sat. Nav. so that you'll have to spend over two thousand squids to upgrade to the originally named ASX 4, to include leather seats, Kenwood entertainment and reversing camera.  Broad, supple yet supportive seat bases rid the dreaded 'numb bumb syndrome' even after a three hour drive but rear seats have a predictable 60:40 split although they do fold flat unlike the Kia Sportage's yet without the versatility of a Skoda Yeti that you can remove rear seats from.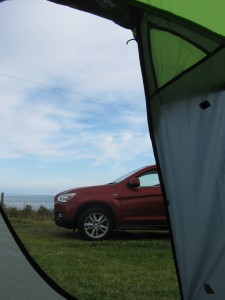 A camping trip to the Lleyn peninsula in Wales added 543 miles to the milometer using 53 litres with 10 to spare until empty giving an admirable mpg figure of 47 even though about four fifths of our journey was covered over A and B roads. Mitsubishi Press office said they sold 2417 from UK launch to the end of last year and hope to sell an additional 3000 this year so the ASX seems a relatively slow seller here at least, which is a great shame. Uncovering a gem of a car and exposing it to the public is an additional benefit of my job and the Mitsi is an environmentally-aware machine without the ego. For it to develop one, the Colt Car company, i.e. Mitsubishi should try much harder in the UK to publicise the merits of the ASX as it deserves more credibility. Mitsubishi. I am available for consultancy work…
[youtube]http://www.youtube.com/watch?v=94Ecj6P_ldE[/youtube]
Words, photos and film are copyright of Sotiris Vassiliou
August 2011