"You'll be amazed at a Mazda" remains burnt in my memory cells, understandably so because it contains a simple and apt anagram. Time has elapsed and Mazda's mantra, for a while now, has been "Zoom, zoom, zoom", a slogan I must admit I wince at. Are Mazda's cars "Zoom, zoom, zoom?" I question as I amble my way towards the Mazda 6 launch. I notice that the new 6 has a high waist line, like Simon Cowell, in that the side windows and glass areas are relatively small compared to the rest of the body, tapering towards the rear. There's also very little outward difference between the more expensive saloon and hatchback with a larger quarter-light, which ought to iron out some residual used price difference between them. Flared front wings inherited from the RX-8 demonstrate an athletic nature although they aren't visible from the driver's seat and I think that it's time for that badge to be redesigned because it's not that different to other Far-eastern Asian brands; it should be. Mazda have identified a niche and are attempting to adhere to it.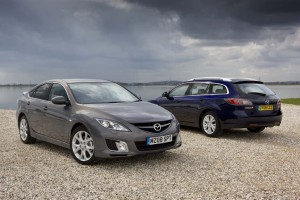 The 6 is based on a "tweaked" platform of its predecessor and has no relation whatsoever to the Ford Mondeo as Mazda-speak PR Director emphasised despite Ford having a stake. The 6 has also been on a diet, losing 50kg to its predecessor and looks svelte compared to the sizeable derriere of the Mondeo which should steal the Megane's catchphrase easily. Inside reveals a dark cabin with silver plastics to break up the monotony (the new Sports Luxury tier offers light grey leather) with ample head and legroom in the back. You can adopt a sports car seating position in the 6 where you sit low with the steering raised, with the door skins up to your elbows which is deceiving given the nature of the car. There are three petrol versions yet only one diesel at launch and I selected the 2 litre oil-burner and 2.5 petrol to test around the windies of Wales. Water bottles were kindly provided in the storage by the handbrake lever but you have to reach over the bottles to activate it; it should have been the other way around surely, a clear economic oversight on a right-hand drive car.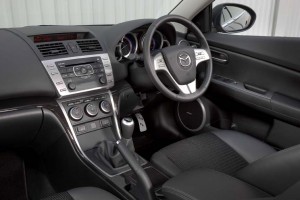 Our test route comprised cambered, inclined A- roads and was ideal to show the torque levels of the two engines. I was especially enamoured with the 2.5 petrol which was attentive to subtle throttle differences and married well to the supple suspension set-up. The diesel sounded and felt strained under acceleration on inclines and I suspect that an uprated unit will be offered to compensate. The gearbox coped (a sixth cog isn't provided for the 1.8 petrol) but doesn't have the satisfying feel of that which should be in a car with sporting prowess. So, a driving experience that does tally with the slogan and a reduction in kilos that will aid taxation bands (the diesel emits 150g/km which is in Band C) although you could clearly hear stones ricochet off the body and tyre roar on the motorways which didn't dispel the criticisms of noise intrusion that the previous-generation 6 had. A woeful lack of storage space in the back (there's only a pocket behind the passenger seat) to store magazines and newspapers won't make it a tidy place but then we're only concerned with "Zoom, zoom, zoom" so in that respect it's a hit.
Words are copyright of Sotiris Vassiliou
Images are copyright of Mazda Motor Corporation
April 2008