Revising for the test
My Audi 80 is eligible for a free MOT. There is a re-test charge though, so I must make sure that my bases are covered hence new tyres and wiper blades. The affable geezer who fitted new rubber mentioned and wrote that the rear brake discs had rust on them which makes me suspect that the calipers aren't working to their expected efficiency. Also, one of the front pads is 70% worn unlike its partner so a similar story here. Finally, the handbrake pulls too high which needs adjusting as I had the cables replaced. Rectifying this should increase the likelihood of being rewarded with that all-important piece of paper. Fingers crossed…http://www.audi.co.uk/audi/uk/en2/owners_area/Servicing_with_Audi/free-mot.html
August 2009
Words are copyright of Sotiris Vassiliou
Judgment Day
Date: 8th September
Time: 8.30am
Place: Audi, Old Trafford, Manchester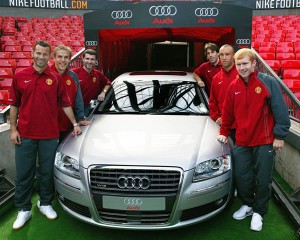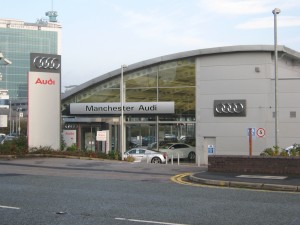 I must admit feeling a degree of trepidation on my way to Audi's dealership in Manchester, close to The Theatre of Dreams that is Manchester United's ground. My Audi hasn't been inspected by any four-ringed dealership for years so I'm thinking that the MOT inspector will either:
a.) Laugh his socks off before beckoning his colleagues to gather around an archaic relic from a bygone era.
b.) Fail the 80 over something minor.
c.) Charge me some ridiculous hidden fee even though my voucher states that the MOT test is free.
Now, I'd been there before. Once to show alleged interest to test-drive  a used A8 so that I could write a review for Professional Driver's Magazine and more recently to order a hose for the leaky cooling system. The Parts department has now been surgically removed from the dealership, sited directly opposite so you can imagine my surprise when I parked outside the post-modern showroom to be told that it was the place where MOTs were done. My car did look like an anomaly amongst its fresh-faced fraternity and I did feel conscious of it in full view for all the staff to see, "Well, well, look what we have here…"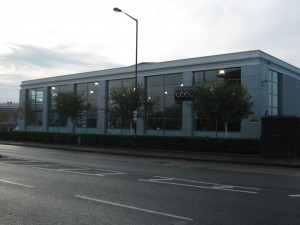 So, after applying the handbrake firmly so that my car did not gatecrash the showroom, I duly walked in to be ushered to the service desk. Details given, I was then escorted to a seating area with today's newspapers splayed around and asked whether I would like tea or coffee; a civilised experience that is new to me. After mulling over the news whilst hearing a Jeremy Kyle rant behind me, I wandered over to an array of used cars or Approved Audi to use corporate speak. Audi is a relatively new company, formed from a merger of four, hence those rings and it has been and is doing well, even now. Having sold in excess of a million cars worldwide last year, it's no wonder the marque is not a participant in the UK scrappage scheme.  Sitting in a static TT, A5 and a range of A4s is a reassuring experience, if not similar with either dark or light cabins and solid, no-nonsense ergonomics. Thinking that there's no way that I would want to pay £24k for an automatic second-hand  TT, 2K more than the manual, I left to confront reality which meant walking across a main road to the parts depot. Looking through glass windows revealed a fleet of A4s with their bonnets gaping open but no bright red 80. This is where the tests are conducted. After finding the parts door, I caught a glimpse of my car entering its nemesis. Ordering a flange for £11.91 is reasonable by today's standards by the fact that an equivalent part for an A4 would include a thermostat and would cost around £80 according to Parts Man. Another reason to keep the 80.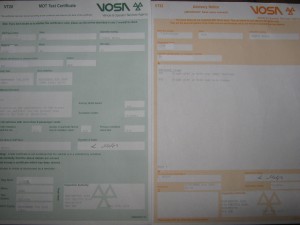 Finally, back across the road again and I'm greeted by the enthusiastic butler with a green paper hiding an advisory notice about rear bearings and bushes that will have to be renewed next year. I am euphoric in victory. It lives! Just hope that Audi continues the free MOT offer as it reminds keepers of old like me, how much the game has moved on.
September 2009
Words by Sotiris Vassiliou
Images are copyright of Audi UK and Sotiris Vassiliou
Deadline for free MOT
Having inputted an A4-owning friend's details to obtain the free MOT confirmation reminds me to remind you to arrange tests before the offer expires on 7th November 2010. I've already printed my free voucher in readiness for next year. Forward planning or what!
November 2009
Motoview measly miser monies for 2009
Four tyres  (including £20 for tyre guarantee)                  £190
Oil pressure switches      (2)                                                          £  13.97
Rear brake discs/handbrake adjustment/brake clean    £   80
Two wiper blades                                                                             £    2.98
Flange                                                                                                   £  11.91
Oil pump and bonnet/wing respray                                         £250
Air filter                                                                                                £     3
Water hose                                                                                          £      8.77
Temperature sensor                                                                       £     13.97
Fanbelt                                                                                                 £        4
TOTAL                                                                      £578.6           
Motoview measly miser monies for 2010
Oil and filter                                                                                      £    20
Tracking                                                                                             £     14  (50% off at National Tyres)