MOTORISTS' SACRIFICE SERVICE FOR SUDS
Are you wash 'n' going nowhere?
Millions of cash-strapped motorists could be wash 'n' going nowhere by prioritising expensive car washes over a service in the next twelve months according to the latest research* from Kwik-Fit. Indeed, one-in-four (7 million) British motorists plan to save money this year by skipping their next car service, yet amazingly 1.5 million of them (22%) plan to pay out around £80 to wash or valet their car an average of seven times in the next twelve months at £11.50 a go. That's one pound more than an interim service** at Kwik-Fit.
Whilst washing your car regularly is an important part of the cosmetic maintenance of a car, Kwik-Fit warns that it should never be at the expense of maintaining the mechanics. Skipping a service could allow any number of problems lurking beneath the bonnet to go undiagnosed, putting the driver and any passengers at risk. It might also prove to be a false economy, as regular servicing can help to head off any problems before they become bigger and often more expensive to fix. David White, customer services director, at Kwik-Fit, commented; "It is great that so many motorists take pride in the appearance of their car, but if money's tight they would probably be wise to wash the car themselves and put the money towards a service. After all there's no point in having a gleaming car if it's on the road to nowhere."
Servicing your car at Kwik-Fit is easy, and can be booked online at kwik-fit.com. Alternatively, you can book by phone on 0800 222 111, 7 days a week, from 8.30am to 6pm Monday to Friday, 8.30am to 5pm on Saturday and 10am to 4pm on a Sunday.
*Research carried out by ICM of over 1000 motorists between 13 – 15 March 2009.
** Interim services start from £79 at Kwik-Fit
Words are copyright from Newspress press release, June 2009
MOTOVIEW'S EDITORIAL
Why is it that we're losing the ability or the inclination to do simple tasks? We used to, so we've either forgotten how to do them which seems unlikely which leaves the classic, "we lead busy lives now" excuse. I'm not convinced by either. We demand 'convenience, ready now and at your doorstep' with as little effort as possible. Sociologically speaking, we've become lazy and bone-bloody idol. Look at the rapid expanse of hand car wash 'garages' on previously, redundant petrol station forecourts.
There's no art or mystique to maintaining your metal; the more appropriate word is technique as I've found as the more often you do it, the easier it becomes because of the short-cuts that you'll learn through trial and error. It's a learning curve and we'll begin at the origin with the simplest of tasks that is car cleaning. If you want to save a bit of dosh, keep fit and, when it's all done, sit back and admire with an immeasurable sense of satisfaction, then read on…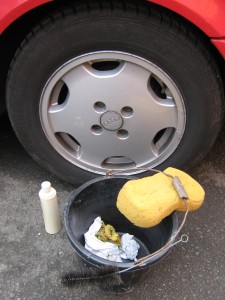 and pick an area where the sun isn't shining directly otherwise the drips will dry quickly into smears and you'll vow never to do it again, ever. Either in ascending order of saving water: jetwash/ hose/ or let it rain although prepare to be asked, when it's blindingly obvious "what are you doing?"
Hoses and pressure-washers should start from the roof of the car to focus on gutters where moss and fungii can collect but try not to get too close with a pressure nozzle as you can weather the paint (new cars have thinner water-based as opposed to oil-based) or mark the bodywork. Work across the roof in Citroen Picasso robot-spraying motion and proceed towards to the side outlining window rubbers that conceal a surprising amount of scum, especially when parked under vegetation. Sweep across and downwards towards door handles blasting off dirt that acquires around the edges and go towards any rubbing strips focussing on their borders. Repeat this process for the back door/wing and aim the nozzle behind the wheelarch at their inner edges. A hose that steadily trickles water is ideal here as mud collects in the gutter and can corrode in time which is especially common on mid to late 1990 VW Polos. A glove that you can keep after you've used it to protect your hand at fuel fill-ups is suitable here as a surprising amount of mud will crumble when you work you fingers behind and around the inner-arch, whilst having the hose in the other hand to loosen the dirt. Repeat for the front and back by starting from the top and working down, paying particular attention to the windscreens and you have completed the first stage. Pat yourself on the back if you can or attempt a MJ moonwalk to the bewilderment of your nosey neighbours.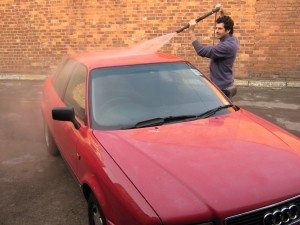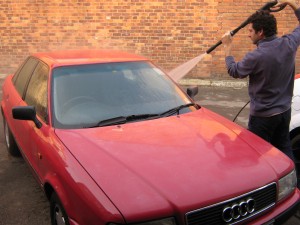 Get your bucket out and buy a large  sponge, chamois, cloth or pipecleaner from the poundshop and invest in car shampoo. Don't use washing-up liquid as it contains a high content of salt that acts as an abrasive. One cap-full diluted in half a bucket of warm water is all you will need as a large sponge absorbs a surprising amount of dirt. Again, start from the roof in continuous strips so that you don't miss areas and work down to the sides or front missing the bumpers bottoms, sills and wheels for now. Squeeze the sponge  before you immerse it so that the excess dirty water goes to the ground and not back into the bucket. Leave wheels last and work that pipe cleaner between the gaps although you may have to treat the front wheels first with a wheel cleaner as brakedust can stick and be stubborn to remove.
Finally, a chamois to dry the car off will prevent smears from forming. Wring it to rid excess water and then, after your labour has been done, admire. You get a surprising sense of achievement from simply washing a car, and it burns off calories!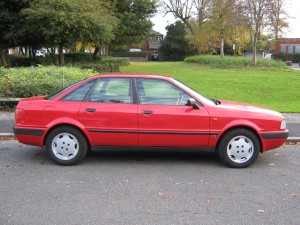 Words and images are copyright of Sotiris Vassiliou
September 2009