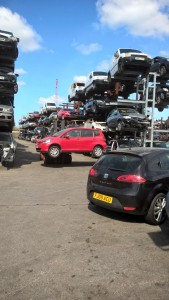 Fresh from the sale of my previous Jazz, I bought another one – a 1.4 automatic technically known as a Continuously Variable Transmission (CVT).  It was advertised at a salvage yard stating "NO START OR DRIVE" although one photo showed jumpleads attached to the battery with lights on the dial but no mileage. A quick free check online revealed true miles at the last MOT with my estimate of how much it had covered since. To be sure, I drove to the yard and the helpful lads there duly removed it from its perch for me to drive. The driver's wing had been scraped which impeded the opening of the driver's door although with some coercion from a battery pack, it started – and drove! The idle seemed high at circa 2000 rpm which I assumed was down to the fact that it hadn't been driven for months but gearchanges seemed fine. A sneaky last second bid of £10 on top of £850 secured its sale; I was satisfied especially as I had sold the previous manual smaller engined Jazz for £1450 with CVT automatic examples selling for £100s more.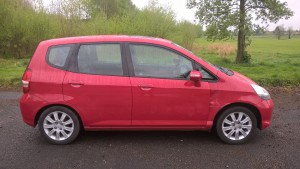 The Jazz SE has all the gadgets – folding mirrors, electric sunroof but had been subject to a dubious rear end repair that hadn't been properly finished with absent screws and broken clips. The driver's wing had been scraped – by a bollard I suspect as yellow paint was left across both adjoining doors that didn't warrant replacement but at idle, the revs alternated between 1000 and 1500 rpm in neutral and park. I duly replaced spark plugs and a filthy air filter but that rev wave remained so I distracted myself by sourcing a matching wing in Milano Red for £50 including delivery that was passed onto me via a clearly riled neighbour. With front wing attached, online forums ranged and raged with advice for that rev issue. With exhaust gas regulator valve removed and cleaned with a dose of Redex in the tank,  fingers were crossed – but to no avail.
Do I admit defeat and pass it on to the auction?
Yes. It sold for £1350 minus £120 auction costs.
June 2017