'Ubiquitous' is an adjective that must describe the belated range of 2.2 diesel engines launched by Mazda one year ago. 'Range' hints at their use in varying power outputs within the Mazda 3, 6 and CX-7. If you had read motoview's reviews of the latter, you would have noticed my criticisms about the lack of oil-burning units especially in the CX-7 "Sports Crossover", as 43.6% of new cars in the UK are bought in diesel form according to The Society of Motor Manufacturers and Traders, 2008. Bizarrely, during testing the CX-7 close to Lake Bala in North Wales, I was spotted by a former manager of Mazda UK sales who had scoped the car whilst sailing! We had an interesting discussion, not about spinnakers but about the hesitancy of Mazda's launch of the 2.2 diesel and that Mazda did not have a European base and so aren't as Eurocentric in their view of how their cars should be fuelled. Mazda are based in Hiroshima, Japan in a country which has few natural resources; most taxis use liquified petroleum gas. Another Japanese car company that has similarities to Mazda is Honda, specifically with the Civic which also has a similar sized diesel engine.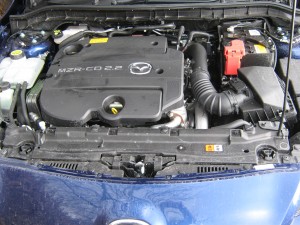 Our Mazda 3 Sport had the higher 185 PS version that will outperform the Honda 2.2 CTDi unit from 0-62 mph and beyond to 132mph. When you spend time driving the 3, you understand why Mazda took so long designing the MZ-CD unit as another word highlights itself. Deceptive. Not only in the throaty exhaust note but the lack of low-down torque that is common in the vast majority of diesel engines. Torque, or turning force is spread over a wide rev range and overtaking from fourth gear to sixth, or between 50 and 70mph takes an estimated 4 seconds as you can see from in-car camera.
Mazda's redesign takes a cue from the RX-8 with flared wings and defined shoulders that reduce flex in the metal skins in contrast to a Civic that feels as rigid as origami. The 3's shape is also functional as it has the lowest drag coefficient in it class; as is so common in today's cars, an increased waistline defines a reduced glass area giving the impression of sitting low-down in a small coupe. Mazda appears to be a pioneer in the duping of sports car feel and design in the hatchback/saloon and estate sector with a market share which has quadrupled in eight years up to 2009. The C-pillar has a triangular window to aid visibility like its predecessor, identical to the new Vauxhall Astra and the face of the 3 incorporates a front "bumper that scored maximum points for its protection of pedestrians' legs."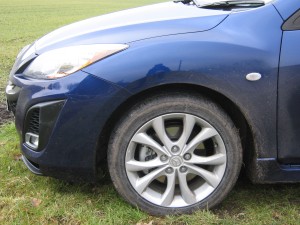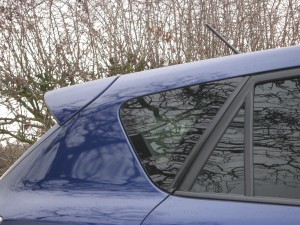 Our Mazda 2.2 diesel Sport is £350 less than a similarly priced Honda Civic 2.2 CTDi Si-T  that quotes an extortionate £470 for optional rear parking sensors, £350 for Bluetooth phone compatibility and £225 for an auto-dimming mirror which is all inclusive in the 3! Whilst we're comparing with the Civic, you'll find more rear headroom, better external fit and finish without saggy rubber that hangs from the bottom of the Civic's doors.
An interesting alternative to most stop-start systems, that rely on a separate circuit to the starting motor to induce more wear is the i-stop system only available on the 2.0 petrol sport that injects fuel when the engine cuts-off  to ignite for a quicker restart. As of September 2009,  about half of Japan's Mazda 3 sales were in i stop form.
The Mazda 3's Achilles heal is roadnoise; intrusive on the motorway as you can hear on the attached film. It ranges from a low hum to a medium thrum which brings me neatly to another whine about the absence of lighting for the remote mirror adjuster that is annoying when reversing into a space at night, noted also in the CX-7 review. My passenger accused me twice of touching her knee when applying the handbrake which is too close to the next seat with the same issue in left-hand drive mode. Fortunately she WAS a friend. Incredibly, after recalculating (to double-check) my overall mpg figures over a 984 mile journey on a combination of roads, a figure of  68.6mpg was achieved with a brimmed 55 litre tank!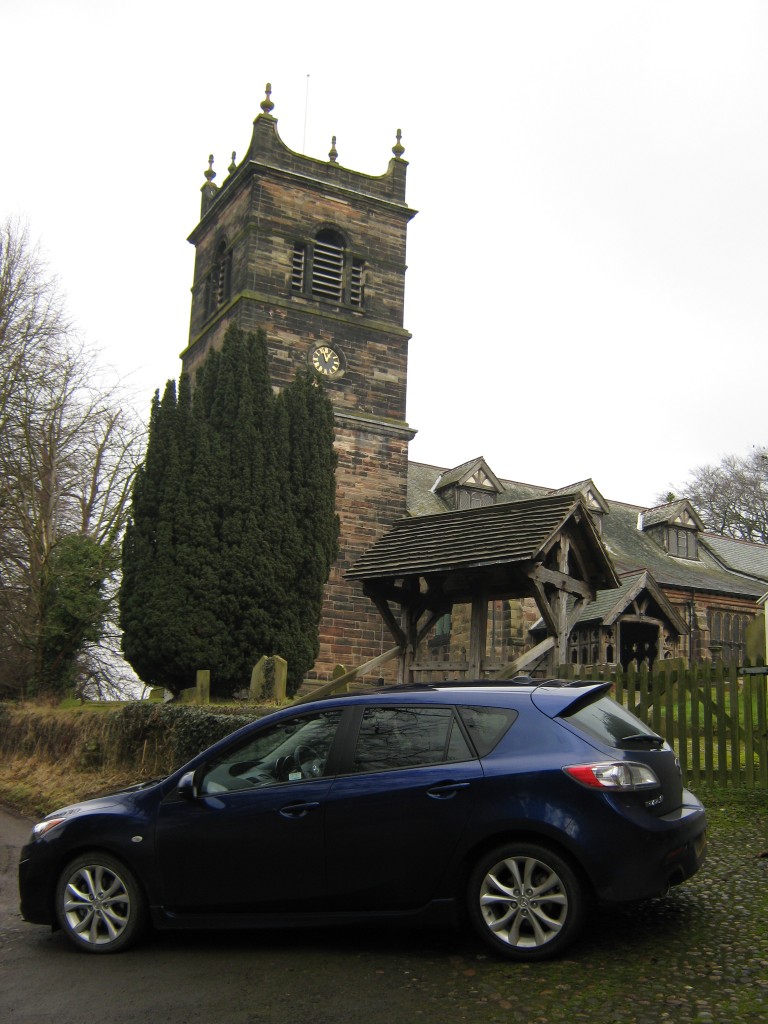 The new Mazda 3 seems to be one of the trade's best kept secrets in terms of performance, value and residuals in diesel form. It should theoretically become as ubiquitous as the Honda Civic.
Words, film and photos are copyright of Sotiris Vassiliou
March 2010