Superb. Octavia. Felicia. Roomster. Yeti! The last two names hint at an increasing confidence in Skoda's marketing and public perception.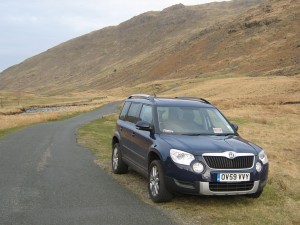 The Yeti is the first 'crossover' vehicle produced by Skoda, based on VW's Tiguan or the underpinnings of the Octavia Scout to allow for extra ground clearance. The 'crossover' market is an expanding one that has made a success of the Nissan Sasquatch – I mean Qashqai, with a niche of compact dimensions, versatility and efficient engines. No surprise that I opted for the 1.2 TSI engine for our Yeti test car that is surprisingly energetic and rev-happy for 1197ccs; it's also a quiet engine that ticks-over at 700rpm which has to be increased on take-off otherwise there's a tendency to stall. Setting off from Manchester towards the Isle of Skye is a mammoth task itself, not helped by the "exhaust control system" light glowing orange on the first part of our journey. I suspect a sensor problem as the engine didn't appear to falter and am sure that a £35 payment to the diagnostics machine would erase the fault code; nevertheless it was perturbing on a car that had only covered 7000 miles.  
[vimeo]http://vimeo.com/11205954[/vimeo]
Performance of the Yeti is admirable for a tall vehicle and turn-in is accurate with only minimal bodyroll when provoked. It is taller, wider yet shorter than the Nissan Sasquatch and will contain a mountain bike supported with both wheels attached. This can be achieved by releasing two hooks that hinge around a central bar to remove a heavy seat which folds compactly; of course all seats could be taken out provided you have the energy and storage space.  Skoda has excellent build quality with their factory in Bratislava having less warranty claims than other Skoda producing plants; the only material issue being a speedometer binnacle that emits a fizzing sound, initially mistaken as backing audio to one of Snoop Dog Doo's 'musical' tracks.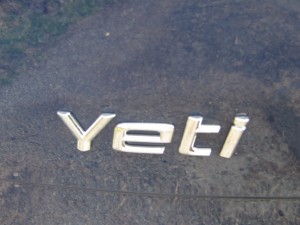 Luckily, the sun shone on my way north and the optional panoramic tilt and slide sunroof at £870 aided my tan and kept critters from entering the cabin, caught by a plastic mesh that erects as the glass slides back. The wiser Park Assist function that steers the Yeti as it's being reversed into a parking space is a reasonable £460 which has been improved to include one more forward movement, although you must remember to do the Mexican wave otherwise you may break your fingers as the steering wheel spins automatically.
[vimeo]http://vimeo.com/11206086[/vimeo]
Navigating the Yeti up the Hardknott and Wrynose Pass that has, at times 30% inlines demonstrates the flexibility of the TSI engine with reluctant downchanging  when there wasn't enough momentum on the steepest of gradients. Stopping off in Moffat, Scotland for a brief respite made me follow a discrete sign to John McAdam's grave, he of roadmaking fame – as in tarmacadam. The euphamistically-named 'lodges' preceded by 'travel' were my overnight stops, found not by postcode which was impossible on the Yeti's Sat Nav, but by telephone number and the lack of glovebox lock made me 'hide' my valuables in a tray that pulled out beneath the passenger seat.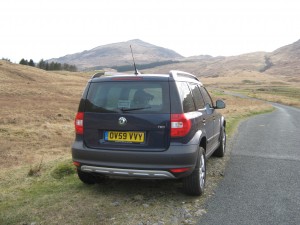 The A82 that outlines Loch Ness is not as relaxing as it sounds, with a stream of motorbikers that at times outnumber cars, so at every opportunity it's wise to leave onto backroads to see snowy peaks and meandering streams that are so easily ignored when you are car cocooned on a dual carriageway. Suspension set-up seems to have the correct balance of suppleness and firmness to iron out hillocks and fuel efficiency peaked at an acceptable 39mpg burning all petrol on the A5 near Perth. All I can say is to refuel before the Isle of Skye! The Yeti is a very good vehicle that emphasises frugality and value for money as it undercuts the basic Nissan Sasquatch by £1300 although I would opt for four wheel drive capability that is available on the larger 1.8 petrol and 2.0 diesel engines as our 1.2 TSI didn't cope with gentle grassy inclines.
[vimeo]http://vimeo.com/12495018[/vimeo]
As for the Isle itself, if you want peace to watch rare species then go there -Yeti included.
Words, photos and film are copyright of Sotiris Vassiliou
May 2010