Against a background of corporate oustings, financial bailouts and rationalisations, the new Vauxhall Astra arises. A phoenix would be more apt, rather than the mythical Griffin that has undergone bold, radical changes (for Vauxhall). You only need to log on to their website to be given a lecture by Mark Adams, Vice-President of Design, who enthuses about the new design statement of "sculptural artistry meets technical precision". Avian symbols of 'eagle' eye headlights and 'gooseneck' handles for the interior help elevate status from what was, common company car cruiser with signature' Blade' impressions on sides, sharing the same genetic code as the elder Insignia.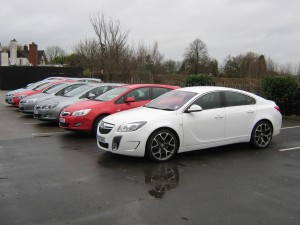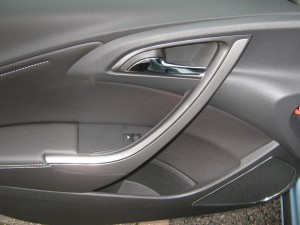 With ever-increasing efficiency targets, Vauxhall exploits the capabilities of three diesels by offering  two 1.7 units and a two litre, with a 1.3 CDTi due. The petrol line-up consists of five engines; three horsepower ranges of 1.4 that includes one turbo and two 1600 units that renders the 1.8 obsolete. The new Astra not only looks svelte but demonstrates its athletism on tarmac; a firm, surefooted stance with excellent feedback from the speed-sensitive steering and response on the 1.6 SRi Turbo. That was my favourite, compared to the turboless and asthmatic 1.6 SRi and the revvy but raucous 1.7 CDTi. The 1.6 SRi Turbo, married with an optional FlexRide chassis control system, offering three levels of damper adjustment would suit the serious driver. Ellesmere Port's achievement ticks style, ergonomic, versatility and performance boxes but didn't leave an impression on me, as there seemed no redeemable feature as it's such a good all-rounder. Having said that, Vauxhall needs a big seller to interrupt European VW Golf sales and Ford Focus' unbroken sales success in the UK. Whilst not having the external production quality on par to a VW Golf, the Astra has the capability of challenging the Focus which holds the record of biggest UK sales since launch, in 1998.
[vimeo]http://www.vimeo.com/7813303[/vimeo]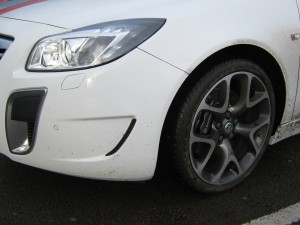 The Insignia VXR, also available as Tourer surveyed discretely, like its badging. 'Brembo' front brake calipers and 20 inch dark alloys may appear superficial, but highlight a true sporting prowess. VXR brands until now, have been biased with torque-steer, yet this Insignia VXR boasts permanent four-wheel traction to distribute 325PS of power, and an assured driving experience. My main criticism, of both Insignia and Astra is gearchange that is (can anybody identify a synonym?) notchy which does affect acceleration times as the distances between gears could be shorter. These two siblings should provide enough buoyancy to raise the credibility of Vauxhall – and profit which it deserves. A solitary Saab 9-3 X,  identified as an all-wheel drive example was there which I tested in April.  Good luck Saab, so onwards and upwards Vauxhall and with care, General Motors!
 [vimeo]http://www.vimeo.com/8652209[/vimeo]
Words, images and film are copyright of Sotiris Vassiliou
December 2009